What Makes a Great Photograph?
John Greengo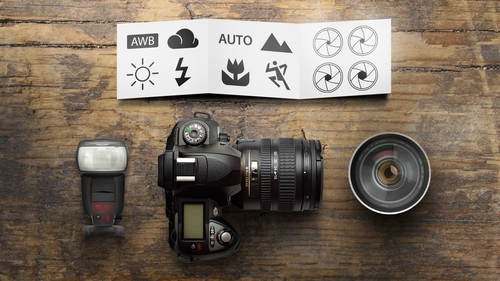 What Makes a Great Photograph?
John Greengo
Lesson Info
107. What Makes a Great Photograph?
Summary
(Generated from Transcript)
The topic of this lesson is "What Makes a Great Photograph?" The instructor discusses the importance of a good subject that is both beautiful and interesting, and emphasizes the role of light, composition, and the capturing of a unique moment in creating a great photograph. The instructor also touches on the different types of photography and the use of social media and technology in the field.
Q&A:
What are the two over-riding themes of a good photograph?

The two over-riding themes of a good photograph are that it is beautiful and interesting.

How does the instructor define "beautiful" in the context of photography?

The instructor defines "beautiful" in a wide-ranging way, stating that many things can be beautiful if seen in the right light.

What are some factors that contribute to a photograph being interesting?

Some factors that contribute to a photograph being interesting are capturing something new or unique, using different perspectives or techniques, and adding a sense of mystery or not revealing the full story.

What is the significance of capturing a moment in photography?

Capturing a moment visually is a unique aspect of photography that sets it apart from other art mediums.

How does the instructor respond when asked about being a photographer?

The instructor responds humorously, describing themselves as a "photographic machine" involved in various types of photography and utilizing modern technology and social media platforms.

What is one important element in sports photography?

Having a fast camera with fast shutter speeds and lenses is important in sports photography.

How does the instructor describe their approach to nature photography?

The instructor describes themselves as a nature photographer who takes long walks with wide lenses to tell big stories and uses long lenses on small subjects.

How does the instructor emphasize the importance of being active on social media as a photographer?

The instructor mentions the need to post daily updates on multiple social media platforms and the importance of being social and active online for photographers.

How does the instructor ensure the safety and availability of their photographs?

The instructor mentions having triplicate hard drives, stacked rays, and cloud storage to ensure the backup and availability of their images.

How does the instructor conclude the lesson?

The instructor concludes by stating their name and confidently declaring themselves as a photographer.
Lesson Info
What Makes a Great Photograph?
Alright, when it comes down to looking at your own photographs and really judging them cuz when you get into editing you gotta figure out what do I keep, what do I get rid of? What's important? And so for me a good photograph will have two over-riding themes. One, that it's beautiful and two, that it's interesting. And what these have in common is you need a good subject that is both beautiful and interesting. Now I think I said it before but it's important so I'll say it again is my definition of beautiful is very wide-ranging. I've taken picture of gum on walls and thought it's beautiful. There's a lot of things that can be beautiful if it is seen in the right light. So, what is beautiful? Well, having that good light that we've talked about in the previous lighting section. We had a whole section on composition, things that can be done in the right way. And then finally the moment, and that's one of the things that Photographers get to do that is really unlike any other art medium o...
ut there. You can paint pictures and make sculptures and write poetry and novels but capturing a moment visually, that's the domain of photography that is really unusual the way we get to freeze a moment forever. So that's something to really concentrate on. What's interesting? Things that are new. I remember watching a documentary that had National Geographic in one of their editors and they were trying to get into the editors' mind cuz they're looking through what all their photographers are looking for. It's like can you narrow it down? What do you want to see in a photograph in the next issue of the magazine? She said, "I wanna see something I haven't seen before. Show me something new." And that's hard in this day, when there's a lot of Photographers and there's a lot of photographs out there but there are still things that are new out there. You might have to use a different perspective than other people have used in the past. Photographing it in a different way. So Photographers, they just scatter out and they do all sorts of techniques. They're gonna do underwater infrared panoramic photography just to look at the world in a different way to see what we can see that's different than it's been done before. And sometimes not telling the whole story. Just adding a little bit of mystery, not telling the whole story, doing something to conceal everything just to give us a hint about what's going on. You don't have to tell us the full story. So that's what I'm looking for. But the one that really wins me over more often than not besides the subject which is all-important is having the right moment. And so when you get the right moment there is no comparison with anything else. Now that you've finished with the class I think you can finally say "I'm a Photographer." And so when people ask you what you do feel fine saying "I'm a Photographer." And you know what? It doesn't matter if you're a professional or an amateur because I just say "I'm a Photographer." It's about just being a Photographer. Now, the thing that I've found is that when you tell people "I'm a Photographer", they suddenly have lots of questions for you. "Oh really? What type of Photographer are you? What do you shoot? What type of camera do you use? Where do you shoot?" What about this? What about that? And they have lots and lots of questions. And I thought, "I really need to have a good response for them" because I want to answer them. And so I've prepared, maybe over-prepared, a response for when they ask, you know, what do you do? And they wanna know about it. So here's what I say now. "Yes, I have a camera, a lens and a tri-pod. I'm a Photographer. I was born in the analog era but I'm fully digital and dialed in. I'm as pure as a sixteen-bit uncompressed rah. But I have a positive attitude about shooting negative film. You might say I'm a retro-style, hyper-composite, fully integrated image-making machine. I love photography: photographs, pictures, portraits, panoramas, images, snapshots, clicks, pics, stills, frames, grabs, happy snaps, close-ups, head shots, even mugshots but I've just about had it with the Selfie. (woman laughs) (audience laughs) I'm on the sidelines, in the rafters and behind the goal line. I'm a sports Photographer. I've got a fast camera with fast shutter speeds and fast motor drive. I got fast lenses with fast glass that filters really, really quickly. I got a long lens on a skinny pole and (mumbles) in the fat security guard with a short fuse. Give me a track, a field, a court and a bunch of sweaty bodies and I'll give you a thousand images or maybe three that are properly composed. (audience laughs) I'm out in the woods, up in the hills and down in the valley. I'm a Nature Photographer. I love hi-res, pixel-perfect, super sharp hyperfocal images. I take long walks with wide lenses to tell big stories. I use long lenses on small subjects for a wide variety of reasons. Everybody thinks this job is a walk in the park. Well I don't know about that. We got snakes and spiders, bees and bears, avalanche, dehydration, hypothermia, heat stroke, lightning strike, frostbite, mosquito bite, snake bite, bear bite. Oh wait a minute, come to think of it what's not to like? Anybody up for a hike? (woman laughs) I'm riding the rails, flying the skies and stamping the passport. I am a Travel Photographer. I carry minimal gear so I can move at maximum speeds. I'm keepin a low profile but I'm highly tuned in. Monuments to markets, fairs to festivals, concerts to carnivals, people think I'm livin the dream. Trust me, one week in my shoes and you will be packing your bags. (woman laughs) I'm posting the pic, reading the feed, and checking my likes. I'm a Photographer that's savvy on social media. Everyone knows that Photographers live or die based on whether they're social or shy so they say you should be posting an update everyday, several times a day to the following websites: Facebook, Instagram, Pinterest, LinkedIn, YouTube, SmugMug, Snapchat, WhatsApp, Google, Reddit, Tumblr, Twitter, Flickr and five-hundred pics and when you're done with all that whose got time to go out and shoot photos? I got memory cards, hard drives and storage in the cloud. I'm a Photographer that is fully backed-up. I got triplicate hard drives and stacked rays in multiple locations backed up in a ray cloud-enabled server which means my images are available 24/7, to simultaneous multi-data downloads which means my images are available on my desktop, laptop, tablet, tv, phone, watch and any screen with a wireless Bluetooth connection except I can't show you anything right now because I forgot my password. (audience laughs) I like my lenses coated with fluorine and I like my glass made of fluoride. I encourage all of you to become a photographic machine whose every photo is dynamite just like mine. My name's John Gringo and I'm a Photographer."
Class Materials
Fundamentals of Photography Class Outline
Learning Projects Workbook
Photographic Vision Keynote PDF
Ratings and Reviews
Love love all John Greengo classes! Wish to have had him decades ago with this info, but no internet then!! John is the greatest photography teacher I have seen out there, and I watch a lot of Creative Live classes and folks on YouTube too. John is so detailed and there are a ton of ah ha moments for me and I know lots of others. I think I own 4 John Greengo classes so far and want to add this one and Travel Photography!! I just drop everything to watch John on Creative Live. I wish sometime soon he would teach a Lightroom class and his knowledge on photography post editing.!!! That would probably take a LOT OF TIME but I know John would explain it soooooo good, like he does all his Photography classes!! Thank you Creative Live for having such a wonderful instructor with John Greengo!! Make more classes John, for just love them and soak it up! There is soooo much to learn and sometimes just so overwhelming. Is there anyway you might do a Motivation class!!?? Like do this button for this day, and try this technique for a week, or post this subject for this week, etc. Motivation and inspiration, and playing around with what you teach, needed so much and would be so fun.!! Just saying??? Awaiting gadgets class now, while waiting for lunch break to be over. All the filters and gadgets, oh my. Thank you thank you for all you teach John, You are truly a wonderful wonderful instructor and I would highly recommend folks listening and buying your classes.
I don't think that adjectives like beautiful, fantastic or excellent can describe the course and classes with John Greengo well enough. I've just bought my first camera and I am a total amateur but I fell in love with photography while watching the classes with John. It is fun, clear, understandable, entertaining, informative and and and. He is not only a fabulous photographer but a great teacher as well. Easy to follow, clear explanations and fantastic visuals. The only disadvantage I can list here that he is sooooo good that keeps me from going out to shoot as I am just glued to the screen. :-) Don't miss it and well worth the money invested! Thank you John!
Dear John, thanks for this outstanding classes. You are not only a great photographer and instructor, but your classes are pleasant, they are not boring, with a good sense of humor, they go straight to the point and have a good time listening to you. Please, keep teaching what you like most, and I will continue to look for your classes. And thanks for using a plain English, that it's important for people who has another language as native language. Thanks again, Juan
Student Work