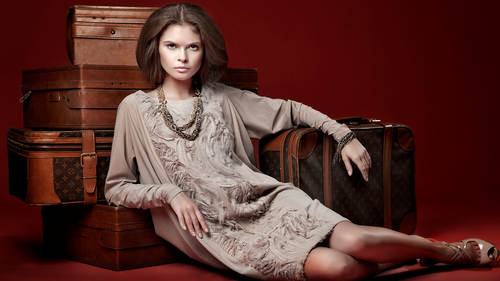 Class Description
Short on time? This class is available HERE as a Fast Class, exclusively for CreativeLive subscribers.

AFTER THIS CLASS YOU'LL BE ABLE TO:
Use camera angle, lens choice, and cropping to improve your poses

Hide unflattering problem areas

Address different body types through posing and wardrobe

Go for simple poses rather than extravagant ones

Pose couples, individuals, and groups to ensure everyone looks good

Understand the differences between posing women and men
ABOUT LINDSAY'S CLASS:
Posing is one of the fundamentals of great photography. It's also the thing that photographers have the least control over. We can choose our lenses, set up, lighting, and retouch with Adobe® Photoshop®. But when it comes to photography poses, we need to pay attention and work closely with our subjects to find the perfect pose and best way to capture the most flattering image.
Fashion and portrait photographer Lindsay Adler will break down the fundamentals of perfect posing, giving you the basic rules you should follow to make your subjects and your photos look their best. Through live photo shoots and slides, Lindsay demonstrates the do's and don'ts for every category of subject, including men, women, older people, couples, brides and grooms, groups, and more.
In this class, you'll learn how to:
Connect with your subjects through sincere compliments, repeating their name and discovering their passions.

Avoid using negative terms that will make subjects feel ill at ease.

Master the rules of posing, then know when to break them.

Be confident when posing couples at a wedding whether it's a bride and groom, mature couple or same sex couple.
This course is perfect for novice photographers just getting their feet wet in the world of portrait photography, but it also offers useful advice and techniques for even the most skilled professionals. By the end, you'll be able to discover the beauty in every one of your subjects, and bring it out for the world to see.
WHO THIS CLASS IS FOR:
All levels of photographers who want to set themselves apart and up their posing game.

Professional photographers who want to learn new ways of posing women, men, children, couples, and groups so they can impress current  clients and attract new ones.

Hobbyist photographers who want to learn to pose their family and friends.
Class Materials
Couples - Different Height.
Ratings and Reviews
I would highly recommend this class! I have been shooting for some time now and I've been pretty satisfied with my pictures from each session. A few weeks ago, I happened upon this class and thought it would be nice to get some new ideas. I then took the ideas from this class and applied them to a maternity shoot. I must say it took my pictures from good to amazing!!!! My clients bought them all😊 Thank you Creative Live for offering such amazing classes to help any level of photographer learn and grow!
Lindsay is such a great teacher. She doesn't overcomplicate things - so that you can really learn. She also reviews things again and again - only in different contexts - that make total sense. I have learned so much from watching this course of lessons. I went to a natural lighting portrait workshop a couple of weekends ago - and was able to put into action what I have learned. The models loved my photos, too. She keeps things moving, is clear and to the point. I highly recommend this class to anyone wanting to become better at posing. It is so rewarding to look back at my previous photos and understand what doesn't work and why, and also to see things improving. She is a natural teacher - the course is not boring - you will learn tons!
I really love it! Thank you, thank you, Lindsay! Beautiful girl with a huge talent to teach! I absolutely love it! Worth every penny!
Student Work