Cloud & Color Pop: Sunrise & Sunset Light
John Greengo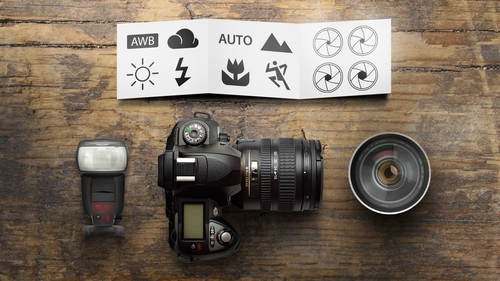 Cloud & Color Pop: Sunrise & Sunset Light
John Greengo
Lesson Info
68. Cloud & Color Pop: Sunrise & Sunset Light
Summary
(Generated from Transcript)
This lesson is about capturing sunrise and sunset light in photography, specifically focusing on the stages of twilight and cloud light. The instructor emphasizes the need for clouds and openings in the horizon for the best lighting conditions, as well as the importance of shooting quickly due to the fleeting nature of these lighting conditions. The instructor also mentions the use of filters and foreground subjects to enhance landscape photography, and discusses a phenomenon called "color pop" where colors intensify during a sunset or sunrise.
Q&A:
What are the stages of sunrise discussed in this lesson?

The stages of sunrise discussed in this lesson are twilight and cloud light.

What are the advantages of shooting during cloud light?

The advantages of shooting during cloud light include the presence of nice colors, low contrast for showing detail in light and dark areas, and the filling in of shadows on the landscape.

What are the ideal weather conditions for capturing cloud light?

Ideal weather conditions for capturing cloud light include having clouds illuminated from below, an opening on the horizon for the sun to shine through, and a break in the clouds.

What equipment is recommended for shooting during cloud light?

The instructor recommends using a graduated neutral-density filter to balance the exposure between the sky and the landscape.

What is "color pop" in photography?

"Color pop" refers to a moment during a sunset or sunrise when the colors intensify and then fade away quickly. The instructor advises being prepared and shooting continuously to capture this peak moment.
Lesson Info
Cloud & Color Pop: Sunrise & Sunset Light
Alright, so we've been talking about sunrises and sunsets, and the kinda three different stages that we go through, and we had made it through the first stage of sunrise, which is twilight. Now, these are kinda terms that I've come up with, not twilight, I didn't invent that word, (audience laughing) but kinda the stages of sunrise. So we had twilight that we talked about, and now we're gonna talk about cloud light, and this is where the clouds are illuminated, generally from below. And so this has got a lot of advantages 'cause we get some really nice color 'cause the light's cutting through a lot of atmosphere here. Generally, pretty low contrast, so we can show things in light and dark areas, and we're gonna be able to see detail in all of them. And that reflected light from the clouds is gonna fill in all the shadows on the landscape, and it's gonna have some, generally, some really nice colors all over the place. Now, we do need to have clouds for this. We're not gonna get this on...
a bright, blue day with no clouds in the sky, and we have to have an opening for the sun, and so I'm often looking for a break on the horizon for this to occur. And these are really hard to predict, and they just don't duplicate themselves, and so it's, you know, once in a lifetime chance that it's gonna be exactly like that, and so it's a great time to be out there. Alright, so you need to watch your weather patterns, and looking for clouds moving around, looking for breaks on the horizon for the sun to be poking through. Back in the gadget section we talked about the graduated neutral-density filter, and that's gonna be really important in these situations. And including foreground subjects can often help in this landscape photography. And you're gonna need to shoot quickly because this stuff comes and goes very, very fast, and so when I get out early in the morning, I'm looking up in the sky, and one of the things that starts getting me excited is when I see this. It's a jet up there and his little contrail up there, and it's getting illuminated by some nice, warm light, and so you see, okay, I know the sun's coming. It's coming around the corner any time now. And what I'm looking for is other clouds that are gonna get illuminated, but generally, the jet streams from the planes are gonna get illuminated first 'cause they're up much higher than the clouds are. You know, what are they at, 25, 30,000 feet or so? And so when we have that break on the horizon, that light can get in underneath and really illuminate the clouds into a really nice color. Now the color that you get will depend on some other atmospheric conditions. One of my favorite circumstances of this was down in Bolivia, and this is natural color, and it's just, it was a slightly different color than I'd ever experienced before, and just beautiful background for this mountain down there. And so let's look at the world and think about where we are photographing and where these clouds and the sun needs to be. And so we need sun to get in down below the clouds, and so it's kind of an unusual circumstance because we can't have clouds everywhere. We need to have clouds just above us, but with an opening on that horizon, that break. And so, see that opening in the east or in the west, that's when you have a potential of getting that nice light in. So as the light's cutting low across the atmosphere, it's picking up that red in color, and that's the way it's illuminating the clouds. And these come and go very, very quickly, but look at the landscape. It's got this nice, soft pink hue that you would not normally get, and it's an even light, and it's a really nice, warm color, but it's only there for just a few minutes, and so you gotta be in the right place at the right time. And as we all know, if we've ever been out shooting in the evening at sunset, it's like, all of a sudden it comes on, and it's great, and then it just disappears in no time at all. I was on a trip down to Antarctica, and out on the ship at one night it was docked, and sunset was very, very late, but went out on the back of the boat, shot a multi-stitch panorama shot just as the light's, it's over the horizon, but it's still illuminating those clouds. Mmm. And gets some really, really nice soft light. Back in Colorado at the Great Sand Dunes, pointed off in a slightly different direction than an image that we saw earlier. As I say, you don't have a lot of time, and out in the Great Sand Dunes like this, it's very hard to kinda move very far, so you're trying to do as much as you can in one little area as possible. Now another phenomenon that I've noticed is something that I call a color pop, and that is, you shoot a particular subject that is illuminated by a sunset or sunrise. There is gonna be a moment where that color just really gets intense, and then it kinda fades away, and it doesn't last for very long. And this was shooting Mount Hood. I think it was down by Trillium Lake, and I was shooting a time lapse. And so you can see people running around because I have a time lapse running here at sunset. And just watch the colors on the mountain. So as the sun's getting lower, it's getting really close to sunset, and it's right about sunset right now, and then but we're still getting some nice colors on the mountain. Now it's getting a little bit dark here, but there's a little bit of a pop in the color here, and so what I'm gonna do is I'm gonna show this to you in a couple of different ways. And so, as I go back and I look at all the photos from the time lapse, there is one area where the color is the most saturated, and it was right down here. And the picture is a little bit dark, and so I needed to capture it with a slightly different exposure for a single shot. This was just part of a time lapse series, and so I wasn't trying to get this individual image. It was just part of a series, and so, what I've decided to do, because I like graphing things 'cause it helps us understand what's going on, because we're sensitive to shapes. And so let me play the time lapse and show you what's happening with sunrise. And I'm able to document all the time, so you can see exactly where sunset's gonna be. I started it about a half an hour before sunset. Now the light's getting better and better in quality and nice color, and for some reason it takes a dip down, but then it pops back just for a moment, and it's like this little pulse of color. And this isn't, I don't know for sure, but I don't think this is common, but this is why you have to be prepared shooting. You never know when that best moment is going to be, and that is often where you want to be getting your shots, is right where it's at its peak, and so you just keep shooting, shooting. Okay, is it better? Maybe it'll keep getting better. If it starts getting worse, well then, hold off and then wait for it to get better again, if that's where it's gonna go.
Class Materials
Fundamentals of Photography Class Outline
Learning Projects Workbook
Photographic Vision Keynote PDF
Ratings and Reviews
Love love all John Greengo classes! Wish to have had him decades ago with this info, but no internet then!! John is the greatest photography teacher I have seen out there, and I watch a lot of Creative Live classes and folks on YouTube too. John is so detailed and there are a ton of ah ha moments for me and I know lots of others. I think I own 4 John Greengo classes so far and want to add this one and Travel Photography!! I just drop everything to watch John on Creative Live. I wish sometime soon he would teach a Lightroom class and his knowledge on photography post editing.!!! That would probably take a LOT OF TIME but I know John would explain it soooooo good, like he does all his Photography classes!! Thank you Creative Live for having such a wonderful instructor with John Greengo!! Make more classes John, for just love them and soak it up! There is soooo much to learn and sometimes just so overwhelming. Is there anyway you might do a Motivation class!!?? Like do this button for this day, and try this technique for a week, or post this subject for this week, etc. Motivation and inspiration, and playing around with what you teach, needed so much and would be so fun.!! Just saying??? Awaiting gadgets class now, while waiting for lunch break to be over. All the filters and gadgets, oh my. Thank you thank you for all you teach John, You are truly a wonderful wonderful instructor and I would highly recommend folks listening and buying your classes.
I don't think that adjectives like beautiful, fantastic or excellent can describe the course and classes with John Greengo well enough. I've just bought my first camera and I am a total amateur but I fell in love with photography while watching the classes with John. It is fun, clear, understandable, entertaining, informative and and and. He is not only a fabulous photographer but a great teacher as well. Easy to follow, clear explanations and fantastic visuals. The only disadvantage I can list here that he is sooooo good that keeps me from going out to shoot as I am just glued to the screen. :-) Don't miss it and well worth the money invested! Thank you John!
Dear John, thanks for this outstanding classes. You are not only a great photographer and instructor, but your classes are pleasant, they are not boring, with a good sense of humor, they go straight to the point and have a good time listening to you. Please, keep teaching what you like most, and I will continue to look for your classes. And thanks for using a plain English, that it's important for people who has another language as native language. Thanks again, Juan
Student Work