Quiz: Histogram
John Greengo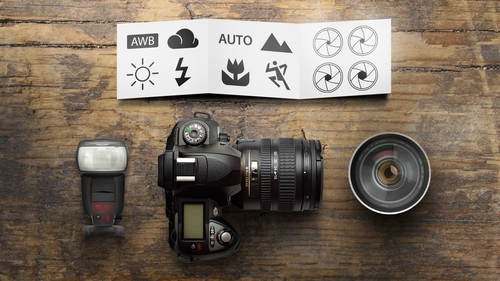 Quiz: Histogram
John Greengo
Lesson Info
32. Quiz: Histogram
Summary
(Generated from Transcript)
The topic of this lesson is understanding histograms in photography.
Q&A:
What is the purpose of the histogram in photography?

The histogram helps to determine the brightness and exposure of an image.

How are histograms used in the class quiz?

The instructor shows a photograph and provides three histograms, and the students have to choose the histogram that corresponds to the correct exposure of the image.

How do you interpret a histogram?

The histogram shows the distribution of brightness levels in an image, with the left side representing the shadows and the right side representing the highlights.

What do the different colors in the histogram represent?

The different colors represent the different color channels in the image (e.g., red, green, blue).

What does it mean when a histogram goes off the charts?

When a histogram goes off the charts, it means that there is a high concentration of pixels at a particular brightness level. This can indicate overexposure or underexposure in the image.

Can histograms be used while shooting?

Yes, many cameras have the option to display a histogram while shooting, which can help in achieving the desired exposure.
Lesson Info
Quiz: Histogram
Alright, so I know we're starting with Team A on this one, and what I'm going to do is I'm going to show you a photograph and I'm going to give you three histograms to choose from and you choose the histogram that you think is the appropriate histogram for what we're seeing in the exposure of this particular image here. So we have one true histogram and two lairs. What is the true histogram for this subject? And so what you're trying to do is you're trying to judge, what is the true brightness of this image as a whole? And so for Team A. B. They're going with B, which to me they're saying that this is a little bit darker than average. It's not lighter than average and it's not super dark. The correct answer is B. So they do get a point. Now, just in case you thought it was one of the other letters. If it was A, this is what the photo would look like. And if it was C, this is what the photo would look like. Alright? But it was B. Alright. So, let's not get confused, lots of As and B...
s. Team B (audience laughs) in this case. And here is your photograph. And your three histograms. It's getting trickier folks (laughs). And you are studying at home, I'm sure. You guys are judging it too. Write it down, prove it to yourself that you're doing it right. [Woman In Audience] Final answer is... Okay. We are also going to go with B. Going to go with B. Actually it is C. This is a very dark photograph here, these roofs are very dark. If it was B, this is what the photograph would look like. And this may not be a bad photograph but we're now starting to blow out the lights up here on the castle and if we go up to A, it clearly becomes too bright. In this case it's a dark photograph and that histogram is fine for what this photo is. Okay. Back to Team A. What's in the photograph? [Woman In Audience 2] A. They didn't even really think about it for very long. Maybe they saw the trend here in the class quizzes or something. (audience laughs) That is the correct answer. If it was B, it's going to be more middle tone, gray. I mean this is still brighter than average and here's real middle tone with C. And so it was an A. And so there are photographs that are bright, there are photographs that are dark and that's perfectly fine. I have three photographs and I have three histograms. I want you to see if you can come up with the letter code A,B,C, C,B,A, B,C,A, C,A,B, what is the correct code for each of these different images here? Just take a look, pick out an image that you think you could work with and try to find the right histogram for it. Look at the highlights, the shadows, how much there is there? So there is some definite discussions going on. So just in conversation, what photo do you think is the easiest to figure out? 3. 3. And so, which one is that? B. B. So that's pretty easy. There's a big spike over on the right hand side. You guys are good at reverse engineering. Now these next two are pretty close. They're kind of similar, there's some areas of highlights, some areas of shadows and looking at these as far as what is significantly different between, I'm going to go ahead and give you the answers here. It's C and A and in this second image there is some areas that are noticeably darker compared to where the brightness is and so there's a bit more of a spike there. The landscape image on the left, there's a lot more middle ground, which means there's a little large hump in there. And so I encourage you to challenge yourself looking at your photos, guessing what their histograms are going to look like and when you compare the two of them you're really, I hate to say this, but you should never have a bad exposure once you've checked the histogram and made a small adjustment. Deleting photos or throwing away slides, back in the old days for me, if you were a half stop off on the exposure was quite common because if you didn't nail the exposure, forget about it. Now-a-days with the good meter, the multi-segmented metering systems being able to view the image on the back of the camera, being able to see the histogram of the image and then with mirror-less cameras being able to see the exposure beforehand. If you're editing your images and you're throwing images away because you got the bad exposure, you need to re-watch this section of the class (laughs). Because that just shouldn't be happening anymore. I've found that very few people are getting rid of images due to exposure. John, before we move on to the next bit, we do have some questions on histograms. Okay. If that's alright with you. Sure. First of all, shout out to Kevin Smith who says John's previous classes got me using the histogram and it has improved my photography. So that's great to hear. That's good to hear. This is from Lee Gardner, could you again explain what the different colors mean? So the different colors are the different color channels that you are seeing. Now, the histograms that I'm using in here are basically screen shots of Adobe Lightroom. Cause that's how I use and adjust my photographs and this is showing us the red, green, and blue the cyan, magenta and the yellow channels as well. So we're seeing more colors here than, I would see in my camera or you will likely see in your camera at home. And so it's showing us the color channels that we see. What happens is if you have a big blue sky you're going to see a big blue hump over on the right hand side, where it's very bright in that one particular color. And I'm just trying to... You're trying to reverse engineer what you see in a photograph and in this third photograph, you see this little blue hump right here? I've really even looked at this but just trying to think, Okay do I have some color here, what I think is going on here is that this was photographed on a sunny day. See this shadow? In that shadow area, it's being illuminated by the blue sky and so it's a little bit tweaking more towards blue than towards yellow and that's indicated right there. Awesome, thank you. And this is from D from Philly. What does it mean on the top of the histogram when it goes off the charts? Right. So sometimes in histograms and we actually see it here in B. Where it's going through the roof and that is a relative number and they don't bother giving us numbers as far as how many pixels are of a particular brightness and so you do not need to worry about going through the roof cause you can potentially be going through the roof right at the middle and that would happen say if you photographed a gray card. All the colors are basically exactly the same and it's just shooting through the middle and that's just letting you know where it's at. If it does go through the roof and it's way over to the sides, you probably want to pay attention to that, see what's going on. Like this histogram would have me looking at that photo pretty quick. Oh okay, it's fine. You know. Once you see the photo you can see it and so it just means it's a relative number of pixels of one compared to another. Question in class? Oh great, yeah. So my camera has a histogram that you can actually put up while you're shooting, and so I was just wondering your though. Is there any reason why you wouldn't want to use the histogram while you're shooting, except maybe you're missing a part of the frame? You're thoughts on that, cause the mirror-less cameras they can do that. You're just rubbing that in my face I just didn't know it was a process, I was just wondering if it was better to do one way or another. That's why I think it's fantastic. And that is the future of photography because the traditional light meter that I've showed you and that we're going to talk about. This one tiny little point is going to describe all the light that you're recording and it's either here or here, is ridiculous. A histogram gives us way more information because you think well everyone of these pixels is providing us with a little bit of information and combined, we really get a much better overall feeling rather than this one number plus one, minus one. And so in the future, I think, traditional light meter systems will be gone and we'll just look at a histogram because that tells us the range of brightness, where it's peaking and it makes a whole lot more sense. And so I would like to just turn off the traditional light meters and use a histogram. Which is available in many mirror-less cameras and you can have it right up on camera. I'd just wish they'd stop blocking the view of the stuff I'm trying to shoot. I think they need ares outside of that and so I'd love to see a camera, and nobody's done this, who knows why, down below the picture area, I can have information that is important like a little active histogram down there. I think that'd be fantastic to see.
Class Materials
Fundamentals of Photography Class Outline
Learning Projects Workbook
Photographic Vision Keynote PDF
Ratings and Reviews
Love love all John Greengo classes! Wish to have had him decades ago with this info, but no internet then!! John is the greatest photography teacher I have seen out there, and I watch a lot of Creative Live classes and folks on YouTube too. John is so detailed and there are a ton of ah ha moments for me and I know lots of others. I think I own 4 John Greengo classes so far and want to add this one and Travel Photography!! I just drop everything to watch John on Creative Live. I wish sometime soon he would teach a Lightroom class and his knowledge on photography post editing.!!! That would probably take a LOT OF TIME but I know John would explain it soooooo good, like he does all his Photography classes!! Thank you Creative Live for having such a wonderful instructor with John Greengo!! Make more classes John, for just love them and soak it up! There is soooo much to learn and sometimes just so overwhelming. Is there anyway you might do a Motivation class!!?? Like do this button for this day, and try this technique for a week, or post this subject for this week, etc. Motivation and inspiration, and playing around with what you teach, needed so much and would be so fun.!! Just saying??? Awaiting gadgets class now, while waiting for lunch break to be over. All the filters and gadgets, oh my. Thank you thank you for all you teach John, You are truly a wonderful wonderful instructor and I would highly recommend folks listening and buying your classes.
I don't think that adjectives like beautiful, fantastic or excellent can describe the course and classes with John Greengo well enough. I've just bought my first camera and I am a total amateur but I fell in love with photography while watching the classes with John. It is fun, clear, understandable, entertaining, informative and and and. He is not only a fabulous photographer but a great teacher as well. Easy to follow, clear explanations and fantastic visuals. The only disadvantage I can list here that he is sooooo good that keeps me from going out to shoot as I am just glued to the screen. :-) Don't miss it and well worth the money invested! Thank you John!
Dear John, thanks for this outstanding classes. You are not only a great photographer and instructor, but your classes are pleasant, they are not boring, with a good sense of humor, they go straight to the point and have a good time listening to you. Please, keep teaching what you like most, and I will continue to look for your classes. And thanks for using a plain English, that it's important for people who has another language as native language. Thanks again, Juan
Student Work