Focus Stacking
John Greengo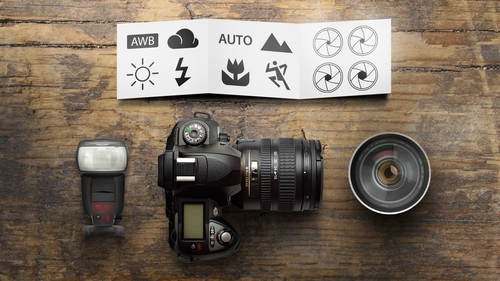 Focus Stacking
John Greengo
Lesson Info
54. Focus Stacking
Summary
(Generated from Transcript)
The lesson discusses the concept of focus stacking in photography, which involves taking multiple photos with slightly adjusted focus and then combining them to achieve a greater depth of field. The instructor explains the process of focus stacking, including the use of photo software to collect the sharpest bits of each image and create a composite image with increased sharpness from foreground to background. The lesson also provides examples of when and how to use focus stacking, as well as tips for achieving the best results.
Q&A:
What is focus stacking in photography?

Focus stacking is a technique that involves taking multiple photos with slightly adjusted focus and then combining them to achieve a greater depth of field.

Why would someone use focus stacking?

Focus stacking is useful when shooting with shallow depth of field or when stopping down to a high aperture (e.g. f/22) still does not provide sharp focus throughout the entire image.

How does focus stacking work?

Focus stacking involves taking multiple photos with different focus points and then using photo software to combine the sharpest parts of each image into a single composite image with increased sharpness.

What aperture setting is recommended for focus stacking?

An aperture setting of around f/8 or f/11 is recommended for focus stacking.

Can focus stacking be done with any camera?

Yes, focus stacking can be done manually with any camera, even without a built-in focus stacking feature. It requires careful adjustment of the focus and the use of a tripod to ensure the photos are aligned properly.

What are some examples of when focus stacking can be useful?

Focus stacking can be useful in landscape photography, architectural photography, and any situation where achieving a greater depth of field is desired.

What are some tips for focus stacking?

It is best to stay in manual exposure mode to ensure all the photos have the same settings. A tripod should be used to keep the camera stable. It is also important to be careful when adjusting the lens to avoid any movement of the camera.
Lesson Info
Focus Stacking
A relatively new feature now being included in some cameras is focus stacking. What happens here is that the camera will take multiple photos, adjusting the focus slightly after each photo so that you end up with a series of photos that are each focused on something slightly different. And this is a different way of getting great depth of field. Now you're going to need to use some sort of enhancement program or photo software, manipulation software to take all these images and run it through a program and collect all the sharpest bits of all of them so that you get one compressed image, essentially, of all of these taking the sharpest bits of all of these. So as an example of what we're doing here, if you shoot with shallow depth of field you're obviously not going to get the background in focus with something in the foreground. Now you can stop the lens down to f/ and you're still not going to be the background in focus in some cases and if you watch the previous section in this clas...
s you'll say John you didn't focus in the right spot you're focused on the nearest subject, you should focus on the subject in the middle, alright? Well even if you focus on the subject in the middle, f/22 still does not give you sharp focus from foreground to background in some situations where you're just running the limits of what you can get in focus. So, using the focus stacking currently it is in some of the Olympus cameras and in at least one of the Nikon cameras at the time we filmed this, you're going to shoot a bunch of pictures and now you can shoot at your prime aperture and I don't want to shoot at f/ because of the diffraction that you get. I like to shoot at f/8, f/ and I want to get a little more depth of field. I'll shoot at f/11. I've shot 50 images, and I know these are really small on screen and you can't see them, but they are all different. And I've done a focus step width of 1. Now what is a step width? A step width is Nikon's definition of a little bit. There's step width 2 which is a little bit more. It is how much overlap do you want on these images because at f/11 there's going to be bit of depth of field and the next one will be next to it and it's going to have a little bit of a overlap there than the next one, than the next one, than the next one, and you want to make sure there's some overlap. It's going to depend on how much you need because I could have shot this series with 500 shots. That's gonna bog my computer down. I could have shot it with 5 shots and it might not have been enough. So there is kind of a sweet spot on how many images to shoot and it depends on what you're trying to do, alright? So if you want to take a look at what these images look like, the first image is the image with the subject closest to the camera in focus. That's where I start the process and then the camera moves it a little bit with each photo for each of the 50s until it gets to the last one where in this case it's focused either on the background or possibly even slightly behind the background. So when I run it through a program and now I get one sharp image from front to back and if we compare items in the foreground versus items in the background, you'll see that we're getting some very nice sharpness. Now some of you may have noticed on the doll head there there's a little bit of unusual fuzziness around the edge. There are some options for getting into the programs and playing with the exact parameters and how it masks things. And so that's one of the things that you're going to get when you have a computer manipulate a whole bunch of photographs and come up with one composite of it. But in general you're going to get really good results from this, much better than you can ever get in a single shot at f/22. I typically don't do this out in the field, but if I come across a situation that really needs it and let me give you an example this is down in California this is near Monterey, I forget the name of the park down there, but there's these trees covered with this orange lichen and it extends all up, it's very three dimensional and focused stacking was use to get this shot. Now what I did was I focused and I didn't have a camera that did focus stacking. You don't need a camera that has that feature built in. You can just do it manually, got to be very careful, got to be on a tripod and so I take the first, the second, the third, the fourth, I forget, I think I took about ten shots. Just as many shots it took me to get through this to get to the very back end of this scene and then I got one final sharp image and if you're wondering, is he just being a little bit picky? Is this really necessary? Let's take a look at a close-up cause I also shot one at f/ just to see how much difference it would make. And so here you can see there's a great deal of sharpness difference between just stopping down to f/ and doing the focus stacking. So focus stacking will give you sharper results. It can help out in other ways as well. So here I'm just focusing on a little flower at f/2. and I kind of like this because it blows the background out you can't see anything going on, but the front edge and the back edge and the stem are no longer sharp. They're blurry because of the extreme shallow depth of field. Now if I just stop this down to f/32, the background well it becomes something different that I didn't really like. What I could do is focus stack on just the flower but not go all the way to the background and so it's stacking just those images of the flower so I get a sharp picture of the flower, the leaves and the stem, but the background is still blurry. And so you can end up with the results that I was originally intending for when I was shooting at f/2.8. It's just that 2.8 wasn't right. It was a good solution for this situation. And so if you're in a situation where stopping down to f/22 is not giving you the depth of field that you're wanting you can try focus stacking on your own or if your camera has it, shooting multiple photos, moving the lens just a little bit from the foreground to the background so that you get everything in focus. So a few more examples of where I've used focus stacking. Usually using an aperture of around f/11, that's a good number for focus stacking in my mind. And there are multiple programs out there that will allow you to do this and I used Helicon Focus which is at Heliconsoft and they seem to have pretty easy to work software. I haven't explored every nook and cranny of it, but I just kind of like dump em in, process, hey that looks pretty good. Few little adjustments in there. But it's a pretty simple program and works well for anyone who has great needs for depth of field. Landscape photographers, architectural photographers, and we talked a little bit about tilt shift lenses. Sometimes this will do things that you can't do with tilt shift lenses. Tilt shift lenses only solve certain amount of problems this solves a different set of problems. So some tips for focus stacking. I find it best to stay in the manual exposure mode cause all of these photos are going to become one they need to have all the same setting on them. This is for non-moving subjects. It should be obvious, you're shooting multiple photos there. Camera on a tripod, 8 or 11 on your aperture setting and then if you are doing it manually you have to be just very careful about adjusting that lens without bumping the camera so things move. The program will actually align images that have been moved slightly because when you do focus, one of the things that you may have noticed as we focus through all those different pictures, is that the magnification changed slightly and that happens with camera lenses. It's called focus breathing, it's not usually a big issue, and that's where there's a slightly different magnification as you focus back and forth. And the cameras will, or the processing software it's going to crop into the tightest of those images. So it's better to shoot a little bit wide if you think you may need the extra space around the edges.
Class Materials
Fundamentals of Photography Class Outline
Learning Projects Workbook
Photographic Vision Keynote PDF
Ratings and Reviews
Love love all John Greengo classes! Wish to have had him decades ago with this info, but no internet then!! John is the greatest photography teacher I have seen out there, and I watch a lot of Creative Live classes and folks on YouTube too. John is so detailed and there are a ton of ah ha moments for me and I know lots of others. I think I own 4 John Greengo classes so far and want to add this one and Travel Photography!! I just drop everything to watch John on Creative Live. I wish sometime soon he would teach a Lightroom class and his knowledge on photography post editing.!!! That would probably take a LOT OF TIME but I know John would explain it soooooo good, like he does all his Photography classes!! Thank you Creative Live for having such a wonderful instructor with John Greengo!! Make more classes John, for just love them and soak it up! There is soooo much to learn and sometimes just so overwhelming. Is there anyway you might do a Motivation class!!?? Like do this button for this day, and try this technique for a week, or post this subject for this week, etc. Motivation and inspiration, and playing around with what you teach, needed so much and would be so fun.!! Just saying??? Awaiting gadgets class now, while waiting for lunch break to be over. All the filters and gadgets, oh my. Thank you thank you for all you teach John, You are truly a wonderful wonderful instructor and I would highly recommend folks listening and buying your classes.
I don't think that adjectives like beautiful, fantastic or excellent can describe the course and classes with John Greengo well enough. I've just bought my first camera and I am a total amateur but I fell in love with photography while watching the classes with John. It is fun, clear, understandable, entertaining, informative and and and. He is not only a fabulous photographer but a great teacher as well. Easy to follow, clear explanations and fantastic visuals. The only disadvantage I can list here that he is sooooo good that keeps me from going out to shoot as I am just glued to the screen. :-) Don't miss it and well worth the money invested! Thank you John!
Dear John, thanks for this outstanding classes. You are not only a great photographer and instructor, but your classes are pleasant, they are not boring, with a good sense of humor, they go straight to the point and have a good time listening to you. Please, keep teaching what you like most, and I will continue to look for your classes. And thanks for using a plain English, that it's important for people who has another language as native language. Thanks again, Juan
Student Work