Foreground & Background & Scale
John Greengo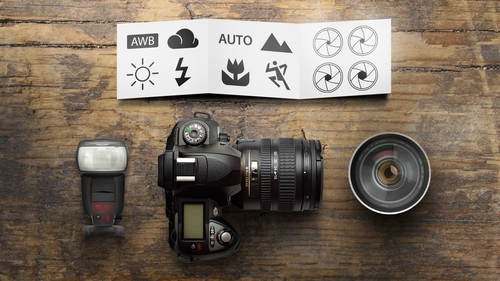 Foreground & Background & Scale
John Greengo
Lesson Info
93. Foreground & Background & Scale
Summary
(Generated from Transcript)
The lesson discusses the importance of foreground and background in photography, and how it can add depth and tell stories in a photograph. It emphasizes the use of foreground to provide scale and perspective, and to show the relationship between different subjects in the frame.
Q&A:
What is the significance of foreground and background in photography?

Foreground and background add depth and dimension to a photograph, making it more interesting and engaging.

How does photography capture three-dimensional scenes?

Photography can only capture two dimensions, but our brains can interpret and imagine the third dimension based on the visual cues in the photograph.

How can foreground be used to tell a story in a photograph?

By including a subject in the foreground, the photograph can convey a narrative and provide context to the overall scene.

What is the purpose of including a human figure or object in the foreground?

Including a human figure or object in the foreground provides scale and perspective, allowing viewers to understand the size and magnitude of the subjects in the photograph.

How can foreground and background be used in landscape photography?

In landscape photography, foreground and background can work together to showcase the grandeur of the scenery while also including a point of reference for viewers to relate to.

Can foreground and background be used to show relationships between subjects?

Yes, by positioning different subjects in the foreground and background, photographers can visually depict the relationship and interaction between the subjects.

How can foreground contribute to the overall composition of a photograph?

By carefully choosing and composing the foreground elements, photographers can create a sense of depth, balance, and visual interest in the photograph.
Lesson Info
Foreground & Background & Scale
All right, the next concept, we've talked a little bit about this, is foreground and background. And we talked a little bit in rule of thirds where you might have a subject in one part of the frame and another subject in the other part of the frame. And so thinking about what's in the foreground and background and having some depth to your photographs. Now photography is tough because we're dealing with two dimensions. And I don't know of anytime soon that we're gonna be going into three-dimensional photography. It's perfectly capable. I see people out there shooting. About every ten years, I'm told that 3D TV's gonna be the next hot thing and then they're not the next thing. But the way we view the world is just very easy to see it in two dimensions. And that's perfectly fine because that adds to the mystery. We don't know what it looked like in 3D, but our brains can kind of make it up. We can figure it out in most cases. And so this is going back tactically. It's that hyperfocal dis...
tance, stopping down, keeping things in the foreground as well as the background in focus. But you can think about this for a lot of different ways of telling stories. Having a subject in the foreground and what's in the background. So it's more than just one thing that's going on in a photo. And so I like these buildings. They're interesting buildings. But you know what, let's wait, two, three, five, ten, half an hour for the right cars to come by so that we have something interesting in the foreground. And so foregrounds can be very, very important. So sometimes we want to hide how big or small a subject is. Sometimes we wanna put it in perspective so that people understand what they're looking at. And so shooting the pyramids off from the side location is great because I get this nice compressed view of the pyramids. But having that one camel out there with that person out there really lends a scale to it that makes it seems a little bit more majestic. Because without it, put my hand over it there, you're not really sure on how it relates to you in size. When I was down in San Francisco I thought it very interesting there were some people surfing right under the Golden Gate Bridge. And so I think it's just great seeing that huge bridge up behind them. And the people don't need to be very big because humans are very adept at spotting a small human figure. That's probably the shape that we are most easily able to lock onto. And you can actually identify somebody from a mile away if you see them moving if you have a clear view a mile away, you could see by the way that they're moving. And so just including that one extra human down there show the scale of that particular situation. And so these are really a lot of favorite type photographs for adventure photographers and hiking type magazines. You want the big mountain landscape, but show me where I can fit in there as well. So that can work with humans. It can work with animals, just to show the type of environment that it's in. So that one lonely bit. That's like the same photograph right there in a completely different place. It's that same formula again. One of my strange adventures is riding my bike across Alaska. And we had to ride the Haul Road, which is a 414-mile gravel road across the northern part of Alaska. And one of the things we had to be careful of was the large trucks. And so I did a whole little documentary about this entire trip. And part of it was, okay, here's a little cyclist and big 18-wheelers kicking up gigantic rocks on this road. And so you wanted to show the relationship between one subject and the other subject.
Class Materials
Fundamentals of Photography Class Outline
Learning Projects Workbook
Photographic Vision Keynote PDF
Ratings and Reviews
Love love all John Greengo classes! Wish to have had him decades ago with this info, but no internet then!! John is the greatest photography teacher I have seen out there, and I watch a lot of Creative Live classes and folks on YouTube too. John is so detailed and there are a ton of ah ha moments for me and I know lots of others. I think I own 4 John Greengo classes so far and want to add this one and Travel Photography!! I just drop everything to watch John on Creative Live. I wish sometime soon he would teach a Lightroom class and his knowledge on photography post editing.!!! That would probably take a LOT OF TIME but I know John would explain it soooooo good, like he does all his Photography classes!! Thank you Creative Live for having such a wonderful instructor with John Greengo!! Make more classes John, for just love them and soak it up! There is soooo much to learn and sometimes just so overwhelming. Is there anyway you might do a Motivation class!!?? Like do this button for this day, and try this technique for a week, or post this subject for this week, etc. Motivation and inspiration, and playing around with what you teach, needed so much and would be so fun.!! Just saying??? Awaiting gadgets class now, while waiting for lunch break to be over. All the filters and gadgets, oh my. Thank you thank you for all you teach John, You are truly a wonderful wonderful instructor and I would highly recommend folks listening and buying your classes.
I don't think that adjectives like beautiful, fantastic or excellent can describe the course and classes with John Greengo well enough. I've just bought my first camera and I am a total amateur but I fell in love with photography while watching the classes with John. It is fun, clear, understandable, entertaining, informative and and and. He is not only a fabulous photographer but a great teacher as well. Easy to follow, clear explanations and fantastic visuals. The only disadvantage I can list here that he is sooooo good that keeps me from going out to shoot as I am just glued to the screen. :-) Don't miss it and well worth the money invested! Thank you John!
Dear John, thanks for this outstanding classes. You are not only a great photographer and instructor, but your classes are pleasant, they are not boring, with a good sense of humor, they go straight to the point and have a good time listening to you. Please, keep teaching what you like most, and I will continue to look for your classes. And thanks for using a plain English, that it's important for people who has another language as native language. Thanks again, Juan
Student Work