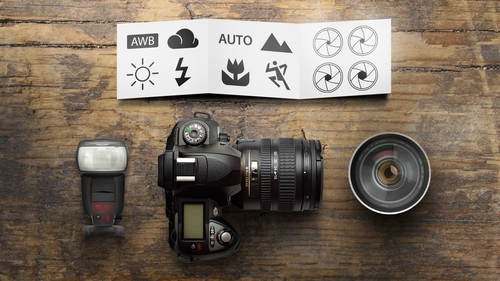 Lesson Info
62. Cases
Summary
(Generated from Transcript)
The topic of this lesson is camera bags and cases.
Q&A:
What are some different types of camera bags and cases?
Some different types of camera bags and cases include shoulder bags, sling bags, backpacks, and hard cases.
How should I choose a camera bag that fits my needs?
The instructor recommends going to a camera store and trying out different bags to see which one is most comfortable and can fit all of your equipment.
Is it better to overfill a sling bag or use a backpack?
It is not recommended to overfill a sling bag as it can become uncomfortable. If you have more equipment, a backpack is a better option.
Are there any recommended camera bag manufacturers?
The instructor mentions a few of his favorite manufacturers, including Tiffen, Hoya, and B+W.
What should I look for in terms of quality when choosing filters?
In general, higher quality filters tend to be more expensive. The instructor recommends looking for filters from reputable brands such as Tiffen, Hoya, and B+W.
Are there any differences in quality between different brands of extension tubes?
While there may not be a difference in the optics of extension tubes, the mechanisms and build quality can vary between manufacturers. The instructor recommends Canon or Kingco extension tubes.
What type of filter is best for black and white photos?
Color filters can be used in black and white photography to affect the colors being recorded. For example, a red filter can make the blue sky appear darker.
Can a speed booster be used with a full frame lens?
It is theoretically possible to use a speed booster with a full frame lens, but a lens with a larger image circle than full frame would be needed.
Lesson Info
Cases
Finally and this is a pretty quick section on cases. They've said that there is no perfect camera bag. I disagree, there is a perfect camera bag but it's only good for one thing. That's the problem with camera bags. There are kind of designed for a purpose. Back in the days, we had these little camera cases and they are called ever ready cases, but the folks at the camera store call them never ready cases 'cause your camera is never ready to shoot in them. And do often times you start with a basic camera in a basic little camera bag and as soon as you buy an extra lens, you gotta buy an extra case for that lens. And eventually most people end up in a shoulder bag, and these are very convenient bags to work with. Here are a few of my favorite manufacturers of these different bags, and of course you're buying a bag that fits your needs. One of the best advice I ever got from a mentor I was working with at the camera store was whatever bag you have, you will fill it. And so the advice tha...
t I come away with that is if you would like to find your perfect camera system, it sounds like a joke but I'm very serious about this. If you wanna find the perfect camera system for you, go to the camera store and look at camera bags, and think about how would you like to carry this around all the time. Is this gonna be your best friend, take the camera bag that you like the most, go over to the camera counter and see what can fit inside it. Because that's what you end up walking around with, not your camera. It's your camera bag and all the stuff in it and so that is important, and I tend not to throw camera bags away or give them a way 'cause there's always another purpose for them. There are hard cases and these are great for traveling on airplanes or in cars, if you have larger equipment. Putting them on rollers allows you to carry more equipment. With the sling bags, my main tip here is don't try to over fill these bags. Don't try to carry too much in a sling bag. It's really good for a body and two lenses. Do anything more than that, they start riding incorrectly and are not comfortable on the body. If that's the case, you need to go to a back pack system. Bag packs are my favorite way because it's the easiest way to carry a large amount of equipment from place to place. I do have a couple of different back packs and these are a few of my favorite ones depending on how much gear and what other things I need to bring along with me. It's finding something that's comfortable that works the way that you want. There's a lot of good models out there. These are just a few of the ones that I've experienced that I like and it's what I tend to shoot with when I am very serious. The other things that I use is I use shoulder bags when I need to be a little bit more accessible in the camera bag. This is more when I wanna get to a destination and then I'm gonna shoot there and I'm gonna load it all up and go to the next place. If you want to be shooting in between, that's when the shoulder bag becomes a lot more convenient. Okay so we don't have to go through everything and although the specific brand recommendations, but when you're looking, people were curious about the filters and graduated filters and in particular. What are the things that you should look for in terms of quality when you're looking at which filters to choose? Right, that can be a little bit harder one to figure out because there's not just a universal standardized rating number to look at on that. But I have found in general, you do get what you pay for, and there are $10 filters that are really worth $10. And a good filter for UV is usually gonna be $25-$ depending on the size. A polarizing filter is probably gonna be $50 to $ and there is always a way of making something cheaper. There's always a way. There's company out there going how can we do almost this product but let's make it cheaper and then we'll just lower and lower the quality. So Tiffen and Hoya makes some good filters. B+W also makes really good filters. Those will be three big names to look at there. Great, thank you. And also in terms of quality. A question had come in about when they're talking about the extenders. Are there some that are better than others or are they kinda just tubes that do the same thing? So the extenders, so we're talking about the extension tubes or as Canon calls them. Extenders known as teleconverters do you think? Yeah? They said extenders so I'm not sure. Extenders well I'm thinking they're talking about extension tubes and so there's no glass in them. So there's not quality difference in the optics. But the mechanisms of how they connect together. How strong are there. How well do they hold larger lenses. That could vary from manufacturer to manufacturer and so I got the official Canon ones, which work very smoothly and very nicely, but I believe one of the other brands was Kingco, that sells a three package set that is a very good value that works quite well as well. And I think there's a bunch of them out there on the market as well. Fantastic, thank you. Lee Gardner had asked what filter is best for black and white photos? Is there a difference when you're looking back? So black and white photography is a whole other thing and that's when you can start using color filters that affect the colors that you're recording. And so for instance if you use a red filter, it's gonna make the blue sky very dark and so we're not gonna get into all of that right now. And so that's a whole separate issue that I don't think we're gonna have time to get into. Okay, maybe one more. This one was from Neil, who said what happens when you use a speed booster with a full frame lens, was there a difference there? A speed booster, well it could be possible with a full frame camera, is that correct full frame camera? Yeah, sorry. With a full frame camera, the problem is that you're gonna need a lens that produces an even larger image circle than full frame and what does that medium format and large format, so you would need an adapter that fits like a hassi-blad or a miel lens onto your full frame camera. So it is certainly theoretically possible I don't know that anyone makes one at this time.
Class Materials
Fundamentals of Photography Class Outline
Learning Projects Workbook
Photographic Vision Keynote PDF
Ratings and Reviews
Love love all John Greengo classes! Wish to have had him decades ago with this info, but no internet then!! John is the greatest photography teacher I have seen out there, and I watch a lot of Creative Live classes and folks on YouTube too. John is so detailed and there are a ton of ah ha moments for me and I know lots of others. I think I own 4 John Greengo classes so far and want to add this one and Travel Photography!! I just drop everything to watch John on Creative Live. I wish sometime soon he would teach a Lightroom class and his knowledge on photography post editing.!!! That would probably take a LOT OF TIME but I know John would explain it soooooo good, like he does all his Photography classes!! Thank you Creative Live for having such a wonderful instructor with John Greengo!! Make more classes John, for just love them and soak it up! There is soooo much to learn and sometimes just so overwhelming. Is there anyway you might do a Motivation class!!?? Like do this button for this day, and try this technique for a week, or post this subject for this week, etc. Motivation and inspiration, and playing around with what you teach, needed so much and would be so fun.!! Just saying??? Awaiting gadgets class now, while waiting for lunch break to be over. All the filters and gadgets, oh my. Thank you thank you for all you teach John, You are truly a wonderful wonderful instructor and I would highly recommend folks listening and buying your classes.
I don't think that adjectives like beautiful, fantastic or excellent can describe the course and classes with John Greengo well enough. I've just bought my first camera and I am a total amateur but I fell in love with photography while watching the classes with John. It is fun, clear, understandable, entertaining, informative and and and. He is not only a fabulous photographer but a great teacher as well. Easy to follow, clear explanations and fantastic visuals. The only disadvantage I can list here that he is sooooo good that keeps me from going out to shoot as I am just glued to the screen. :-) Don't miss it and well worth the money invested! Thank you John!
Dear John, thanks for this outstanding classes. You are not only a great photographer and instructor, but your classes are pleasant, they are not boring, with a good sense of humor, they go straight to the point and have a good time listening to you. Please, keep teaching what you like most, and I will continue to look for your classes. And thanks for using a plain English, that it's important for people who has another language as native language. Thanks again, Juan
Student Work