Dynamic Range
John Greengo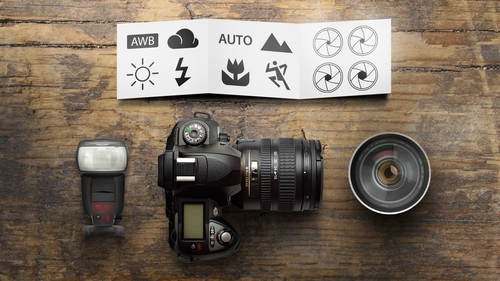 Dynamic Range
John Greengo
Lesson Info
33. Dynamic Range
Summary
(Generated from Transcript)
The topic of this lesson is dynamic range in photography.
Q&A:
What is dynamic range?

Dynamic range refers to the range of brightness that a camera can record from light to dark.

How many steps can a camera capture between pure black and pure white?

The number of steps between black and white varies between cameras, but generally, the more steps, the better the dynamic range.

Can the contrast level be adjusted in post-production to decrease dynamic range?

Yes, the contrast level can be adjusted, but reducing contrast rarely improves the image.

What are high dynamic range photographs commonly composed of?

High dynamic range photographs often include both land and sky, resulting in a wide range of brightness.

Can contrast be added to low contrast scenes to improve the photograph?

Yes, contrast can be added to low contrast scenes to make the brighter areas brighter and the darker areas darker, which can improve the overall image.

Which cameras have the best dynamic range ratings?

The Nikon D850, Sony A7R III, and Pentax K1 have the highest dynamic range ratings, but any camera with a dynamic range over 12 is generally considered excellent.

Where can camera dynamic range ratings be found?

Camera dynamic range ratings can be found from testing conducted by companies like DxOMark.

Is it better to expose to the left or right in photography?

There is a general philosophy to expose to the left (slightly brighter), but ultimately, it depends on the specific subject and desired outcome. The most important factor is to avoid overexposing anything important in the image.
Lesson Info
Dynamic Range
Alright, we need to have a little talk here about dynamic range. And this is the range of brightness that you're camera can record from light to dark. And it's gonna range from pure black to pure white. And the questions is, is how many steps in between can you get between black and white. And we are once again forgetting about color just thinking about overall brightness here. So let me show you a range of photographs here that fit into something that I would call a high dynamic range. So, what is common about these photographs, just look at 'em for for a moment and think about what's common about all of these photographs. So, I will answer for you. Number one is they're all taken outside. I tend to photograph outside a lot, so that did that happens here. But they all include land and sky in some way or another. And so, the sky tends to be bright, the ground tends to be a little bit on the darker side. So when you have both of them in there, you're gonna get this wide range of brightn...
ess. So, let's just take one of those images here. This is entering Ngorongoro Crater, in case you're wondering. And this is a pretty wide dynamic range. We have a really bright sky and we have your typical ground which a little bit darker. Now we can take this into Photoshop or any sort of program and we can say, you know, it's got a really large range here maybe larger than we want it to have. Can we decrease it? Well, yes you can. You can take the contrast level and there's a contrast slider, you just slide it off to the side and you reduce the amount of contrast. Doesn't really help the image at all. Doesn't make it look any better at all. And so, in post production, reducing contrast rarely ever makes the photo better. It might be necessary for a reason here and there but for the most part, it's just not something somebody would do on a regular basis. It doesn't make it any better and so you have to either, you're gonna have to live with the contrast you have, but making it less really isn't an option. Alright, next up, let's look this series of photos here. Now, these fall into a low dynamic range. Now, one of the things you'll notice is we don't have sky land shots here anymore. We have a little bit more closeup shots that we don't have the sky or it's only the sky. And so we don't have as wide a range of tonalities and brightness from light to dark in this case. So let's take one of these images and we look at the histogram and that looks pretty good but were not fully extended on this. We can take this in and we can increase the contrast on this. And does increasing the contrast change the photo in a way that you like? Well, that's subjective but it does make those colors a little bit more vibrant. Makes that picture even seem a little bit sharper. So, we can take low contrast scenes and we can add contrast to them, make the brighters, brighter, and the darkers, darker. And that will often improve the photographs. And so photographers like low contrast situations because we can make it high contrast if we want. We just can't take it away later on. And so, that's why low contrast situations are easier to deal with than high contrast situations and we're trying to avoid those situations that are really contrasty like a really bright light and a dark area here, or shooting inside, outside to really bright sunlight. It's a very challenging situation 'cause our sensors in our cameras cannot handle it. Now the sensors in our cameras are constantly getting better. And there is a way of rating by testing them how much dynamic range they can handle. And right now, the king of the hill is the Nikon D850 at 14.8 stops of exposure value range. Closely followed by the Sony A7R III and then the Pentax K1. I pulled up some numbers from other popular cameras just to see what they have. And just as a reminder, for those of you who don't know, anything over 12 exposure value is generally considered to be excellent. But you always want more because if your camera can capture a wider range, that just means you can work in a wider range of conditions. Some interesting things, the most expensive camera on this right here is the one with the lowest rating. It's for a variety of reasons, it's different thing. The camera excels in different areas. Dynamic range is just one of those things, that over the last few years, has become increasingly important. Only because, I think, they've been able to test it a little bit more clearly than they have in the past. And so, it's good to have a camera with the best dynamic range but, as I say, anything over 12 is probably fine. And if your case, I'm wondering where I pulled these numbers from, a company called DxOMark does testing of cameras that will, boy if you go into like a photography party and you start talking about DxOMark, boy, that'll get the conversation going 'cause some people like, they don't trust them and they don't like their numbers and they're all biased. And oh no, they're using factual data and its just one of the places that do testing out there on a variety of cameras. And this was their landscape or dynamic range test and how much exposure range that a particular camera can handle. I don't have some brands listed up here 'cause they just don't test certain brands out there. So we've been talking about a lot of different things in exposure. This might be a good time to check in to see and make sure that we've got all our questions answered before we head in to the next big section. Great, so I have a couple people that are asking about this expose, is it better to expose to the left or expose to the right. Do you have an opinion on that? I usually like to expose the way you're supposed to expose. Whatever looks good (laughing) on the final image. There is a general philosophy that is not incorrect, that you should expose to the left, which for you guys is over here. (laughing) And so record a photograph a little bit brighter than darker. And that is only gonna work out if you have a very low dynamic range subject, where you could record it middle, lighter or darker. If you record it darker, we'll go the wrong way, you need to brighten it up later on. And that tends to be very hard. If you don't record very much light trying to make it brighter and I'm gonna show you a couple of examples when we get to the art of editing, what it looks like to shoot a dark photograph and just raise the brightness level, compared to actually shooting it at the correct brightness. Now, there is the theory that if you record it with even more light than you need, and reduce it later, you'll reduce the amount of noise. And the benefit to doing that, that I have seen, is not worth the effort and time it takes to slide the slider back down to make it darker. And so, in theory, its better and in practice, it probably is but it's not enough that it really changes the way I think most people should shoot. I think you should probably just shoot the way you are. But if you're gonna kind of hesitate, should I make it a little lighter or a little bit darker, I would say make it a little bit lighter than average just as so long, and this is very important, make it lighter, so long as you're not over exposing anything important. That's the important thing. And so there's kind of different criteria, usually number one, is don't over expose anything that's important.
Class Materials
Fundamentals of Photography Class Outline
Learning Projects Workbook
Photographic Vision Keynote PDF
Ratings and Reviews
Love love all John Greengo classes! Wish to have had him decades ago with this info, but no internet then!! John is the greatest photography teacher I have seen out there, and I watch a lot of Creative Live classes and folks on YouTube too. John is so detailed and there are a ton of ah ha moments for me and I know lots of others. I think I own 4 John Greengo classes so far and want to add this one and Travel Photography!! I just drop everything to watch John on Creative Live. I wish sometime soon he would teach a Lightroom class and his knowledge on photography post editing.!!! That would probably take a LOT OF TIME but I know John would explain it soooooo good, like he does all his Photography classes!! Thank you Creative Live for having such a wonderful instructor with John Greengo!! Make more classes John, for just love them and soak it up! There is soooo much to learn and sometimes just so overwhelming. Is there anyway you might do a Motivation class!!?? Like do this button for this day, and try this technique for a week, or post this subject for this week, etc. Motivation and inspiration, and playing around with what you teach, needed so much and would be so fun.!! Just saying??? Awaiting gadgets class now, while waiting for lunch break to be over. All the filters and gadgets, oh my. Thank you thank you for all you teach John, You are truly a wonderful wonderful instructor and I would highly recommend folks listening and buying your classes.
I don't think that adjectives like beautiful, fantastic or excellent can describe the course and classes with John Greengo well enough. I've just bought my first camera and I am a total amateur but I fell in love with photography while watching the classes with John. It is fun, clear, understandable, entertaining, informative and and and. He is not only a fabulous photographer but a great teacher as well. Easy to follow, clear explanations and fantastic visuals. The only disadvantage I can list here that he is sooooo good that keeps me from going out to shoot as I am just glued to the screen. :-) Don't miss it and well worth the money invested! Thank you John!
Dear John, thanks for this outstanding classes. You are not only a great photographer and instructor, but your classes are pleasant, they are not boring, with a good sense of humor, they go straight to the point and have a good time listening to you. Please, keep teaching what you like most, and I will continue to look for your classes. And thanks for using a plain English, that it's important for people who has another language as native language. Thanks again, Juan
Student Work