Auto Focus Calibration
John Greengo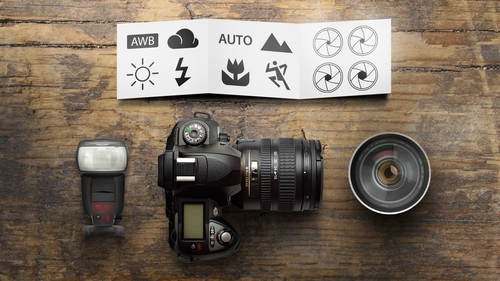 Auto Focus Calibration
John Greengo
Lesson Info
53. Auto Focus Calibration
Summary
(Generated from Transcript)
This lesson focuses on the topic of Auto Focus Calibration in photography. The instructor explains that DSLR cameras have a phase detection focusing system that can have slight errors, causing the focus to be inconsistent. The lesson teaches how to calibrate the camera to correct for these errors, using a focusing target and measuring if the focus is in front or behind the subject. The instructor also mentions that this calibration is especially important for those using longer telephoto lenses and fast lenses with shallow depth of field.
Q&A:
What is Auto Focus Calibration?

Auto Focus Calibration is the process of adjusting the focus of a DSLR camera to correct for any errors or inconsistencies.

Why is Auto Focus Calibration important?

Auto Focus Calibration is important because it ensures that the camera focuses accurately on the subject, especially when using longer telephoto lenses and fast lenses with shallow depth of field.

How can you test if your camera needs Auto Focus Calibration?

You can test if your camera needs Auto Focus Calibration by focusing on a subject and measuring if the focus is in front or behind the subject using a focusing target or a homemade test chart.

How do you perform Auto Focus Calibration?

To perform Auto Focus Calibration, you need to unfocus the lens, let it auto focus, and then take a picture. You may also take multiple pictures at each setting and unfocus in the other direction to achieve focus from both sides.

Who would benefit the most from Auto Focus Calibration?

Those using fast lenses with apertures of 2.8 or faster, including telephoto lenses, macro lenses, and portrait lenses, would benefit the most from Auto Focus Calibration.
Lesson Info
Auto Focus Calibration
The next little bit is exclusively for some special people, Nikon and Canon owners, Pentax, too. Anybody who uses a DSLR has a phase detection focusing system in their camera and I told you about the slight error that can happen and this is how you correct for that error. And, cameras are supposed to focus on a subject and be perfectly on. With mirrorless cameras, because they're grabbing the information from the sensor, it's actually accurate all the time. And so, it knows when it's got it. But, for an SLR, it's an estimation and sometimes it's a little wrong and it focuses consistently off because there's something off in the calibration. And, it could front focus, it could back focus, as well. And, I know that there are some people out there that would just say (stomp) it shouldn't to that. I spent a lot of money. And that's true, but we are dealing about physical stuff that needs to be manufactured and there are certain tolerances. If you want perfect focus, we could probably do it...
and it would be a $100,000 lens. And, it's just, you know, we would rather have a lens that focuses 99.9% of the time for $1,000. And, so, things are gonna get off when there's mechanical parts and moving parts and there's manufacturing tolerances. And, sometimes, what happens is a camera will hit plus or minus 1% and then, the lens will hit plus or minus 1% and then the two of them will probably be zero but, it could be plus two or it could be minus two and that's when things kind of get thrown off. And, so, in the past, we had to send all of our gear back to the manufacturer and then, they would do something with it and then we get our gear back and now, they allow it, us to fix it ourselves. And, so, if you wanna fix it yourself, you have to test it to see exactly what's wrong with it. And, it needs to be a consistent problem. If you're having a situation where it focuses in front, in back, everything's out of focus but, it's different every time, okay, that's something else. It's where, you know, I'm focusing on the eyes and the nose is in focus on a consistent basis with the same lens all the time. That's the type of problem we can solve here. What you need to do is you need to focus on a subject and you can use a focusing target, a book, or pretty much anything else you want. But, we need to measure if we're actually focusing front or behind it. So, it can't just be a flat object. You can buy a test chart that looks like this or you can make your own which is what I do with rulers and yardsticks. It's pretty easy to do. And, you just gotta line em up and set em up. And, so, I'm gonna focus on the vertical one and I'm gonna measure whether I'm in front or in back. And, so, when you get into the calibration of these cameras, you'll be able to adjust the focus forward or back by one increment. I don't know what one increment is but, it's a really small amount. And, so, this is what my photos would look like. So, I'm adjusting it by minus 20 and plus 20 on the extremes and the yellow arrows indicate where I thought the best focus was. And, so, my camera set at zero is front focusing ever so slightly. So, I would probably set my camera to plus three or maybe plus four, something in that range there. Now, this is something that is not gonna be a major problem for most people most of the time. It's for people who have longer telephoto lenses, people who have very fast lenses who shoot at shallow depth of field on a regular basis. And, so, you're gonna need everything that you would use to get really sharp photos. You're gonna wanna have your tripod, cable release, self timer, things like that set up. You're gonna need to set your camera up to shoot the highest quality images possible at the shallowest depth of field possible and there's a couple different ways that you can do that but, you wanna shoot as shallow depth of field as possible. And, then, what you're gonna do is I unfocus the lens, I let it auto focus, and then I have it take the picture. Now, kind of the one additional step that I'll do is I'll do a couple of photos at each setting. I'll unfocus, take a picture, unfocus, take a picture, and, then, if I really wanna be precise, I unfocus the other direction, so that it has to achieve focus from both directions. I want it to be able to find the right spot from both sides and I'm trying to look for things that are consistent. If it's out of focus every time, then I'm gonna make an adjustment and I'll go forward and back. Now, yeah, I'm kind of a picky guy, and I have some fast lenses so, I like to be right. So, I have to, I hate buying new cameras because I gotta go do the calibration on all my lenses, and I gotta lot of lenses, and I gotta get it all right. And, for the most part, I am adjusting almost all of my lenses a few point forward or back. And, so, if you have lenses that are faster than 2. those are the people that are really gonna need to do it. So, this is for, typically it's Nikon and Canon, anyone who has fast glass and I'm talking about apertures of 2.8 or faster. Talking about telephoto lenses, macro lenses, and portrait lenses, those are the people that are gonna get the most benefit and see some change in it. If it's something erratic, then, you're gonna need to send your camera back to the manufacturer because there's something else going wrong. It's consistent problems that we can fix here.
Class Materials
Fundamentals of Photography Class Outline
Learning Projects Workbook
Photographic Vision Keynote PDF
Ratings and Reviews
Love love all John Greengo classes! Wish to have had him decades ago with this info, but no internet then!! John is the greatest photography teacher I have seen out there, and I watch a lot of Creative Live classes and folks on YouTube too. John is so detailed and there are a ton of ah ha moments for me and I know lots of others. I think I own 4 John Greengo classes so far and want to add this one and Travel Photography!! I just drop everything to watch John on Creative Live. I wish sometime soon he would teach a Lightroom class and his knowledge on photography post editing.!!! That would probably take a LOT OF TIME but I know John would explain it soooooo good, like he does all his Photography classes!! Thank you Creative Live for having such a wonderful instructor with John Greengo!! Make more classes John, for just love them and soak it up! There is soooo much to learn and sometimes just so overwhelming. Is there anyway you might do a Motivation class!!?? Like do this button for this day, and try this technique for a week, or post this subject for this week, etc. Motivation and inspiration, and playing around with what you teach, needed so much and would be so fun.!! Just saying??? Awaiting gadgets class now, while waiting for lunch break to be over. All the filters and gadgets, oh my. Thank you thank you for all you teach John, You are truly a wonderful wonderful instructor and I would highly recommend folks listening and buying your classes.
I don't think that adjectives like beautiful, fantastic or excellent can describe the course and classes with John Greengo well enough. I've just bought my first camera and I am a total amateur but I fell in love with photography while watching the classes with John. It is fun, clear, understandable, entertaining, informative and and and. He is not only a fabulous photographer but a great teacher as well. Easy to follow, clear explanations and fantastic visuals. The only disadvantage I can list here that he is sooooo good that keeps me from going out to shoot as I am just glued to the screen. :-) Don't miss it and well worth the money invested! Thank you John!
Dear John, thanks for this outstanding classes. You are not only a great photographer and instructor, but your classes are pleasant, they are not boring, with a good sense of humor, they go straight to the point and have a good time listening to you. Please, keep teaching what you like most, and I will continue to look for your classes. And thanks for using a plain English, that it's important for people who has another language as native language. Thanks again, Juan
Student Work