Remove Distractions
John Greengo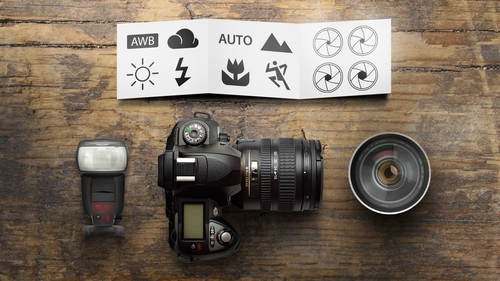 Remove Distractions
John Greengo
Lesson Info
86. Remove Distractions
Summary
(Generated from Transcript)
The lesson covers different distractions that can be present in photographs and provides techniques for removing or diminishing those distractions. The instructor discusses using cloning tools and spot removal in editing software, cropping to focus on the subject, adding vignettes to darken edges, adjusting highlights and colors, and adding blur to minimize distractions. The underlying message is to be mindful of distractions and take steps to enhance the focus on the main subject in the photograph.
Q&A:
What are some common distractions in photographs?

Common distractions in photographs include sensor dust, unwanted objects or elements in the frame, and excessive empty space.

What tools can be used to remove distractions in editing software?

Cloning tools and spot removal can be used to remove distractions in editing software like Photoshop or Lightroom.

When is it acceptable to crop a photo?

It is acceptable to crop a photo when there is excessive empty space or when the subject is not properly framed due to the limitations of the lens.

How can vignettes be used to enhance focus on the subject?

Adding vignettes, either through editing software or in-camera settings, can darken the edges of a photograph and draw attention towards the main subject.

How can highlights and colors be adjusted to minimize distractions?

Highlights and colors can be adjusted to diminish distractions by reducing the brightness or saturation of certain areas in the photograph.

How can blur be used to minimize distractions?

Adding a subtle blur to the background or less important subjects can help direct the viewer's attention towards the main subject in focus.
Lesson Info
Remove Distractions
There's a number of distractions that you can have in photographs. First off, you should try to avoid these when you shoot the photos as much as possible, but there is in some cases no way to avoid it, or you just didn't realize it and you're dealing with it after the fact. So there is a number of ways of just diminishing the things that aren't so good. Alright, so I like the big open space in this photograph but I have a couple of problems down in the right hand side, I had two different types of problems: I had sensor dust and I had a little bit of gunk in the water. And so, there's some distractions down here that I didn't really like. So I took out the sensor dust, and you can lock me up in Photoshop prison but I took out that little weed in the water, 'cause I just didn't think it was necessary there. If you go back and photograph it right now I guarantee you it's not there, alright? So for that part, it's pretty honest rendering of what this place looks like. So I did take those ...
out and you can use various cloning tools to take that out. There is a spot removal tool in Lightroom that is mainly designed for dust but can be used for other small items. It's not super versatile at getting everything out if you have a really complicated thing that you need to take out, like an ex-boyfriend or girlfriend, you're probably gonna need Photoshop for that, and that's will be on what we're doing in this class. Sometimes, there's just a lot of extra-space, you didn't have a long enough lens for what you shot, so that's distracting in some ways, so we wanna focus on our subject, so just simply cropping in is a factor that I don't like to do but sometimes you're forced into doing it because that's just the best you've got at the time. There's a Crop Overlay tool in every photo editing device, use it sparingly 'cause you are throwing away pixels at the time that you do that. So our main subjects are in the middle of the photograph and that's where I want your eyes to go, and I don't need them around the edge. It's okay if you explore the photograph here, but if I want to darken the edges a little bit it really keeps your eyes right there in the middle of the photograph. There's a number of ways of doing that adding your own vignettes. Where is the action here? And I'm just gonna add, just a very little subtle change to this. To adjust those corners to keep your eyes where I want the action to be. In order to do this, the Radial Filter can be used, you can also use the Adjustment Brush, if it's not a simple circle or oval, it's a more unusual shape that you wanna make it big. Be honest about yourself when you look at your photos, what's important, what's drawing your eye away from what's important. On the photo on the left, I felt that the sky was just a little bit too bright. It may seem very picky but I'm just adjusting those highlights and the whites down, so just that the sky is not quite as pure and stark white, as it is in the photo on the left. And it's good when you get picky, that means you're really paying attention with your photographs. Your eye is attracted to color, and the color in the background is kind of distracting from what we wanted here. It's very easy just to diminish the color a little bit, so I've selected the color and just diminished it, just a little bit so it doesn't draw your attention quite as much as before. Another way to do this is, you can add a little bit of a blur to the subjects that you don't want. This one is a little bit hard to see so let's blow this up so you can see what I'm doing here. There's a variety of ways that you can add a little bit of blur to your subject. Now, you can do a complete fake blur and do a fake shallow depth of field, but just going in, and throwing that subject just a little bit more out of focus than it already is, and it's just gonna tend for the eyes to go more to that subject that is in focus, rather than the one that's out of focus.
Class Materials
Fundamentals of Photography Class Outline
Learning Projects Workbook
Photographic Vision Keynote PDF
Ratings and Reviews
Love love all John Greengo classes! Wish to have had him decades ago with this info, but no internet then!! John is the greatest photography teacher I have seen out there, and I watch a lot of Creative Live classes and folks on YouTube too. John is so detailed and there are a ton of ah ha moments for me and I know lots of others. I think I own 4 John Greengo classes so far and want to add this one and Travel Photography!! I just drop everything to watch John on Creative Live. I wish sometime soon he would teach a Lightroom class and his knowledge on photography post editing.!!! That would probably take a LOT OF TIME but I know John would explain it soooooo good, like he does all his Photography classes!! Thank you Creative Live for having such a wonderful instructor with John Greengo!! Make more classes John, for just love them and soak it up! There is soooo much to learn and sometimes just so overwhelming. Is there anyway you might do a Motivation class!!?? Like do this button for this day, and try this technique for a week, or post this subject for this week, etc. Motivation and inspiration, and playing around with what you teach, needed so much and would be so fun.!! Just saying??? Awaiting gadgets class now, while waiting for lunch break to be over. All the filters and gadgets, oh my. Thank you thank you for all you teach John, You are truly a wonderful wonderful instructor and I would highly recommend folks listening and buying your classes.
I don't think that adjectives like beautiful, fantastic or excellent can describe the course and classes with John Greengo well enough. I've just bought my first camera and I am a total amateur but I fell in love with photography while watching the classes with John. It is fun, clear, understandable, entertaining, informative and and and. He is not only a fabulous photographer but a great teacher as well. Easy to follow, clear explanations and fantastic visuals. The only disadvantage I can list here that he is sooooo good that keeps me from going out to shoot as I am just glued to the screen. :-) Don't miss it and well worth the money invested! Thank you John!
Dear John, thanks for this outstanding classes. You are not only a great photographer and instructor, but your classes are pleasant, they are not boring, with a good sense of humor, they go straight to the point and have a good time listening to you. Please, keep teaching what you like most, and I will continue to look for your classes. And thanks for using a plain English, that it's important for people who has another language as native language. Thanks again, Juan
Student Work