Quiz: Focal Length
John Greengo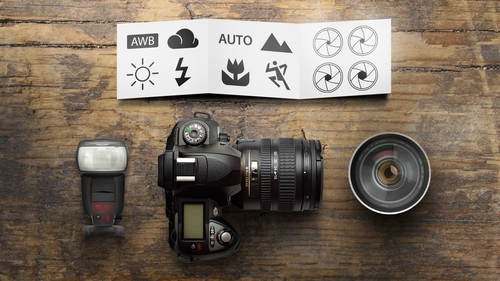 Quiz: Focal Length
John Greengo
Lesson Info
21. Quiz: Focal Length
Summary
(Generated from Transcript)
In this lesson, John Greengo quizzes the students on identifying the focal length of various photographs. Team A and Team B take turns guessing the focal length of the photos shown, and the instructor provides feedback and explanations for each answer. The lesson also touches on the concept of vignetting and its effect on photographs.
Q&A:
What is the purpose of the quiz in this lesson?

The purpose of the quiz is to test the students' understanding of focal lengths in photography.

How does the instructor provide clues to help the teams guess the correct focal length?

The instructor offers suggestions and reasons why a certain focal length might be appropriate for a particular photograph.

How does the instructor handle close guesses?

If a team is one off in their guess, the instructor considers it a close guess and does not give the other team a chance to steal the point.

What is vignetting and why does it occur?

Vignetting is a darkening of the corners of a photograph. It occurs more prominently in wide angle lenses because light has to travel further to reach the corners, resulting in a darker appearance.

Can vignetting be added or removed in post-processing?

Yes, vignetting can be both added and removed in post-processing depending on the desired effect in the photograph.
Lesson Info
Quiz: Focal Length
We are now gonna see if you guys have been paying attention, 'cause it is time for your first quiz of the day. So let's get the microphones to the captains, and, let's see, I think we're starting with team A, I think they're first up on the block. And so what we're gonna do is it's gonna be kind of like we did in the previous quiz. I'm gonna show you a photo, I'm gonna give you a limited selection of focal lengths that it could be, I'll give you a little bit of time to discuss it, and then you tell us what you think. So team A, here is your first photo, and we're gonna be talking about the major focal lengths that I've been talking about in the class. And start giving your captain some thoughts here. Kenna, are you playing along on your own here? I am playing along. (laughs) And I am not looking at the answers. (both laugh) Very good. Okay, do we have an answer for team A? 200 mil. And the answer is 200, very good. That was a quick answer, so one point for team A. Team B, are y...
ou ready? Your shot is right here. Just in case you're interested, this was taken in Morocco, and I think Kenna was not, Kenna took something like this too. Mm-hmm. See there. They're thinking about this. Offer some suggestions, give them some reasons why it might be one or the other. Do we have an answer for team B? We're gonna throw out 24. 24, well. Let's see what we got here. 16 is pretty close, and you know what? We're not gonna give it to the other team to choose here, you don't get a point for it, but I'm not gonna give them a chance to steal, because when you're one off, you're pretty close. 'Cause you are in the ballpark. So you're not losing a point here. Okay, so we're gonna kind of call it neutral there, but that was very good. Okay, I get to make up the rules as we go along. (class laughs) This is my class. Okay, so we're over to team A. We're at a market. Think about how would we photograph at a market, what does it look like, foreground subjects, background subjects. Alright, we're gonna need an answer. They wanna go with 35. 35. Oh, that's a good answer, because street photography, 35's a really good lens for doing that. And so as I look over to the board, I now see that we are tied up, five to five. Okay, so over to team B, a very different looking shot here. And I think we are in Istanbul, Turkey, just in case you're interested on this one. I don't know if holding fingers up to the screen helps in this case. (laughs) That's what I was just gonna ask you. Can you do it in reverse? (both laugh) We have a... an answer. Okay, good, good. (all laugh) And the answer we're going with, John, is 400. Would you like to justify or say why you think that's so? Huge amount of compression, and the sun is really big and looks close. Okay. Big sun in there, and so that is the correct answer, point for team B. Nice job, spot on. Alright, these can be a little bit tough, 'cause there's some things that are pretty close in there. I'm trying to give you just enough clues that you can probably figure it out. I don't like to make tests that are too difficult. Okay. They want 24. 24. We're gonna give you an incorrect on that one. It is a 50 millimeter lens, and what I would say is that if you look at the mountains in the background, they don't seem too small. With a 24 millimeter lens, with the boats this size, you'd probably see a smaller background. It would just kind of fade into something a little bit smaller. It's a challenging one. That is a challenging one, I will admit. Alright, let's go to New York City, here, and so I think there's been some people who've probably been to this exact spot. And so team B. What do you think we're looking at? I see some perplexed faces here. Okay. We're gonna ring in with 24. 24. And that is the right answer again. And look out, they're starting to pull ahead here. (class laughs) They are now two points into the lead, and I think we have our last photo quiz here, what focal length is this? And I think this is a good skill set for people to have, to be able to reverse engineer other photos that you like. Not saying that you like this photo, but you know. We have to use something as an example. (class members laugh) I'm very curious as to what's going on in these conversations. (all laugh) Just pick one. Alright. They're literally all giving me a different answer. (all laugh) That's why you have a captain. Makes decisions. 50. We're gonna go with 50, and incorrect answer. The correct answer is a 100 mm lens. We are starting to get some compression effects with these trees at different distances. If it was a 50 or a wide angle, you'd probably notice those back trees getting smaller and smaller. Challenging to do. But in general, you guys did a very good job there. And so I think that's good job. However, team B is pulling ahead. (laughs) About magnification versus angle of view, just because you keep using angle of view, but clearly, things are... Magnified. Yes. Right, and so we can rate the magnification of any lens, by starting with the diagonal of the sensor, so what is our normal lens? And so for most full-frame, we'd call it 43. Let's make it easy math on everyone and call it 50. Okay? So if we have a 100 mm lens, that would be considered two times magnification. When we go up to 200, it would be four times magnification. And on upwards like that. So at 24, we'd be .5 magnification, so you take your normal lens, and then what is this other lens in comparison to it, double or half, or quadruple. Alright, John, we do have a few questions online. And this is for Cheesy, what is... He's talking about, he's seeing vignetting, he or her, on the lens, 10 to 18. One side is always really dark. Why is that happening, or maybe you can just explain what vignetting is. Alright, so vignetting is a darkening of the corner. I don't like to reveal secrets, but I will reveal this one tiny secret that you may not have even noticed, is that the slides on all my classes have a slight vignetting to them. I just like the look of it. And so, the slide that you're looking at is white, but it's a little bit darker in the corner than it is in the middle. And that's the way some lenses look. Wide angle lenses, and typically very fast lenses look. And it's because when you have a wide angle lens, like this, light has to travel further when it's getting into the corners rather than in the middle, and when it travels further, it usually gets darker. And so there's a lot of lenses that have a natural vignetting to them. And it's one of the controls that we're gonna talk about in the art of editing. Because in some cases, you don't want vignetting. You want a nice, even sky tone. And other times, it's nice to add a vignetting. And so sometimes I'm adding it, and sometimes I'm taking it off. And it's more of just an optical effect that we've become quite used to. And yes, I do very specifically have a slide on that later on in the class.
Class Materials
Fundamentals of Photography Class Outline
Learning Projects Workbook
Photographic Vision Keynote PDF
Ratings and Reviews
Love love all John Greengo classes! Wish to have had him decades ago with this info, but no internet then!! John is the greatest photography teacher I have seen out there, and I watch a lot of Creative Live classes and folks on YouTube too. John is so detailed and there are a ton of ah ha moments for me and I know lots of others. I think I own 4 John Greengo classes so far and want to add this one and Travel Photography!! I just drop everything to watch John on Creative Live. I wish sometime soon he would teach a Lightroom class and his knowledge on photography post editing.!!! That would probably take a LOT OF TIME but I know John would explain it soooooo good, like he does all his Photography classes!! Thank you Creative Live for having such a wonderful instructor with John Greengo!! Make more classes John, for just love them and soak it up! There is soooo much to learn and sometimes just so overwhelming. Is there anyway you might do a Motivation class!!?? Like do this button for this day, and try this technique for a week, or post this subject for this week, etc. Motivation and inspiration, and playing around with what you teach, needed so much and would be so fun.!! Just saying??? Awaiting gadgets class now, while waiting for lunch break to be over. All the filters and gadgets, oh my. Thank you thank you for all you teach John, You are truly a wonderful wonderful instructor and I would highly recommend folks listening and buying your classes.
I don't think that adjectives like beautiful, fantastic or excellent can describe the course and classes with John Greengo well enough. I've just bought my first camera and I am a total amateur but I fell in love with photography while watching the classes with John. It is fun, clear, understandable, entertaining, informative and and and. He is not only a fabulous photographer but a great teacher as well. Easy to follow, clear explanations and fantastic visuals. The only disadvantage I can list here that he is sooooo good that keeps me from going out to shoot as I am just glued to the screen. :-) Don't miss it and well worth the money invested! Thank you John!
Dear John, thanks for this outstanding classes. You are not only a great photographer and instructor, but your classes are pleasant, they are not boring, with a good sense of humor, they go straight to the point and have a good time listening to you. Please, keep teaching what you like most, and I will continue to look for your classes. And thanks for using a plain English, that it's important for people who has another language as native language. Thanks again, Juan
Student Work