Shutter Speeds & Depth of Field (DOF)
John Greengo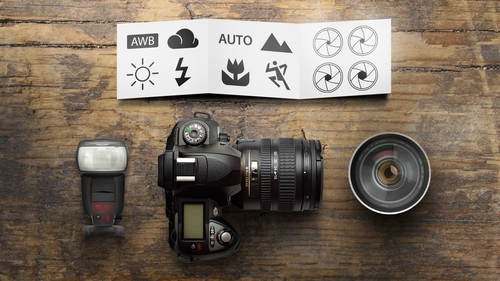 Shutter Speeds & Depth of Field (DOF)
John Greengo
Lesson Info
46. Shutter Speeds & Depth of Field (DOF)
Summary
(Generated from Transcript)
In this lesson, the instructor reviews the importance of choosing the right shutter speeds to capture sharp photos. He provides examples of recommended shutter speeds for different types of subjects and actions. The lesson also covers depth of field and how it is controlled by aperture, lens choice, and shooting distance. The instructor encourages students to experiment and learn their equipment's capabilities to understand the depth of field and make informed decisions while shooting.
Q&A:
Why is it important to choose the right shutter speed?

Choosing the right shutter speed helps to capture sharp photos and avoid motion blur.

What is the recommended shutter speed for human action?

For standard human action, a shutter speed of 500th of a second is recommended. For fast human action, it might need to be higher, such as 1,000th of a second.

What are some recommended shutter speeds for specific subjects?

For elephants walking quickly, a shutter speed of 250th of a second is appropriate. For most human action, a shutter speed of 60th of a second is likely sufficient.

What happens when using slower shutter speeds?

Slower shutter speeds can introduce blur into the photo, which can be desirable for certain creative effects or when capturing motion.

How can photographers determine the right shutter speeds for their subjects?

Photographers can keep track of their shutter speeds and review the metadata of their photos to understand the impact of different shutter speeds on their images. They can also experiment and learn from experience.

What is depth of field?

Depth of field refers to the range of distance in a photo that appears acceptably sharp. It determines how much of the scene is in focus.

How is depth of field controlled?

Depth of field is controlled by aperture, lens choice, and shooting distance. A wider aperture (lower f-number) results in a shallower depth of field, while a smaller aperture (higher f-number) produces greater depth of field. Wide-angle lenses provide more depth of field, while telephoto lenses create a shallower depth of field. The shooting distance also affects the depth of field, with closer subjects having less in focus and distant subjects having more in focus.

How can photographers learn about the depth of field of their lenses?

Photographers can run tests with different aperture settings on their lenses to understand the depth of field they can expect. It helps them learn the limitations and standards of their equipment.

What factors can make understanding depth of field complicated?

Understanding depth of field can be complicated when multiple factors, such as aperture, lens choice, and shooting distance, are pulling in different directions. It requires photographers to evaluate which factor has the most impact on achieving the desired depth of field.
Lesson Info
Shutter Speeds & Depth of Field (DOF)
Let's cover a little bit of territory just for a short period of time that we've already covered, just to review material. So when you're looking at your photos and you're evaluating them, you want them to be sharp. There's a lot of reasons why they might not be sharp. One of those might be out of focus problems that you or the camera did something wrong. But it's also choosing the right shutter speeds. And so let's just go back and remember real quickly some of those types of shutter speeds. For human action I recommend 500, but for really fast human action, you're gonna need to go up a little bit, or more, depending on the action. So 1,000th for some fast runners. Some dancers, they're moving good fast human action, that's your standard 500th of a second that I talked about. Some elephants walking quickly in the field, not quite running, but they're moving quickly, 250th is appropriate for that. For most human action, probably 60th, but if it's a little bit faster, a little bit more ...
chaotic, more a little bit higher up at 125th of a second. As I said, that casual human action, probably it's gonna need a 60th of a second. What if you choose casual human action at a 30th of a second? Well, look at those feet, we're getting just a little bit of blur in the feet, maybe it's perfectly fine to have a bit of blur, and I don't mind it at a 30th of a second. It's up to you as to exactly how much blur that you want in your photograph. I love panning, down at 15th of a second, that works really good, and then we can jump all the way to one second, if we want that blurriness in the water movement. And if we wanna take things to extremes, we can go down to 30 seconds with water movement, and have some very interesting choices here. I encourage you to keep track of your shutter speeds, look at the metadata of your photographs that you've taken, and start building in your own little reference points for the types of things that you shoot. Maybe you shoot concert photography. I don't do a lot of concert photography. I would start with a 60th of a second, unless is a high energy lead singer. Then I might need more than 500th of a second. It depends on what they are, what instrument they play, bass players, I'd say that you could use a slow shutter speed with them, alright? Drummers, you're gonna need a faster shutter speed with them. Figure out what shutter speeds works with the type of subjects that you typically work with. So more ground that we can kind of recover, just for the moment is depth of field. Something you'll get a picture and it doesn't have everything in focus the way you expected. And so, going back to our depth of field, 1.4 gives you shallow depth of field, 22 gives you lots of depth of field, and I encourage you to go out and run these tests on your different lenses. You're not gonna end up with great photos, probably, 'cause you're just playing around, but you're learning how your equipment works, you're learning the limitations and the standards that you're gonna get with various sets of gear that you have. I've done this test more times than I can tell you, and because I've done that, I don't need to pull my phone out of my pocket and pull up the depth of field app to tell me how much depth of field I need. You'll learn it through experience and you can just incorporate it as you work in the field very, very quickly. So, as I say, 1.4, very shallow depth of field, opening up our aperture, and we are gonna have to balance this with our light needs in the camera. Now, remember this depth of field is controlled by more than just changing your aperture. It'll be controlled by the lens that you use. A 50mm lens at f/8 is gonna give you shallower depth of field than a 28mm lens at f/8. The aperture is the same opening, but it's because is a different lens you're gonna get different things in focus. 28 at f/8, you're gonna get most to everything in focus. 50 at f/8, that near tail light on the car there on the right hand side, that's not gonna be tack sharp, probably in that situation. And you need to be stopped down a little bit more if you're using that longer focal length lens. The other factor on depth of field is how close you are to your subject. The closer you are to your subject, the less you are gonna get in focus. And so, the aperture you need will depend on how close you are to your subject. Now, the complication for a lot of people getting into photography is that there are three factors controlling how much is in focus in any particular photograph. Okay, we got it John, you've said it enough times. F/22 is a lot of depth of field. F/1.4 is less depth of field. Focal length, you are gonna get more depth of field with wide angle, les depth of field at telephoto, and then, shooting distance, how far away is the subject when it's close up, you get shallow, when it's far away, you get more. And it's pretty easy to figure out how much depth of field you're gonna get, if you have everything set over on one side of this graph here. If it's on the other side, you're shooting 1.4 with a long telephoto lens on a close up subject, well, of course it's gonna be shallow depth of field. Where it starts to get confusing is when you got this one over here, and that one over there, and this one here. So you've got one thing pointing one way and another thing pulling you the other way, you have to figure out what has the most impact on providing the depth of field.
Class Materials
Fundamentals of Photography Class Outline
Learning Projects Workbook
Photographic Vision Keynote PDF
Ratings and Reviews
Love love all John Greengo classes! Wish to have had him decades ago with this info, but no internet then!! John is the greatest photography teacher I have seen out there, and I watch a lot of Creative Live classes and folks on YouTube too. John is so detailed and there are a ton of ah ha moments for me and I know lots of others. I think I own 4 John Greengo classes so far and want to add this one and Travel Photography!! I just drop everything to watch John on Creative Live. I wish sometime soon he would teach a Lightroom class and his knowledge on photography post editing.!!! That would probably take a LOT OF TIME but I know John would explain it soooooo good, like he does all his Photography classes!! Thank you Creative Live for having such a wonderful instructor with John Greengo!! Make more classes John, for just love them and soak it up! There is soooo much to learn and sometimes just so overwhelming. Is there anyway you might do a Motivation class!!?? Like do this button for this day, and try this technique for a week, or post this subject for this week, etc. Motivation and inspiration, and playing around with what you teach, needed so much and would be so fun.!! Just saying??? Awaiting gadgets class now, while waiting for lunch break to be over. All the filters and gadgets, oh my. Thank you thank you for all you teach John, You are truly a wonderful wonderful instructor and I would highly recommend folks listening and buying your classes.
I don't think that adjectives like beautiful, fantastic or excellent can describe the course and classes with John Greengo well enough. I've just bought my first camera and I am a total amateur but I fell in love with photography while watching the classes with John. It is fun, clear, understandable, entertaining, informative and and and. He is not only a fabulous photographer but a great teacher as well. Easy to follow, clear explanations and fantastic visuals. The only disadvantage I can list here that he is sooooo good that keeps me from going out to shoot as I am just glued to the screen. :-) Don't miss it and well worth the money invested! Thank you John!
Dear John, thanks for this outstanding classes. You are not only a great photographer and instructor, but your classes are pleasant, they are not boring, with a good sense of humor, they go straight to the point and have a good time listening to you. Please, keep teaching what you like most, and I will continue to look for your classes. And thanks for using a plain English, that it's important for people who has another language as native language. Thanks again, Juan
Student Work