Exposure Bracketing
John Greengo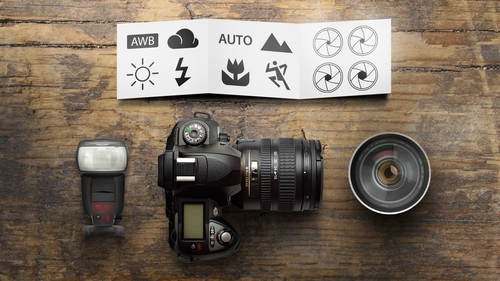 Exposure Bracketing
John Greengo
Lesson Info
36. Exposure Bracketing
Summary
(Generated from Transcript)
In this lesson, John Greengo discusses the concept of exposure bracketing in photography. He explains that exposure bracketing involves taking multiple shots at different exposure levels to ensure capturing the best possible image. He mentions that exposure bracketing can be done manually or using the automatic bracketing option on a camera. He discusses the options available for the number of exposures, exposure increment, shooting mode, drive mode, and auto-cancel. He also shares his own recommendations for different camera modes and when to use them, highlighting that manual mode is ideal for precise control, aperture priority mode is suitable for travel photography, and program mode can be used when necessary.
Q&A:
What is exposure bracketing in photography?

Exposure bracketing involves taking multiple shots at different exposure levels to ensure capturing the best possible image.

What are the options available for the number of exposures in automatic bracketing?

Cameras can shoot anywhere from two to nine exposures in automated bracketing modes.

What is the recommended exposure increment for bracketing?

It is recommended to bracket by one to two stops between exposures, as there is little difference in modern digital cameras when bracketing by a third of a stop.

What shooting modes can be used for bracketing?

Bracketing can be done in program, shutter priority, aperture priority, or manual mode, depending on the photographer's preference and the situation.

What is the purpose of exposure compensation in bracketing?

Exposure compensation can be used to adjust the middle image of a bracket series, making it either brighter or darker than necessary.

What is the recommended drive mode for bracketing?

Continuous drive mode is recommended for bracketing as it allows the camera to quickly fire through all the shots in succession and then stop.

What is auto-cancel in bracketing and when should it be used?

Auto-cancel is an option that can be turned on or off in some cameras. It is useful for photographers who frequently use bracketing. If bracketing is done occasionally, it is recommended to turn auto-cancel on.

What is the recommended order for shooting bracketed images?

Many photographers prefer shooting bracketed images in a sequence that goes from darker to lighter, as it makes it easier to differentiate between the images when reviewing them later.

What are the recommended camera modes for different photography situations?

Manual mode is recommended for precise control, aperture priority mode works well for travel photography, and program mode can be used when necessary.

When might exposure bracketing be beneficial?

Exposure bracketing can be beneficial when the photographer is unsure of the correct exposure or when using HDR photography techniques to combine images of different exposure values.
Lesson Info
Exposure Bracketing
Something else to think about is exposure bracketing. We talked about doing this manually before, but a lot of cameras will have an automatic option for you to shoot a variety of exposures, at different brightness levels, for a variety of reasons. It might be because you're just not sure what the right exposure is gonna be, and it's better for you to shoot a wide selection and then take it home and figure it out later, some of you though might be using HDR photography where you're combining photographs of different exposure values into one completed photograph. So, when it comes to exposure bracketing there is often a lot of different options, so I'm gonna tell you what some of these options are and then what I recommend and what I use for my photography at least. So you can shoot anywhere from two to nine exposures in these automated bracketing modes. Now you can manually bracket if you want, but automatic bracketing is kind of nice cause what happens is that when you press down on th...
e shutter release, if you're camera is in the continuous motor drive, it fires through all the shots as quickly as it can, and then stops. So it'll do all five shots for instance, just boom boom boom boom boom, and then it stops right away. And in everyone of those, it's changing everything that it needs to adjust. So it can be very quick and easy to work with. And so we have three exposures, which is kind of a traditional bracket but now, people are doing all sorts of things with their images, so you can go all the way up from five, seven all the way up to nine exposures. The exposure increment, how big a difference from one image to the next do you want? With modern digital cameras, it makes very little sense to bracket by a third of a stop. There is so little difference, you're not gonna see much difference. You can adjust modern digital images quite a bit, and so most photographers are bracketing by one to two stops between exposures. The shooting mode, you can be in program, shutter priority, aperture priority, or manual in this case. It depends on which you're doing. I tend to like aperture priority here. If you want, you can add exposure compensation on to the mix. If you're capturing three images, and you don't want the middle image at 0 EV, you can dial it up to plus one or down to minus two or wherever you want, so that you're getting that group of images either brighter or darker than necessary. And you might need to do that, depending on the situation that you're in. The drive mode can be in single or continuous, I often like it in continuous for the reason that I mentioned, is that the camera will suit to it very quickly and then just automatically stop. When I have the camera in the single mode, if I have it set up for seven exposures, I have to make sure I count one, two, three, 'cause I wanna know when I'm done. I don't want to finish at six, go on and take another picture and that's actually the seventh picture of a bracket series. Some cameras will give you the option of auto-cancel, and this depends on who you are. Are you the type of person who likes to bracket a lot? And in which case you would turn this off. If you're the type of person like me that just does bracketing once in a while, I'm gonna bracket once and then turn it off. 'Cause I don't wanna leave it on 'cause then the next five pictures I take are all gonna be of these different exposure levels. And so some cameras will offer that as an option. Some of the more advanced cameras will also give you the option of which order that you can shoot these images in. And there are some cameras that give you a really weird order, that when you look at it, once you've downloaded the images, it makes very little sense to me. I'm not gonna name brands here, but there's one of the cameras that shoots the 0 first, then it shoots the -one, and then the +one, and then the -two and then the +two, and when you see these all lined up, you kinda lose track of where you began one and end at the other. So a lot of photographers who do this on a regular basis like to change this from light to dark. 'Cause then it's very clear. When you shoot a series of five pictures, it's going darker to light, darker to light, darker to light, and it's very easy to separate them. And so the ones in the red squares are the way that I normally set my camera. three or five, I've done a few seven, if I've really needed something in a wide range. one stop EV I usually don't ever go less than that. I like aperture priority because with a bracket series of photographs, this generally only works with non-moving subjects. Because if it moves, it's gonna be in a complete different place in every single photograph and so this works for static-type shots: landscape, architecture-type shots and depth of field is usually more important in those types of images. And so aperture priority works well. I'll normally have the exposure compensation in the middle. Auto-cancel on, that's just because I don't shoot a lot of bracketing. If you are doing a lot of bracketing and you're working a, let's say you're a working real estate and you're photographing a house, and everything you shoot is a seven shot bracket series, turn that auto-cancel off so that you don't have to keep going back in and turning that feature on. Alright, so we have a lot of different modes on our camera and I wanna go through my recommendations of what I like, and what I don't like. So, when it comes to the auto modes, they're fast and they're easy, but there's no adjustments and that darn pop-up flash. If you have any of those pop-up flashes, they'll just automatically come off on you, and that's a different thing, that's a whole separate subject. I'll talk about that in light. But that can be really annoying. There's a lot of these scene modes that will give you a little bit better results than the standard auto mode because it has a better idea of what you're trying to accomplish in the photograph. And they are what I would also call good cheater modes. If you kinda want to see how the camera would set things up, put it in the sports mode, you'll find out that it uses faster shutter speeds, turns on the motor drive, it changes the focusing system, ah okay I see what it's doing. But what I've found in the scene mode is that you don't have the adjustments and in general, it never goes far enough. If I'm shooting something that I need a thousandth of a second, it's recommending twofive0th of a second, and so it never knows as much as you know, it's just got a little bit better of an idea of what you're doing. The program mode is fast and easy and you can use that shift feature to adjust the settings for your particular situation, but they either reset or don't reset and you may need to use the exposure compensation on that. Shutter priority, not one of my favorite, but it does give you an exact shutter speed, so if you know exactly the shutter speed that you wanna get, you can use that. Now, I'll freely tell you I don't like this mode but I do use it. When we were in Cuba, and we're shooting the panning cars coming down the street, the important thing on panning is getting the exact shutter speed you want, but this was changing right at morning light and the light was changing and so I said, just dial in your shutter speed everybody and let's get this shutter speed right and it was working really well in that situation and so it's not that I don't recommend it, it's just I don't recommend it a large percentage of the time. You may need exposure compensation with that of course, and you could accidentally exceed the range that your camera has on it. Aperture priority is kinda my travel mode, when I don't know what the next photo I'm gonna take is. It's fast, it's pretty safe, it's ready to go. I may need to jump in there with a little exposure compensation, but generally it's pretty good in most situations. Full manual is gonna get you exactly what you want in this specific settings in all the exposure values. It takes a little bit of set up time, takes a little bit of thinking. And so when it comes down to it, for most serious photographers, manual is the way to go if you have the time to get that set up. Aperture priority works pretty well, and from time to time, yeah, you could through your camera into program mode if you have to.
Class Materials
Fundamentals of Photography Class Outline
Learning Projects Workbook
Photographic Vision Keynote PDF
Ratings and Reviews
Love love all John Greengo classes! Wish to have had him decades ago with this info, but no internet then!! John is the greatest photography teacher I have seen out there, and I watch a lot of Creative Live classes and folks on YouTube too. John is so detailed and there are a ton of ah ha moments for me and I know lots of others. I think I own 4 John Greengo classes so far and want to add this one and Travel Photography!! I just drop everything to watch John on Creative Live. I wish sometime soon he would teach a Lightroom class and his knowledge on photography post editing.!!! That would probably take a LOT OF TIME but I know John would explain it soooooo good, like he does all his Photography classes!! Thank you Creative Live for having such a wonderful instructor with John Greengo!! Make more classes John, for just love them and soak it up! There is soooo much to learn and sometimes just so overwhelming. Is there anyway you might do a Motivation class!!?? Like do this button for this day, and try this technique for a week, or post this subject for this week, etc. Motivation and inspiration, and playing around with what you teach, needed so much and would be so fun.!! Just saying??? Awaiting gadgets class now, while waiting for lunch break to be over. All the filters and gadgets, oh my. Thank you thank you for all you teach John, You are truly a wonderful wonderful instructor and I would highly recommend folks listening and buying your classes.
I don't think that adjectives like beautiful, fantastic or excellent can describe the course and classes with John Greengo well enough. I've just bought my first camera and I am a total amateur but I fell in love with photography while watching the classes with John. It is fun, clear, understandable, entertaining, informative and and and. He is not only a fabulous photographer but a great teacher as well. Easy to follow, clear explanations and fantastic visuals. The only disadvantage I can list here that he is sooooo good that keeps me from going out to shoot as I am just glued to the screen. :-) Don't miss it and well worth the money invested! Thank you John!
Dear John, thanks for this outstanding classes. You are not only a great photographer and instructor, but your classes are pleasant, they are not boring, with a good sense of humor, they go straight to the point and have a good time listening to you. Please, keep teaching what you like most, and I will continue to look for your classes. And thanks for using a plain English, that it's important for people who has another language as native language. Thanks again, Juan
Student Work