Editing Set-Up
John Greengo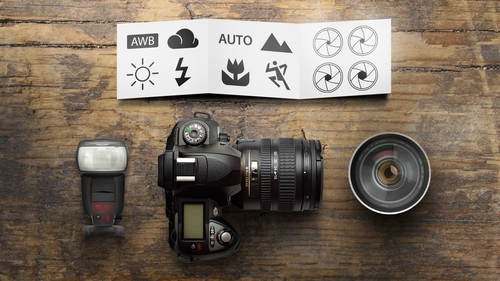 Editing Set-Up
John Greengo
Lesson Info
80. Editing Set-Up
Summary
(Generated from Transcript)
The lesson discusses the necessary editing setup for photography, including the importance of having a computer with a screen size that allows for clear viewing of images, the need for external hard drives to store photos, the option of cloud storage, and the different types of USB connections and their speeds. The lesson also emphasizes the importance of organizing files and maintaining a clean desktop background for optimal editing workflow.
Q&A:
What is the importance of having a computer for digital photography?

A computer is necessary for editing and analyzing photos.

Should you use a laptop or a desktop computer?

It depends on your needs, but if you do a lot of work at home, it is recommended to use a desktop computer with a monitor for better image viewing.

Where should you store your photos?

It is best to store your photos on an external hard drive to prevent your computer from slowing down.

How should you backup your photos?

It is recommended to have a backup hard drive in case your primary one fails, and a third hard drive in a separate location for added security.

Is cloud storage a good option?

Cloud storage can be a good option for some people, but it may come with monthly fees and potential security risks.

What connections should you pay attention to when buying a computer and hard drives?

Pay attention to the USB connections and try to choose the fastest system that synchronizes with your hard drives.

How do the sizes of JPEG and raw photos differ?

JPEG images are typically 8 to 20 megabits in size, while raw photos are about three times larger.

What are the different types of USB connections?

USB 2.0, USB 3.0, USB 3.1, and USB-C are all different types of USB connections, each with varying speeds.

How can a cluttered desktop affect your workflow?

A cluttered desktop can make it difficult to find files and slow down your workflow.

What is the recommended desktop background for editing photos?

A plain, dark gray background is recommended to avoid color distortion when viewing photographs.
Lesson Info
Editing Set-Up
So you wanna be free to shoot, and shoot as much as you need, and then we'll worry about the rest as we get into this. So first up, you're gonna need a computer. It's just kind of the way it is with digital photography these days. It doesn't really matter what computer you have. There's lots of different good ones out there. There are some people who are Mac and there are some people are PC, and I can tell you there's problems with both. I'm not even gonna say what I have right now, but I hate it, and it's the best thing out there (chuckles). If I could do life over again, I would make computers and I would make 'em right, but it's too late. I'm just gonna have to teach photography. So one thing that I think is really important is screen size. If you have a laptop computer, I understand. These are very versatile and take 'em on the road with you, but if you do a lot of work at home, get a monitor that you can plug it into so that you can see your images, very helpful when you wanna loo...
k at a grid of images and you wanna see 50 images at the same time. I work with a laptop on the road and it's fine. It's small, that's good. You can work with tablets and so forth. You can not bring your computer with you on the road. That's perfectly fine. But when it really comes down to sitting down and analyzing your work, you need to see your work clearly, and so a bigger monitor is a great benefit to have in that case. You do not wanna store your images on your computer. They take up a lot of space and they will slow everything down you do in your computer. I store all of my photos off my computer on an external hard drive. Every hard drive that you can buy these days will fail at some point so you should have a backup hard drive for when that one fails. Because really bad things occasionally happen in certain locations, you should have it on a third hard drive in a separate location that is not affected by fire, theft, a meteor coming out of the sky or who knows what. Something can happen and it's good to have something off-site. Keep one at home, keep one at work, keep one at your mom's, at your kids, something like that in a completely different location. Now I don't have a slide for this, but there is also cloud storage and that is a perfectly good option for some people. I don't like it. I don't like monthly fees. I don't like other people that having potential access. I don't like things getting hacked. I don't like companies going out of business, not giving me access to my site, and that doesn't always happen, but I read about it about every other month. So it's a lot cheaper for me to just go buy another hard drive and stash it in the backyard and bury it. Ooh, did I tell everybody that? (audience laughing) So you wanna pay attention with your connections. So whenever I'm getting close to buying a new computer, I'm thinking about what sort of connections to the hard drives 'cause I wanna get something that synchronizes with everything and I try to kinda keep things in sync. I'll get a new computer and I'll get new hard drives at the same time, and then I'll get hard drives, and then I'll get another computer and new hard drives, and work with whatever is the fastest system that I can afford that seems reasonable. So your JPEG images might be eight to 20 megabits in size. Your raw photos are gonna be about three times that size. The good old USB connection is a very very slow connection which is why they came out with USB 2.0 many years ago and that was a little bit better for transferring images. We are now mostly at USB 3.0 which is pretty good for transferring images. Apple kinda has their own thing going with their Thunderbolt and they're always trying to stay a little step ahead of the game. So as soon as they do something, then the USB comes back and they have something else, and so we now have USB 3. and this USB-C connection which is getting faster. That's why you gotta pay attention to where your hard drives and your computers are so that you can kinda step these up because if you suddenly get faster hard drives but your computer's still running slower, it's not doing you a lot of good until you get that new computer. So next up is USB 2.0, and now we have USB 3.2 coming around the corner, and so Apple's gonna use Thunderbolt 3, which is using a different connector than Thunderbolt 2, be aware of that, and it's getting faster and faster. Luckily this is getting better at a pretty steady rate, whereas the megapixels in the cameras, they haven't plateaued, certainly, but they've kinda been at a steady point for the last few years, you might say. I did a test recently where I just transferring 1,000 raw images. I just wanted to see how long it took. USB 2.0 took me almost 12 minutes to get that transfer across, and 3.0 and Thunderbolt were notably quicker. I have seen a number of photographers just struggling and waiting to transfer images and doing the simplest things and it can be very very aggravating. So try to get as fast a system as you can for doing this 'cause it's just gonna make you work faster and more quickly. Now I know you love your kitties and all. We all love yourself your kitties. That's not the best backdrop to have on your computer and I know that there are some people that tend to store a lot of folders on their computer. Please don't raise your hand. I don't wanna know who you are. I was working in a workshop one time and her desktop looked like this. I was trying to transfer images 'cause we were doing something in Photoshop and I had to transfer images. I went to her desktop, and I had the mouse, and I had it clicked, and I was looking for a place to put the folder and I somehow let go of the finger and it was like I don't know where it went. It went to one of your 200 folders on your desktop. This is not the way you're supposed to do it. This is the equivalent of stacking everything on your file cabinet. That's not how file cabinets work. This is just a temporary storage where you put things as you need it for a short period of time. (audience laughing) So goodbye Kitty, we don't wanna do that. Here's a quick optical illusion. I want you to look at the X in the middle of the frame. Just keep your eye on the X for about 10 seconds and you're retinas are now being saturated with these colors. If we switch this to a blank white screen, you should see the American flag there for a few seconds because your eyes are gonna be reversing this color. This may seem like a really boring thing, but my computer has a dark gray background. I just don't wanna be looking at any other colors affecting the way that I am looking at photographs, and so it's just a nice simple background. What do I wanna have on my desktop is I'm gonna have a little shortcut to my hard drives and maybe a few shortcuts to my personal folders, but I generally don't keep anything on my desktop. That's when I feel good is when there is nothing on my desktop. That means there's nothing to do, and that's just a temporary place to put something, and so you should have a nice good order to the rest of your computer system.
Class Materials
Fundamentals of Photography Class Outline
Learning Projects Workbook
Photographic Vision Keynote PDF
Ratings and Reviews
Love love all John Greengo classes! Wish to have had him decades ago with this info, but no internet then!! John is the greatest photography teacher I have seen out there, and I watch a lot of Creative Live classes and folks on YouTube too. John is so detailed and there are a ton of ah ha moments for me and I know lots of others. I think I own 4 John Greengo classes so far and want to add this one and Travel Photography!! I just drop everything to watch John on Creative Live. I wish sometime soon he would teach a Lightroom class and his knowledge on photography post editing.!!! That would probably take a LOT OF TIME but I know John would explain it soooooo good, like he does all his Photography classes!! Thank you Creative Live for having such a wonderful instructor with John Greengo!! Make more classes John, for just love them and soak it up! There is soooo much to learn and sometimes just so overwhelming. Is there anyway you might do a Motivation class!!?? Like do this button for this day, and try this technique for a week, or post this subject for this week, etc. Motivation and inspiration, and playing around with what you teach, needed so much and would be so fun.!! Just saying??? Awaiting gadgets class now, while waiting for lunch break to be over. All the filters and gadgets, oh my. Thank you thank you for all you teach John, You are truly a wonderful wonderful instructor and I would highly recommend folks listening and buying your classes.
I don't think that adjectives like beautiful, fantastic or excellent can describe the course and classes with John Greengo well enough. I've just bought my first camera and I am a total amateur but I fell in love with photography while watching the classes with John. It is fun, clear, understandable, entertaining, informative and and and. He is not only a fabulous photographer but a great teacher as well. Easy to follow, clear explanations and fantastic visuals. The only disadvantage I can list here that he is sooooo good that keeps me from going out to shoot as I am just glued to the screen. :-) Don't miss it and well worth the money invested! Thank you John!
Dear John, thanks for this outstanding classes. You are not only a great photographer and instructor, but your classes are pleasant, they are not boring, with a good sense of humor, they go straight to the point and have a good time listening to you. Please, keep teaching what you like most, and I will continue to look for your classes. And thanks for using a plain English, that it's important for people who has another language as native language. Thanks again, Juan
Student Work