Framing Your Shot
John Greengo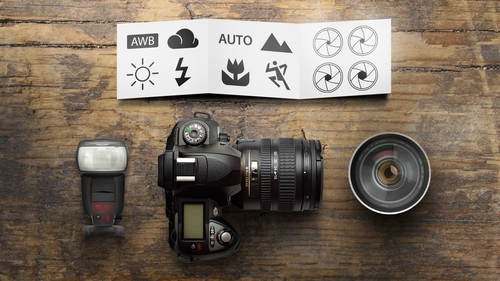 Framing Your Shot
John Greengo
Lesson Info
92. Framing Your Shot
Summary
(Generated from Transcript)
The topic of this lesson is framing in photography, specifically using objects or shadows to create frames within the frame of the photograph.
Q&A:
What is the purpose of framing in photography?

Framing helps draw attention to the subject and adds depth and context to the photograph.

How can abandoned buildings or objects be used for framing?

Abandoned buildings or objects can be used as frames by positioning the subject within them, creating a visually interesting composition.

Is it necessary to always get close to the subject in photography?

No, it is not necessary to always get close to the subject. Sometimes, including a bit more of the surroundings can provide more information and a different perspective.

What is shadow framing?

Shadow framing is a concept introduced by the instructor, which involves including a dark shadow along the edges of the frame to act as a buffer that keeps the viewer's eye within the frame.

How can shadows be used to create frames within a photograph?

Shadows can be used to create frames within a photograph by including a dark shadow in the foreground, top, or sides of the frame, which helps draw attention to the subject and keep the viewer's eye within the frame.
Lesson Info
Framing Your Shot
Another concept that works very well in photography is framing. At one point I was in Cuba, and our guide was taking us down to this viewpoint. Apparently, they had built some sort of viewpoint so you could go down to the water. And as we're walking down there, I'm looking off to the side, and I'm like, "What's that over there?" And he's like, it's just an abandoned building. I'm going, let's go over there. Photographers are kind of different. We don't always want to go to the standard spot. And so, let's go to the abandoned building. And we get over there, and this is one of those few times where it's like the first shot is the shot that I wanted. Now, there were some kids playing soccer in this abandoned warehouse that had no roof on it, and somebody had kicked the ball through the open window out into the ocean. And the kids were waiting for one of the kids to go out there and dive into the ocean and get the soccer ball back. And so, this one kid was just kind of watching these othe...
r kids retrieving the soccer ball out there. But it was a way to frame my subject up. He was only there for a few second and he left, and I got one or two shots. But it was the first shot because it was just a real quick moment that came and went right there. But having that subject sitting right in that window is just a way that he's perfectly framed in there, and your eye goes straight to him. A great place to see him and where they really stand out. Using this building to frame the tower right there. And so finding one object to help frame another object. And so this is kind of the opposite of what we talked about earlier about getting close to your subject, don't have any other interferences or intrusions on the frame. It's okay to back up and include a little bit more. It's gonna give us more information about where that subject is. In some cases, it gives us a peek-a-boo view or just a different perspective on what it looks like. This is one of my favorite places. Down in the Redwoods there's this giant tree and it's been slowly rotting out over the years. And the core of it has been coming out, and it's so big now that you can actually crawl inside of it. And I consider this the Hobbit view of the world, you know, as they're coming out of their little wood home in that place. Down there on my favorite street in Havana, using the little bit of an archway creating a frame for that subject. In this case, we have a frame within a frame. And so, that can be used, as well. In Cuba, at the dance school, one of my favorite shots. It's nothing dancing at all, it's just this nice little stairway and all of this dark area around it is a nice place to frame our subject. One of the concepts we'll talk about in kind of how the human vision sees things is that we are attracted to light areas and less interested in dark areas because it's harder to see what's in the dark area. And it's photographs like this there's like a, "oh, there's something more." Because it's more than just a frame. Because it's not just like your traditional frame. It's not the side of a building that we can clearly see in there. Because you wouldn't normally think of the stairs and the underside of this floor here as a frame, but it does end up making a frame 'cause it's dark. And so, this is my new invention in the world of composition. And it's something that I encountered in a photograph about 20 years ago. I was like, wow, I really like this photograph. And I was trying to pin down exactly what I liked about it. And so, my new concept in how to frame, not all the time, but just as one of the choices. And that's what these are, just lots of choices in ways to work with subjects, is something that I call shadow framing. And the photographs that I took about 20 years ago was this shot from a kayak trip that me and my buddy went on. And we were trying to get a shot of us, our boat, and all of our gear. And so, we were hauling all of our gear up onto the shoreline to take a picture. Now, you might notice there is no boat. And that is because we had set the tripod up, we started figuring out where we wanted to have everything lined up, and the boat still had to be moved up. And it was kind of heavy, but I saw that there was this cloud pattern that was kind of going over the ground. And that if we were right on the top of this little ridge, we were gonna be in the light and there was a shadow in the foreground, a natural shadow, not anything I did in Photoshop like that. And I says, "We gotta get it quick. "Forget the boat, let's just go with the gear." And so, we got this 10-second self-timer shot, and we got the shot, and we're in the light. And the reason that this works in my mind is that your eyes are drawn to what's bright. And so, this shadow in the foreground is kind of like a buffer. Does anyone know about, what do they call it? It's bumper bowling for little kids. They put bumpers on the sides so that you don't go off. Well, this is kind of like a bumper. You get down to that dark area, it's not a hard edge, but you're kind of like, okay, well, that's not so interesting, I'm gonna come back into the frame there. So, if you can include a dark shadow somewhere around the edges of the frame, it's better than a bright line. So, for instance, I'm shooting this monument here. And along the bottom edge of the frame there's some trees that are casting light and dark shadows. That light area on the bottom of the frame is attracting some attention. What you need to do is just move a few feet forward so that there's a dark shadow along the bottom of the frame. And so, any time I am somewhere between light and shadows, I don't mind including just a little bit of shadow region along the bottom. It's just kind of a nice soft buffer before your eye hits the edge of the frame, and it keeps you back into the frame. And so, this is related to framing. This is related to your eyes being attracted to bright viewpoints. It's kind of similar to vignetting. Vignetting is something that you can add in post, which kind of looks like a shadow, but this is a natural vignette. And so, in this one street in Cuba, the cars and the people, for the most part, were in the sunlight. But I had this one little shadow right along the foreground. And so, I was happily shooting photos there for quite some time. It doesn't look very well in an hour or two because the shadows have moved. And so, having shadows along the foreground typically is a little bit easier. But sometimes it's on the top, or sometimes it's on the side. I have a few more examples in here because I've been collecting. And now that I've been able to kind of pin this down on how this works and how to frame the shot, I've been shooting a lot more photos that have this nice natural frame. And whenever I see it, I get really excited because it's like, I just wanna get that frame just a little bit in there. And it's just a nice natural frame. Sometimes it's not necessarily specifically a shadow. It's just something that's darker in there as it makes us a nice little buffer on your subject. And so, in these cases, the light is moving back and forth. And it doesn't last there forever. And so, that one dark row of trees is kind of nice. It's just that edge buffer. And one of my favorite photos for shadow framing is that I got an overhang on the roof above me to be as a nice shadow that has a little bit of detail, but it doesn't attract a lot of attention. And it's very dark along the bottom, and it just really keeps your eyes in the middle there. So, try shadow framing. I'm gonna trademark the phrase if it hasn't been done so far. And we'll see if that works for anyone else. So, hopefully, that's a good new one that you haven't heard before.
Class Materials
Fundamentals of Photography Class Outline
Learning Projects Workbook
Photographic Vision Keynote PDF
Ratings and Reviews
Love love all John Greengo classes! Wish to have had him decades ago with this info, but no internet then!! John is the greatest photography teacher I have seen out there, and I watch a lot of Creative Live classes and folks on YouTube too. John is so detailed and there are a ton of ah ha moments for me and I know lots of others. I think I own 4 John Greengo classes so far and want to add this one and Travel Photography!! I just drop everything to watch John on Creative Live. I wish sometime soon he would teach a Lightroom class and his knowledge on photography post editing.!!! That would probably take a LOT OF TIME but I know John would explain it soooooo good, like he does all his Photography classes!! Thank you Creative Live for having such a wonderful instructor with John Greengo!! Make more classes John, for just love them and soak it up! There is soooo much to learn and sometimes just so overwhelming. Is there anyway you might do a Motivation class!!?? Like do this button for this day, and try this technique for a week, or post this subject for this week, etc. Motivation and inspiration, and playing around with what you teach, needed so much and would be so fun.!! Just saying??? Awaiting gadgets class now, while waiting for lunch break to be over. All the filters and gadgets, oh my. Thank you thank you for all you teach John, You are truly a wonderful wonderful instructor and I would highly recommend folks listening and buying your classes.
I don't think that adjectives like beautiful, fantastic or excellent can describe the course and classes with John Greengo well enough. I've just bought my first camera and I am a total amateur but I fell in love with photography while watching the classes with John. It is fun, clear, understandable, entertaining, informative and and and. He is not only a fabulous photographer but a great teacher as well. Easy to follow, clear explanations and fantastic visuals. The only disadvantage I can list here that he is sooooo good that keeps me from going out to shoot as I am just glued to the screen. :-) Don't miss it and well worth the money invested! Thank you John!
Dear John, thanks for this outstanding classes. You are not only a great photographer and instructor, but your classes are pleasant, they are not boring, with a good sense of humor, they go straight to the point and have a good time listening to you. Please, keep teaching what you like most, and I will continue to look for your classes. And thanks for using a plain English, that it's important for people who has another language as native language. Thanks again, Juan
Student Work