Importing Images
John Greengo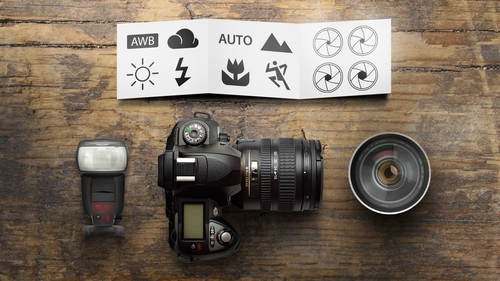 Importing Images
John Greengo
Lesson Info
81. Importing Images
Summary
(Generated from Transcript)
The lesson is about importing images in photography, emphasizing the benefits of using card readers or directly plugging the card into the computer for faster transfer. The instructor also mentions using Adobe Lightroom as an example for importing and organizing photos. They explain how to use the copy option to import photos into Lightroom and suggest synchronizing the folder for faster importing, especially when dealing with a large number of images. Additionally, the instructor mentions the ability to import from multiple sources simultaneously and recommends letting the computer do the hard work of downloading while you can attend to other tasks.
Lesson Info
Importing Images
Alright, for importing, this is a short little section here. I mentioned this before, I think, downloading from the camera is painful, in my mind. I was helping someone download images, and we didn't have a card reader at the time, and we had to go through his camera and you had to download the company's software to get from the camera to the computer, and that was just annoying as can be, and it was actually very slow. The USB transferring devices in the cameras are really low end things, and they just don't tend to transfer very quickly. These card readers are much, much quicker and they're really not too much money. You can also plug your card into the computer itself and that can be very, very quick as well, so that's a better system to have for the long term. Throughout the rest of this editing section, I'm gonna talk about Adobe Lightroom. I don't work for Adobe, I don't care about if Adobe does great or does terrible, no I do (chuckles) because I have all my photos in Adobe Ligh...
troom and I don't wanna switch, but I'm gonna use it just as an example because it's the most popular program out there, and it's pretty common and its controls are pretty universal. So, it doesn't really matter what program you use, and so what I'm gonna be talking about is not specifically how to work Adobe Lightroom, it's just this is how I would work the controls, and here's what it happens to use in Adobe Lightroom, and so that's what I'll be talking about as we go through this. We are able to import our photos into Lightroom using a copy option, where it copies all the photos from the card to our destination of choice. We're gonna usually put it in some sort of photo folder, and this is what I do most of the time 'cause it's pretty easy and with Lightroom, once you do it once, it kinda wants to do the same thing again, and again, and again, and I throw everything to a new folder so it's always going to the same obvious place, which makes things very easy. But, because it's moving the photos and it's adding them to the catalog at the same time, there's a lot of things going on and the process is a little bit slow. So, if I'm in a hurry or if I've shot a lot of images, what I'll do is I'll take all the photos and I'll just put 'em where they're suppose to go right away and then I will go in and I will add them, so now Lightroom is not trying to move them at all. If you know Lightroom very well, this is synchronizing your folder. This is up to 25% faster if you're moving large files. If you're going out on safari with Kenna and I, and you're shooting 2,000 photos in the day, I recommend just move all the photos to the hard drive where you want them, and then let Lightroom add them to the catalog. That could save you 15 minutes of downloading time, so that you can get to bed at a reasonable hour. You can use multiple sources, so if you have a card reader that has multiple cards, or you have one of these and you can plug your card in, with Lightroom you can actually select different cards and you can import from all of these cards simultaneously at the same time. Someone else gave a class here at Lightroom, and I'm trying to remember who they are to give them credit, but that is, let your computer do the hard work and don't spend your time waiting for the computer to work. Download, and then go have dinner, or go take a bath, and then come back after it's downloaded, but you can get all this going and have it working at the same time really hard for you while you're not even there. You don't have to sit through, I gotta get this one card in, and then this card here, and for those who shoot with multiple cards, there are devices out there where you can download with different types of cards, or multiple of the same style card, in one stack. This is one from Lexar, and this is, personally I think designed for news or sports photographers so that they can have multiple cards all being downloaded at exactly the same time to Lightroom.
Class Materials
Fundamentals of Photography Class Outline
Learning Projects Workbook
Photographic Vision Keynote PDF
Ratings and Reviews
Love love all John Greengo classes! Wish to have had him decades ago with this info, but no internet then!! John is the greatest photography teacher I have seen out there, and I watch a lot of Creative Live classes and folks on YouTube too. John is so detailed and there are a ton of ah ha moments for me and I know lots of others. I think I own 4 John Greengo classes so far and want to add this one and Travel Photography!! I just drop everything to watch John on Creative Live. I wish sometime soon he would teach a Lightroom class and his knowledge on photography post editing.!!! That would probably take a LOT OF TIME but I know John would explain it soooooo good, like he does all his Photography classes!! Thank you Creative Live for having such a wonderful instructor with John Greengo!! Make more classes John, for just love them and soak it up! There is soooo much to learn and sometimes just so overwhelming. Is there anyway you might do a Motivation class!!?? Like do this button for this day, and try this technique for a week, or post this subject for this week, etc. Motivation and inspiration, and playing around with what you teach, needed so much and would be so fun.!! Just saying??? Awaiting gadgets class now, while waiting for lunch break to be over. All the filters and gadgets, oh my. Thank you thank you for all you teach John, You are truly a wonderful wonderful instructor and I would highly recommend folks listening and buying your classes.
I don't think that adjectives like beautiful, fantastic or excellent can describe the course and classes with John Greengo well enough. I've just bought my first camera and I am a total amateur but I fell in love with photography while watching the classes with John. It is fun, clear, understandable, entertaining, informative and and and. He is not only a fabulous photographer but a great teacher as well. Easy to follow, clear explanations and fantastic visuals. The only disadvantage I can list here that he is sooooo good that keeps me from going out to shoot as I am just glued to the screen. :-) Don't miss it and well worth the money invested! Thank you John!
Dear John, thanks for this outstanding classes. You are not only a great photographer and instructor, but your classes are pleasant, they are not boring, with a good sense of humor, they go straight to the point and have a good time listening to you. Please, keep teaching what you like most, and I will continue to look for your classes. And thanks for using a plain English, that it's important for people who has another language as native language. Thanks again, Juan
Student Work