Black & White & Color
John Greengo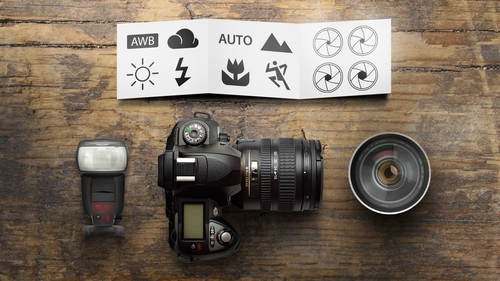 Black & White & Color
John Greengo
Lesson Info
104. Black & White & Color
Summary
(Generated from Transcript)
The lesson discusses the use of black and white and color in photography. It explains how black and white photography can strip away distractions and highlight the subject matter, while color photography can use vibrant colors to draw attention. The lesson also explores different techniques for using color, such as spot color, graduated color, monotone color, and color matching.
Q&A:
What are some reasons why black and white photography is popular?

Black and white photography can focus on the subject matter and eliminate distractions from colors.
It can create a strong contrast between lights and darks for a dramatic effect.

Can you shoot in black and white mode even if you want to produce color images?

Yes, shooting in black and white mode can help you concentrate on the subject and see the tonal range, even if you plan to convert the image to color later.

Why are vibrant colors important in color photography?

Vibrant colors can attract attention and add interest to a photograph.

What is spot color in photography?

Spot color refers to having one element in a mostly black and white environment that is in color, which makes it stand out.

What is graduated color in photography?

Graduated color refers to the beautiful change in color that occurs during sunrise and sunset, creating a natural gradient in the sky.

What is monotone color in photography?

Monotone color occurs when everything in a particular environment has the same color, creating a consistent and unified look.

What is color matching in photography?

Color matching is the practice of finding multiple colors that complement or match each other in a photograph, creating a visually pleasing effect.

In color photography, which colors tend to work well together?

Complimentary colors, such as red and cyan, green and magenta, and blue and yellow, tend to create vibrant and visually appealing combinations.

How can the use of color be enhanced during twilight?

Twilight lighting, with its blue skies and warm Tungsten light, can create beautiful color combinations, such as blue and yellow, adding visual interest to photographs.
Lesson Info
Black & White & Color
I've talked a little bit about black and white and I think black and white is a great way of showing photographs for many different reasons. In some cases, the colors aren't that interesting and you kinda want to get right down to the material of what's going on, the subject matter at hand. And sometimes black and white gets away all the fluff and gets you right down to the content material. It obviously deals a lot with contrast between lights and darks and using that tonal range as best it can. And so it's something that's been used for a long, long time, it's how I got started in photography and it tends to be very popular for street photography, it's a favorite for that. But it can be used for all types of photography. And I like mirrorless cameras because I can throw them into black and white mode. I see through the viewfinder the world in black and white and it helps me judge whether the photograph is going to be as good as I'd hoped it would be when I turn it in black and white.
Now I'll leave my camera in raw, because when you shoot in raw, you get the full information off the sensor, which means I'm gonna get a color image back and I'm gonna turn it back into black and white once I get it into the computer. But with having it in the viewfinder in black and white I can really see the tonal range. And sometimes, I will go in to the color controls on my camera and the contrast controls and I'll start mimicking certain looks I want. I might start adding contrast, just to get a better idea of what that final image is going to be like. But once again I'm capturing it in raw, so I'm actually going to finish it off later again. I know I said earlier in the class, don't have a bunch of empty white clouds in the top of the frame. Well if there's contrast, you can have some negative space there, and I thought, this is my version of Seattle. This is what Seattle's like. It is cloudy a lot here, but they're kinda beautiful clouds, and so it's not a problem. And so there's a lot of great black and white images out there, and it just forces you to think about images in a different way. And sometimes when I'm shooting with a mirrorless camera, I'll put my camera in a black and white mode even if I'm not shooting black and white. I find it sometimes easier just to concentrate on my subject and think about my subject and not worry about the other factors by being in the black and white mode. And so you might wanna try that sometime, just go out and put your camera in a black and white mode, and even if you have an SLR, you can put it in the black and white mode and use the live view on the back of the camera and you'll be able to see the world in black and white. And so, it's fun to see the world that way and then have a certain collection of photos that I think just look better in black and white in some cases. Next up is color, and obviously as we've talked about before, we see the world a little differently because we see the world in color. And the way that you look at this photograph in black and white is gonna be affected by the contrast and the lightness and your eyes are drawn to the bridge because it's the unusual element in there. It's a man-made element versus the natural element, it's the brightest object in there, but when we change it to a color photograph your eyes start jumping around to different areas in the frame, because our eyes are attracted to colors. So any time you have nice, vibrant, bold colors that's gonna be a good additional element to have on that frame. Yes, there are lots of red cars and those are gonna be ones that are very easy to pick out, and so anytime you have nice, good colors I don't think this would be nearly as interesting if it was just painted a muddy brown or a gray look. And so there are certain places that are, kinda, photographers' heavens, you might say, because they are so colorful. And any time you have that level of vibrance and abundance of color, it's gonna make for a good starting element. It may not be enough to hold the photo, so you wanna have other things in there as well. But there is no end to the color that we can experience. Now color, like line, has a lot of different subcategories, in my mindset. And so one of those is spot color, and that is where you are in a mostly black and white environment but you have one thing of color. And here is where we're gonna see a lot of red cars. In Cuba, it's a mostly kind of faded out area, but one bright shiny red car comes through there, it stands out for multiple reasons, you know. Why does it stand out? Yes, cause it's red. Yes, cause it's sharp. Yes, because it's a different texture than everything else in the background. So you have multiple reasons why that subject is standing out from its background. And it's good to have a, kind of a multiplication factor, if something is drawing your attention for multiple reasons in a particular area. And once again, that small human figure is a little bit more noticeable when we have it brightly colored. And so look for those areas that have that spot color among everything else. One of my favorite types of color is the graduated color. And this is what happens at sunrises and sunsets. And in some other unusual situation. And so, there is a beautiful change in color when the sun is on the horizon that you can go from a red to a purple in this kind of continuous, ever-so-slight change. And that color change is very fascinating to the eye, because it is just a natural gradient that's happening. And so this happens all the time, on all the sunrises and sunsets, that you can see the sky in there. So it's a good chance to be out there and capturing that color gradient. One of my favorite scenes down in Miami, I was out in the middle of some field shooting this, right next to this busy highway and all these cars are driving past, and I'm kinda just like, this is awesome, and nobody's stopping, nobody sees what this is, going on here. Sometimes you get all caught up on the things that you like to photograph. Another concept is monotone color, and this actually happens quite frequently in a certain environment due to the structures around it, or the environment around it, it's just kinda that same color reflecting off of everything else, and everything has that one monotone color to it. And that's perfectly fine, you can kind of just work with that. This was construction on the underneath side of the 520 bridge, and it just was an interesting pattern that had this monotone color to it, and so that's okay, we can play things on a single color channel, you might say, in these cases. Everything's of a very similar color. Love this green and green and green. And there's a city in Morocco, Chefchaouen, and they paint the inner city blue, and they have all these different blues all around. And it's just so fun, it's kind of an eerie place to be, it feels like you're at the bottom of a swimming pool. Cause everything is just blue around you. And it's fun, it's just fun being in an environment that is so different like that. Okay a new one, for anyone who's seen my classes before. I call this color matching, and this is, I tend to have a lot of street photographs in here, and this is where you happen to find multiple colors that seem to match, that, you know, you might not normally find together. And so it's just kinda playing the mix and match game. We've got something over here, we've got something over here, can we match 'em together. And so finding those colors that work together. And so there's a lot of different matching colors in here that works. And one of the other secrets on this shot that worked out really well, is that I was standing on the other side of the street, and I was in bright sun, the whole building right beside me was in really bright light. And I was with one of my tour groups and somebody was asking me about, you know, how to get a good shot, and I'm like, well this is a good spot to get because there's this really bright light and it's all reflecting over here, ooh, there's some people, just a sec, and I get the shot (audience laughing) and, it's like, John, I was right there when you shot that. I go, yeah, this is a great spot to be, because anyone who walks down there yeah, it's a side street that's in the shadows but it's got this beautiful light illuminating on it. And it was just a nice moment, I think. And so finding these colors that, you know, happen to be together, and so, patience pays off in these cases, you know. Come up with an idea and okay, we're gonna have the right elements come around. But this is also the type of thing that just as you walk around, you're gonna notice, oh wait, these two things are coming together, and so what can I do to include them in the frame? You see that yellow theme playing out in there. In, back in Chefchaouen, I was actually hoping for a woman in a yellow dress, because yellow and blue would make a nice mix-match of colors, but blue on blue has a whole different feeling and I'm perfectly fine with that as well. So think about colors, and complimentary colors because they often work well together. So we have our primary colors: red, green, and blue. And then we have cyan, magenta, and yellow. And so if you play these in opposite pairs, they tend to do pretty well. They're kind of a, there's a vibrance that goes on with the human eye and the retina, that they play well against each other, because they're exact opposites of each other. And so this tends to be pretty good colors. Now it's not to say that this color and another color wouldn't be good, but these colors tend to do quite well with each other as far as being vibrant and really easily seen, you know. I would second guess you if you wanted to make your web page one color and the text the opposite color. That may not work in that type of color scheme, but for photographs and having different elements in them, it can be very, very useful for having a subject that stands out. And it doesn't have to be the exact perfect red with the exact perfect cyan, but colors in that general range play well off of each other. And so just kinda keep an eye on those. Cause they do have a nice look to 'em. Probably the most common is yellow and blue and that's cause we have blue skies. And so anytime you find something yellow you just include it with the sky and then you get a nice little blue-yellow match in there which works out very, very easily. So I end up having a lot more of these than anything else. And these are very easy to get at twilight. Because we have the Tungsten light, that buildings are usually illuminated in, with that beautiful blue in the background.
Class Materials
Fundamentals of Photography Class Outline
Learning Projects Workbook
Photographic Vision Keynote PDF
Ratings and Reviews
Love love all John Greengo classes! Wish to have had him decades ago with this info, but no internet then!! John is the greatest photography teacher I have seen out there, and I watch a lot of Creative Live classes and folks on YouTube too. John is so detailed and there are a ton of ah ha moments for me and I know lots of others. I think I own 4 John Greengo classes so far and want to add this one and Travel Photography!! I just drop everything to watch John on Creative Live. I wish sometime soon he would teach a Lightroom class and his knowledge on photography post editing.!!! That would probably take a LOT OF TIME but I know John would explain it soooooo good, like he does all his Photography classes!! Thank you Creative Live for having such a wonderful instructor with John Greengo!! Make more classes John, for just love them and soak it up! There is soooo much to learn and sometimes just so overwhelming. Is there anyway you might do a Motivation class!!?? Like do this button for this day, and try this technique for a week, or post this subject for this week, etc. Motivation and inspiration, and playing around with what you teach, needed so much and would be so fun.!! Just saying??? Awaiting gadgets class now, while waiting for lunch break to be over. All the filters and gadgets, oh my. Thank you thank you for all you teach John, You are truly a wonderful wonderful instructor and I would highly recommend folks listening and buying your classes.
I don't think that adjectives like beautiful, fantastic or excellent can describe the course and classes with John Greengo well enough. I've just bought my first camera and I am a total amateur but I fell in love with photography while watching the classes with John. It is fun, clear, understandable, entertaining, informative and and and. He is not only a fabulous photographer but a great teacher as well. Easy to follow, clear explanations and fantastic visuals. The only disadvantage I can list here that he is sooooo good that keeps me from going out to shoot as I am just glued to the screen. :-) Don't miss it and well worth the money invested! Thank you John!
Dear John, thanks for this outstanding classes. You are not only a great photographer and instructor, but your classes are pleasant, they are not boring, with a good sense of humor, they go straight to the point and have a good time listening to you. Please, keep teaching what you like most, and I will continue to look for your classes. And thanks for using a plain English, that it's important for people who has another language as native language. Thanks again, Juan
Student Work