Rule of Odds
John Greengo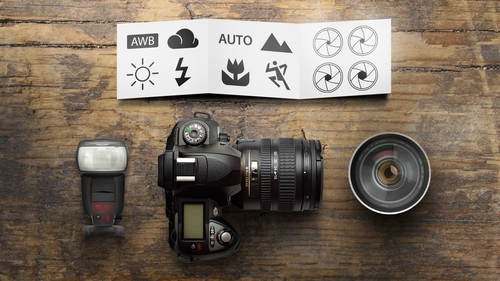 Rule of Odds
John Greengo
Lesson Info
94. Rule of Odds
Summary
(Generated from Transcript)
The topic of this lesson is the Rule of Odds in photography composition.
Q&A:
What is the Rule of Odds in photography?

The Rule of Odds suggests that images are better when there is an odd number of subjects in the frame.

Why does the instructor disagree with the Rule of Odds?

The instructor believes that any number of subjects can make a good photograph and that there are other factors that make a photograph compelling.

What are some examples of how the Rule of Odds can be applied?

The instructor mentions that a solitary subject or three subjects in a frame can create strong photographs.

What are the benefits of having two subjects in a photograph?

Having two subjects can create a relationship between them and add interest to the image.

Can four subjects make a good photograph?

Yes, having four subjects can create symmetry and is still a reasonable number for a small group.

Does the number of subjects in a photograph matter?

The instructor argues that the number of subjects does not necessarily determine the quality of the photograph, as there are other factors that contribute to a good shot.
Lesson Info
Rule of Odds
Alright, here's a new one for my classes that I haven't talked about before, it's one that has been talked about because when I do talk about composition I do my research and I go out and see what other people say about composition, and this is one that I don't agree with, but I will tell you about it anyway. It's just good to be aware of, I think there are some things to talk about and think about when it comes down to the Rule of Odds, and this states that images are just better when you have an odd number of subjects in there. Let's explore how this may or may not work. If you have a solitary subject, I think that can make for a really strong photograph because it's very clear what your subject is, what's going on, and you get a good, nice close-up view of that subject. So for people, for animals, this works out really well. The next step is if you can't have one then you have three. Little secret note here, three is my favorite number, I love three, three is a great number. It's a ...
nice, small grouping that you can easily understand. It's not too big of group, you're not wondering how many, you just immediately pick it up and it's a small little group that we can all identify with, so I think images with three subjects are very strong, and so as far as the Rule of Odds goes, yes, I completely agree that three subjects in a frame can be very interesting and there's a lot of fun that you can have with three subjects in a frame, cuz there's a lot of ways that you can line them up and play with them. We saw, I think this one in one of the quizzes before, and so three subjects, ya, that's a nice playful number that can do a lot of things with it. Maybe my favorite shot with three subjects in it right there, alright, three's just a great way, there's a lot of things that you can do with it. I'm all for three, I love three, that's good, I really do. What about this? I took this early in the morning, and I like this shot, and I think a lot of people I've showed it to have really liked that shot, it's kinda a cute shot, and perfect as a test example here, a scientific test example. Now I did not have to Photoshop this. One of the cubs got up and left. So tell me, is this a better photograph than the one with four in it? If the Rule of Odds was true, three is better than four, then it should be better, but that big empty spot just seems to me a whole lot better when it's filled with four there, and so I don't believe any particular number is better than another number, but there are things that are different about versus two. When you have two you'll have a relationship potentially between the two. People will be lookin at one, lookin at the other. Are these friendly, are they not friendly together? Mom and cub, there's a nice relationship that's goin on. Have you ever seen penguins hold hands before? (class laughs) Alright, so there's a nice thing about two. Would this be better with a third one? I'm sorry, I think three would be a crowd in this couple here. (class laughs) I think two works perfectly good. I think two is a great number to have in a shot, so there's lots of examples where having two works really well in a shot, so that's why I don't believe in the Rule of Odds. I think one's good, I think two's good, I think three's good, I think four can be good. There's lots of different examples, but there is a different type of thing that's goin on when you have one to two. Are you bein fair to the two? Can you have four and have it be good? Absolutely, it's still a reasonable number. With four you can have symmetry, so there's that you can work with, so that's a good element that you can add in to having four. It's still a small enough group that you can easily keep track of what's going on. Now what about five? You can have five as well. Five gets to be a little bit more, six gets to be a bit more. At a certain point you start losing count, but one, two, three, four, five, and then it starts just becoming a larger group depending on how long you're studying that particular subject there, and then it just starts becoming a pattern unto itself, so each number has its' own little benefit, but I'm sorry, I'm not buying into the three is better than four, or three is better than two. They each have their own good thing, and I think you'll find that whatever works just works for other reasons, there's other things going on that's compelling that photograph to be better. You can shoot that tight shot and get that single animal. You can have two shots and have that nice relationship, or you can start having a very easily used small group or a larger group, or as large of group as you wanna have and it really doesn't matter in some cases. It's gonna be a good shot if it's a good shot for other reasons.
Class Materials
Fundamentals of Photography Class Outline
Learning Projects Workbook
Photographic Vision Keynote PDF
Ratings and Reviews
Love love all John Greengo classes! Wish to have had him decades ago with this info, but no internet then!! John is the greatest photography teacher I have seen out there, and I watch a lot of Creative Live classes and folks on YouTube too. John is so detailed and there are a ton of ah ha moments for me and I know lots of others. I think I own 4 John Greengo classes so far and want to add this one and Travel Photography!! I just drop everything to watch John on Creative Live. I wish sometime soon he would teach a Lightroom class and his knowledge on photography post editing.!!! That would probably take a LOT OF TIME but I know John would explain it soooooo good, like he does all his Photography classes!! Thank you Creative Live for having such a wonderful instructor with John Greengo!! Make more classes John, for just love them and soak it up! There is soooo much to learn and sometimes just so overwhelming. Is there anyway you might do a Motivation class!!?? Like do this button for this day, and try this technique for a week, or post this subject for this week, etc. Motivation and inspiration, and playing around with what you teach, needed so much and would be so fun.!! Just saying??? Awaiting gadgets class now, while waiting for lunch break to be over. All the filters and gadgets, oh my. Thank you thank you for all you teach John, You are truly a wonderful wonderful instructor and I would highly recommend folks listening and buying your classes.
I don't think that adjectives like beautiful, fantastic or excellent can describe the course and classes with John Greengo well enough. I've just bought my first camera and I am a total amateur but I fell in love with photography while watching the classes with John. It is fun, clear, understandable, entertaining, informative and and and. He is not only a fabulous photographer but a great teacher as well. Easy to follow, clear explanations and fantastic visuals. The only disadvantage I can list here that he is sooooo good that keeps me from going out to shoot as I am just glued to the screen. :-) Don't miss it and well worth the money invested! Thank you John!
Dear John, thanks for this outstanding classes. You are not only a great photographer and instructor, but your classes are pleasant, they are not boring, with a good sense of humor, they go straight to the point and have a good time listening to you. Please, keep teaching what you like most, and I will continue to look for your classes. And thanks for using a plain English, that it's important for people who has another language as native language. Thanks again, Juan
Student Work