The Photographic Process
John Greengo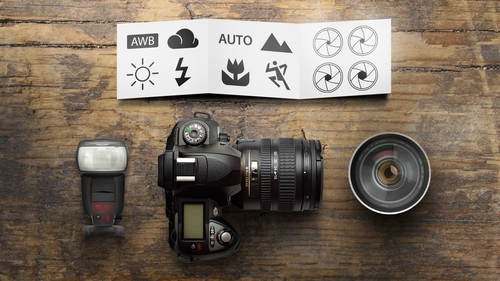 The Photographic Process
John Greengo
Lesson Info
105. The Photographic Process
Summary
(Generated from Transcript)
The lesson covered the five steps in the photographic process: identifying the subject, determining the point of view, setting the exposure, focusing, and fine-tuning the composition. The instructor emphasized the importance of capturing a clear story in the photograph and using the limitations of the camera to your advantage. He also discussed the need to evaluate the subject and choose whether to capture it immediately or come back at a better time. Exploring different perspectives and considering the main objective of the photograph were also highlighted. Finally, the instructor talked about the importance of checking the histogram, focus, and composition before deciding whether to take a second shot or move on to another subject.
Q&A:
What are the five steps in the photographic process?

The five steps are identifying the subject, determining the point of view, setting the exposure, focusing, and fine-tuning the composition.

How should photographers approach capturing a good photograph?

Photographers should focus on telling a clear story and using the limited space of the frame to their advantage.

How should photographers evaluate a subject before capturing it?

Photographers should consider what is most important about the subject, if it is the right time to photograph it, and if there are any limitations or problems that need to be addressed.

What factors should photographers consider when determining their point of view?

Photographers should explore all possible locations and perspectives to find an interesting point of view.

What are the main objectives that photographers need to consider when setting the exposure?

The main objectives are determining the desired depth of field, considering the motion in the scene, and finding the best balance for the specific situation.

What should photographers check before taking the final shot?

Photographers should check the histogram for the right exposure, the focus accuracy, the composition for desired content, and the edges of the frame for any unwanted elements.

Is it advisable to take multiple shots of a subject?

Yes, it is recommended to take multiple shots to allow for experimentation and to increase the chances of getting a good shot.
Lesson Info
The Photographic Process
All right, so let's talk about the photographic process. We've basically gone through just about everything I can teach you here and so let's kind of put the final bits together, shall we say. So five steps in thinking about what you need to do to work on any particular photograph is first up, identifying what your subject is and really identifying what's most important and everything about it, we'll talk more about each one of these little steps here. Next up is figuring out where you can shoot that particular subject, your point of view, then you're going to dial in your exposure, you'll figure out your focus, and then you'll finetune your composition. Now this is the order in which it's often done, but not always done, and so sometimes you might know exactly how you want to have things focused right at the beginning or you might know the exact composition that you're gonna have and where you have to be. It varies from situation to situation, of course, but this is usually the common...
scenario of what you need to do first, next, next, and next. So let's talk about subject identification. What makes for a good photograph? Well, the first thing to realize is that, remember, you have a box. That's all you get in photography is you get a box, and you've gotta put your stuff in the box. People don't know what's not in the box. For good or for bad, they don't know about that other stuff, so try to use that to your advantage by showing only what you want. So I think a good objective is not to try to capture everything that you see, but something that tells a clear story, whatever that story is, just try to make it as clear as you can. You're gonna wanna look around the environment for whatever it is that you're doing, whether you're shooting portraits or sports or anything else, you know, what are you expecting to find? What would you like to find? What's most unusual, what's the most interesting thing? What is necessary to capture in that particular environment? A lot of people fall in love at first sight, you know, and they really have a hard time, is there something better, and there is an understandable choice for this, because, you know, we may never see it again. I've led a number of tours to Cuba and one of the things that happens on every trip is you get out of the airport, you get to the parking lot, you start putting your stuff in the bus, and oh, my gosh, there's an old car. You take a picture of the old car, you take a whole bunch of pictures of the old car. I'm like, "They're gonna get better. "There's more of them here, "don't worry about getting all of your pictures "in this parking lot 'cause this is not the best cars "we're gonna photograph." When you're out photographing and you see some flowers or a tree that you wanna photograph, yeah, part of you says, "Get the photograph "before it's gone" and there is a good element of truth there, but there's another part that says, "Now wait a minute, is there more to choose from?" because we can be a little choosy here. We can choose which one we wanna shoot with, and so we're gonna have to judge how good is the subject and then we also have to judge what can I do with it? There is a reality TV show that I do not watch but I am aware of, I think it's called The Voice and it's where singers come on and they audition and then there's a bunch of other professional, famous singers and they're listening and they're listening to see if they're a good singer. But they're also listening if they're the type of person that they can work with to help win this competition and so it's not just is this a good subject but is this something that I really have the tools to work with, that I have the knowledge to work with, and all of you have your own skill sets. They're gonna be getting better and you can choose to work with something you're not good at to improve or you can choose to work with something you're good at so that you can get the best shot possible with it. So every once in a while I'll look around and I'll see something and I'll be like, "Nah, just didn't bring out the super-telephoto lens. "I'm not gonna bother shooting it "'cause I don't have the right gear "to work with that particular thing." Evaluate your subject. Be really clear about what it is. What's most important about it? Is this the right time to photograph it? Can you come back and shoot it again? You know, it takes a lot of, I don't know, guts or skill or something to go, "Wow, this is a great photograph, "not right now but I'm gonna back tomorrow. "I'm not even gonna shoot it today." that takes a lot of guts just to say, "I'm gonna come back," and it depends on what type of photography you do as to whether you need to get something right now and I'll come back and get it better later maybe if I have the opportunity. But just be really clear about what you wanna shoot and that box, is that everything in that box what you want to be in there? Is there anything that's in the box that you need to diminish or something else that you can do about it? So if there is a problem with it, what can you do about your point of view? So figuring out where you can shoot, this is probably my biggest frustration in photography is where can I, where am I allowed to go to shoot this photograph? Anyone who shoots professional sports, you know, you're regulated to certain areas that you can be here and you can't be there, 'cause that's for people who pay a lot of money to sit there. I get frustrated when I go to a national park and they have a boardwalk and they don't want anybody walking anywhere else and you have to stay here. You can't go anywhere else and so I love it when you can get into an environment, you know, like an open park where you can move around and be anywhere you want. So explore every place that you can get. Can you get up and shoot from the second floor? Can you get down here and shoot? Can you get into the moat at Husky Stadium and shoot nice and low? What can you do and where can you get to get an interesting point of view? And then we go through those five basic concepts that we already talked about at length back in the Exposure section, Section number four. How are you gonna deal with this photograph? What is your main objective? Are you trying to go a shallow depth of field? Do you want lots of depth of field? Are things moving in there? And it's usually one of those five, sometimes it's in between two of them but it's usually just one of those five that's pretty easy to decide what you're going to do with that particular subject, and then you go through the process of dialing in those numbers and making those equations and trading one for the other and figuring out what the best balance is for that particular situation. Usually then I'm figuring on the focusing, how'm I dialing that in, am I using auto focus, manual focus, single point, all the points, focus tracking, all those sorts of things, then I'm kind of worried about this once the exposure is in. Then I'm ready to set the final composition, and this is where, once I've got the exposure set and I've got my main thing set, that's when I start moving the camera around to adjust left side, right side. Where do I want that particular subject? Then if it's important, you'd better check it. Check the histogram to make sure that you've got the right exposure. Check focusing to see that you got the focus right. Magnify in to 100% to see that you got it right. And then check the composition for content that you wanted, is the horizon level, and then border patrol is where you go around the edges and make sure that you didn't include something that you didn't intend to be there, all right? And then, what should you do? Well, should you take a second shot? We talked a little bit about this before. You might want to take a second shot if it's a tricky exposure and so maybe you shoot it a second picture that's overexposed or underexposed from what you think at the time so that you have a backup one to go to if something went wrong on the first one. Sometimes I shoot landscapes and I don't wanna close down all the way where I get diffraction and so I'll shoot at f but then I will close down to f just in case I need it on that shot, so I'll have two different variants of that same shot, but most of the time it's the composition that I'm doing and I'm doing something different and I'm doing something slightly wider for that question that we had earlier of what if I need this to fit a different format, I need it a little bit looser frame and there is a number of situations, I can think back, where I just really knocked myself, should have got that a little bit wider. It's good that I got it tight so I got one good shot, but if I had shot it a little bit wider I could have been able to use it in a different way than I had to because I shot it so tight. So it's okay to shoot a number of images. I don't know what the average number of shots that I shoot for a particular subject, I think it varies quite a bit, but I would say that number is probably around as far as how many shots I need is. The first few, usually not so hot, you know, I came off with an idea and it didn't exactly work and then I gotta adjust and figure out what looks good, but usually after about 10 shots, things start settling in. In some cases I'm sure I've shot a hundred, but not nearly as many, and so figure out how many you need and kind of work through the little process 'cause it is a working process. And so, that's what I consider the Photo 5 Step.
Class Materials
Fundamentals of Photography Class Outline
Learning Projects Workbook
Photographic Vision Keynote PDF
Ratings and Reviews
Love love all John Greengo classes! Wish to have had him decades ago with this info, but no internet then!! John is the greatest photography teacher I have seen out there, and I watch a lot of Creative Live classes and folks on YouTube too. John is so detailed and there are a ton of ah ha moments for me and I know lots of others. I think I own 4 John Greengo classes so far and want to add this one and Travel Photography!! I just drop everything to watch John on Creative Live. I wish sometime soon he would teach a Lightroom class and his knowledge on photography post editing.!!! That would probably take a LOT OF TIME but I know John would explain it soooooo good, like he does all his Photography classes!! Thank you Creative Live for having such a wonderful instructor with John Greengo!! Make more classes John, for just love them and soak it up! There is soooo much to learn and sometimes just so overwhelming. Is there anyway you might do a Motivation class!!?? Like do this button for this day, and try this technique for a week, or post this subject for this week, etc. Motivation and inspiration, and playing around with what you teach, needed so much and would be so fun.!! Just saying??? Awaiting gadgets class now, while waiting for lunch break to be over. All the filters and gadgets, oh my. Thank you thank you for all you teach John, You are truly a wonderful wonderful instructor and I would highly recommend folks listening and buying your classes.
I don't think that adjectives like beautiful, fantastic or excellent can describe the course and classes with John Greengo well enough. I've just bought my first camera and I am a total amateur but I fell in love with photography while watching the classes with John. It is fun, clear, understandable, entertaining, informative and and and. He is not only a fabulous photographer but a great teacher as well. Easy to follow, clear explanations and fantastic visuals. The only disadvantage I can list here that he is sooooo good that keeps me from going out to shoot as I am just glued to the screen. :-) Don't miss it and well worth the money invested! Thank you John!
Dear John, thanks for this outstanding classes. You are not only a great photographer and instructor, but your classes are pleasant, they are not boring, with a good sense of humor, they go straight to the point and have a good time listening to you. Please, keep teaching what you like most, and I will continue to look for your classes. And thanks for using a plain English, that it's important for people who has another language as native language. Thanks again, Juan
Student Work