Bad Composition
John Greengo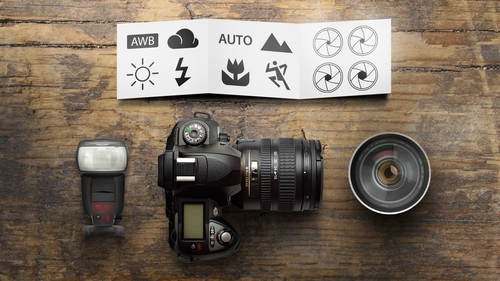 Bad Composition
John Greengo
Lesson Info
95. Bad Composition
Summary
(Generated from Transcript)
The lesson titled "Fundamentals of Photography: Bad Composition" focuses on identifying and avoiding common mistakes in composition. Some of the key points covered include having a clear subject, avoiding placing the subject dead center, not placing the subject too close to the edge of the frame, being mindful of distracting backgrounds, ensuring the subject is not obscured, avoiding awkward juxtapositions, managing dead space, and keeping the horizon level. The instructor also discusses the importance of pre-planning and being versatile in order to adapt to different shooting conditions. Additionally, the lesson touches on setting exposure in situations with shadow framing.
Q&A:
What are some common mistakes in composition that should be avoided?

Not having a clear subject
Placing the subject dead center without a good reason
Placing the subject too close to the edge of the frame
Having distracting backgrounds
Obscuring the subject
Including awkward juxtapositions
Having too much dead space
Tilting the horizon without a clear reason

How can pre-planning help in composition?

Pre-planning can help determine the desired final photograph and guide the choice of shooting location and position.
It is particularly useful when shooting specific subjects or events.

How can photographers be versatile in their approach to composition?

By being knowledgeable about different composition techniques and ideas, photographers can adapt to various shooting conditions and make the most of the available elements.
Being quick and nimble in decision-making and being open to trying different approaches are important in producing good shots consistently.

How should exposure be set in situations with shadow framing?

Shadows are not typically the focus of the image, so it is acceptable for them to appear dark.
To set exposure in such situations, the camera can be tilted to exclude the shadow, or the exposure can be locked while pointing the camera higher and then brought back down to include a little bit of the shadow.
Lesson Info
Bad Composition
Now having gone through a lot of different compositional ideas you do have to ask the question of, well, what about bad composition? Because you could have someone talk about, well, this works and this works and this works and that works and you know, part of the sarcastic me says, "Well, doesn't everything work then?" No, not everything seems to work in many cases and so I just don't have any bad composition photographs to show you here, (audience laughs) so I'll just have to do a bullet list here. And so some things that are gonna be a real problem is if you don't have a clear subject and this happens sometimes when people get someplace they're really excited. They go to like Disneyland and they're like, "Oh, I'm so excited to be at Disneyland. "I'm gonna take a picture and picture!" And they're just feeling excited, and they just take a picture of just, the stuff they're seeing and it's just, it's too much stuff. It's not clear what they're trying to shoot a photograph of. And so th...
at kind of falls into the too much information. Remember that little box. We only have that one box. Only put in the box what's really important. Putting the subject dead center. If there's a good reason for it, go for it. And there's a lot of photos that I have shown you where I put the subject in the middle of the frame, partly for symmetry reasons or if I'm filling the frame. You have to do that in some cases. But if there's not really good reason, maybe try moving it out of the middle of the frame. Subject too close to the edge of the frame. Now, there is some kind of fun that you can have with kind of radical cropping and I've seen this a little more common recently and it varies from time to time as to how effective it is. But yeah, you can really play around with photography but if it's really important you don't want it too close to the edge of the frame and you don't want it being cropped off. A hard one for a lot of people is this distracting background. I know when I got started in photography I was just happy to get a good photograph of a subject and now you're asking me to worry about the background? Isn't it enough just to get the subject right? No, the background is important. Everything in the box is important. The subject being obscured. Actually I have a photograph I'll be showing you in an upcoming section where... our brains, we don't always think about things that are obstructing the subject that we're looking at. And so when a bird is sitting in a tree, you're like "Oh, look at the bird!" but there's really a bunch of branches in between that your brain is filtering out. You're not even thinking about those branches. But when you shoot a photograph, you're gonna see those branches. And so you have to be very aware of everything that's in the frame. Sometimes there's awkward juxtapositions, you know, the age-old, the tree growing out of the person's head. They got him standing right in front of a tree or a post or something, you gotta worry about that. Too much dead space. There is negative space where there's nice big open space and it's a careful use of that. And then the tilted horizon. You know, if you're gonna tilt the horizon, do it for a reason, do it notable so that it's clear. Don't just do a little bit of it 'cause then it just looks sloppy. And so that takes us through a majority of the composition. We will have some additional ideas and concepts that we get to in the photographic vision section but this is kind of the real core of, you've picked your subject, now pick where you're gonna shoot, what lens you're gonna shoot with and exactly how you put it into the frame. I realize at this point in your career you've internalized a lot of this. As new photographers going out and I keep coming back to sort of pre-planning before you go out. So do you have any ideas about how we might pre-plan a little bit as we think about composition? Hmmm, pre-planning, I'm not so good at that sometimes. (laughs) It depends on what you're gonna shoot. If you're gonna go to a new city and you're gonna walk the streets and you're gonna look for great shots, that's hard to pre-plan 'cause you don't know what you're gonna get. If you're gonna go shoot something specific and let's just make something up. Let's say you're gonna go to a bicycle race and you know that they're doing a Criterium where they're gonna go around city streets. And you might be thinking, well, do I want to get them in front of Town Hall? How do I want that final photograph to look? Then that's gonna force you into where you want to shoot and to the position where you can get them and the town hall behind them. And so it's depends on how much of a clear vision of your final photograph you have. I think when we talk about composition ideas, this is to me the way a chef knows different recipes and they know what to do with different ingredients. And I know there's... I'm a terrible chef, okay. Spaghetti, I'm there for ya. But a good chef could walk into a kitchen like mine which doesn't have everything and say, "Okay, you don't have everything I would like "but if we have this and this and this, "I know what I can do to mix 'em up." And so being versatile in what you do and how you shoot is probably the most beneficial longterm thing that you can do so that any given set of circumstances you're gonna figure out something that can work. And that's one of the things about being a good photographer. At first I kinda thought, you know, if I can take one great photograph then I'd have a good reputation of being a photographer but photographers actually need to be producing, on a regular basis, good shots and it's being quick and nimble on your feet. "No, that's not gonna work, I'm gonna do this over here "then I'm gonna do this over here." And so having all of these and just thinking about 'em. Take that list, you know, I got the list right here and just thinking about what can I use. And you know sometimes you just need to kind of read through those and have your hit list of, let me have 10 things to think about and just kind of keep those circulating in your brain as you go out there. That way you can just suddenly pick up and kind of riff. It's kind of like you're a jazz musician. It's like, "Oh, this is where things are going? "Alright, I'll go with that and I'll play with it." Now there are other times as you mentioned that you're really planning a specific shot and in that case maybe you need to start doing some sketches, just figure out, how do I want things to play out? And so, if you are really doing a pre-planned shot where you're gonna shoot somebody and you need it to look a certain way, maybe do those little drawings. Even if they're... I'm not a good sketch artist but you know, they can be as crude as they need to be just to get a feel for, "No, I want this to be here, "and this to be here and this to be here." And that'll help guide you when you're getting that shot. So when you are working with shadow framing, you're obviously dealing with like very contrasting amounts of light. Can you explain a little bit about how you would go about setting your exposure... Right. in a situation like that? Yeah, and so the shadows obviously are not the important area and it's okay to kinda let those go dark. And so if you wanted to you could tilt the camera a little bit to not include the shadow, get the exposure correct and then include a little bit of the shadow in that case. Generally speaking, the cameras will not meter and weigh the importance of those edge lines as much as they do what's going on in the center. So it's quite possible you could just take a straight reading that has a dark shadow in the bottom 10 percent of the frame and it's not even gonna register. If you start getting it at 40 percent of the frame, then the camera's gonna really start adjusting that metering system. But most of the multi-segment metering systems are not gonna care about just a little bit of an edge there. So you could either just shoot it straight or maybe point it up a little bit higher, lock the exposure and bring it back down.
Class Materials
Fundamentals of Photography Class Outline
Learning Projects Workbook
Photographic Vision Keynote PDF
Ratings and Reviews
Love love all John Greengo classes! Wish to have had him decades ago with this info, but no internet then!! John is the greatest photography teacher I have seen out there, and I watch a lot of Creative Live classes and folks on YouTube too. John is so detailed and there are a ton of ah ha moments for me and I know lots of others. I think I own 4 John Greengo classes so far and want to add this one and Travel Photography!! I just drop everything to watch John on Creative Live. I wish sometime soon he would teach a Lightroom class and his knowledge on photography post editing.!!! That would probably take a LOT OF TIME but I know John would explain it soooooo good, like he does all his Photography classes!! Thank you Creative Live for having such a wonderful instructor with John Greengo!! Make more classes John, for just love them and soak it up! There is soooo much to learn and sometimes just so overwhelming. Is there anyway you might do a Motivation class!!?? Like do this button for this day, and try this technique for a week, or post this subject for this week, etc. Motivation and inspiration, and playing around with what you teach, needed so much and would be so fun.!! Just saying??? Awaiting gadgets class now, while waiting for lunch break to be over. All the filters and gadgets, oh my. Thank you thank you for all you teach John, You are truly a wonderful wonderful instructor and I would highly recommend folks listening and buying your classes.
I don't think that adjectives like beautiful, fantastic or excellent can describe the course and classes with John Greengo well enough. I've just bought my first camera and I am a total amateur but I fell in love with photography while watching the classes with John. It is fun, clear, understandable, entertaining, informative and and and. He is not only a fabulous photographer but a great teacher as well. Easy to follow, clear explanations and fantastic visuals. The only disadvantage I can list here that he is sooooo good that keeps me from going out to shoot as I am just glued to the screen. :-) Don't miss it and well worth the money invested! Thank you John!
Dear John, thanks for this outstanding classes. You are not only a great photographer and instructor, but your classes are pleasant, they are not boring, with a good sense of humor, they go straight to the point and have a good time listening to you. Please, keep teaching what you like most, and I will continue to look for your classes. And thanks for using a plain English, that it's important for people who has another language as native language. Thanks again, Juan
Student Work