DOF Preview & Focusing Screens
John Greengo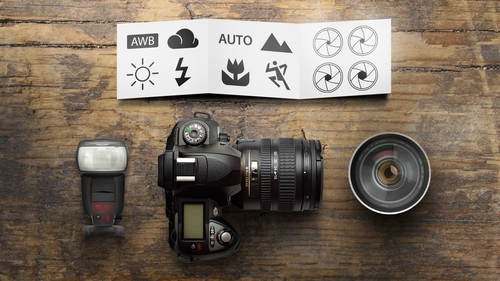 DOF Preview & Focusing Screens
John Greengo
Lesson Info
48. DOF Preview & Focusing Screens
Summary
(Generated from Transcript)
The lesson discusses the importance of depth of field preview button in SLR cameras and how it helps to see the actual depth of field before taking a photo. It also explains how the focusing screens in cameras have changed with the introduction of autofocus, sacrificing accuracy for brightness, which can affect the viewfinder's representation of depth of field when using fast lenses.
Q&A:
What is the purpose of the depth of field preview button in SLR cameras?

The depth of field preview button allows photographers to see the actual depth of field before taking a photo, especially when using smaller apertures.

Why does the viewfinder appear dark when the depth of field preview button is pressed?

Pressing the depth of field preview button closes the aperture, resulting in a darker image in the viewfinder.

Why is the depth of field preview button less useful in digital cameras compared to film cameras?

With digital cameras, photographers can review the photo immediately on the display screen to see the depth of field, whereas with film cameras, the depth of field could only be determined after getting the film processed.

How can mirrorless camera users achieve depth of field preview?

Some mirrorless cameras have a feature that automatically stops down the aperture when the shutter button is pressed halfway, providing a depth of field preview.

How has the focusing screen in cameras changed with the introduction of autofocus?

The focusing screens in modern cameras are not replaceable, and they have been designed to prioritize brightness over accuracy to accommodate small, lightweight, and slow lenses.

How does the focusing screen affect the perception of depth of field in the viewfinder?

When using fast lenses (faster than f/2.8), the viewfinder may not accurately represent the shallow depth of field that will be achieved in the final photo. The viewfinder may show a slightly deeper depth of field than what will actually be captured.
Lesson Info
DOF Preview & Focusing Screens
For those of you with SLR cameras most of you have the option of a depth of field preview button. When you look through the viewfinder the aperture is completely open so that you can see the brightest, easiest view so you can manually focus. But if you're shooting a picture at f/ it's gonna be completely different when that aperture stops down and you get a whole bunch more depth of field. So a long time ago professional cameras put on a depth of field preview button over on the side. It is now migrated all the way down to some of the entry levels, not all of the entry levels but some of the entry level cameras will have this little hidden button down on the side. And when you press it normally in the viewfinder you get this shallow depth of field look. Because that's what you're gonna see with the lens wide open. When you press it in it closes the aperture down and when you look through the viewfinder it's gonna give you a really dark image. Now most people who see this for the first ...
time, when you're explaining it to them, they always say the same thing, I can't see anything, it got dark. Let your eyes adjust, take a moment for your eyes, to pupils adjust and then you'll see that you're actually getting more depth of field. Do you see how much is in focus? Oh, I see it now, and so you press the button in, you wait for a second or two for your eyes to adjust and then you can see how much depth of field you're gonna get. Now back in the days of film this was really important 'cause you didn't know how much depth of field you were getting until you got your film back from the processor. Now with digital cameras this is kind of useless because if you wanna see how much you get in focus just shoot a picture and look at it. The fact of the matter is though, if you're using an SLR, it's hard to see the back of the camera in bright sunlight. And so for a landscape photographer who's got a lot of light that they're working with, it's nice to hit that depth of field preview to see if those flowers in the foreground are in focus with the mountain in the background. And so it's a handy little device. Now those of you with mirrorless cameras, you may want to do a little experiment. Don't take a picture of yourself but hold the camera pointed at yourself and press halfway down. When it presses halfway down some of the cameras will do an automatic depth of field preview for you. I believe Fujis will do this. So when you press halfway down, you hear a little noise, the aperture stops down. Other cameras don't stop down until the actual picture is taken and this may even be a feature that you can turn on and off on your camera. But you will get this as an option on some mirrorless cameras if you look for it in that manner. Now for those of you with SLRs and any of you that have very fast lenses, there is an important little secret change that has happened in cameras over the years when we went in to auto focus. The focusing screen in your camera, in past cameras, actually used to be replaceable and you used to be able to interchange it and you could exchange it for one with grid lines or had a special focusing mark on it. And there was also some ones that were brighter than normal. And you could change these but now there are no current model of cameras where you can change the focusing screen anymore, they've all disappeared from the market. What you get in the camera is it. And when we went to auto focus they had to change or they chose to change the type of focusing screens that are in the cameras. And it's because there was a new demand for these small, lightweight, slow lenses. And in order for them to work they needed to change the way these focusing screens were in the camera. And they made them more bright, less accurate. And so we traded accuracy so that we could actually see our subjects. I don't know if anybody remembers the old film cameras but if you remember film cameras with a slow lens, at that point it was like an f/4 lens, and you didn't get your eye right in the middle everything got really dark. The thing was, it was accurate but it was dark. And so now we're choosing brightness over accuracy. And what that means for the person who uses an SLR camera is that if you use a fast lens, anything faster than 2.8, the camera in the viewfinder will not show you the proper shallow depth of field that you are likely to get. So if you have a 1.4 lens you look through the viewfinder and you go, okay, yeah I see how much depth of field I'm gonna get and then you shoot it at 1. and you're gonna get even shallower depth of field. And so this focusing screen changes what you are seeing in the amount that you're gonna get by the depth of field. And so for anyone with a very, very wide open aperture it's gonna look different in the final picture than it does through the viewfinder. Take a look, do your own tests. It's true so check it out.
Class Materials
Fundamentals of Photography Class Outline
Learning Projects Workbook
Photographic Vision Keynote PDF
Ratings and Reviews
Love love all John Greengo classes! Wish to have had him decades ago with this info, but no internet then!! John is the greatest photography teacher I have seen out there, and I watch a lot of Creative Live classes and folks on YouTube too. John is so detailed and there are a ton of ah ha moments for me and I know lots of others. I think I own 4 John Greengo classes so far and want to add this one and Travel Photography!! I just drop everything to watch John on Creative Live. I wish sometime soon he would teach a Lightroom class and his knowledge on photography post editing.!!! That would probably take a LOT OF TIME but I know John would explain it soooooo good, like he does all his Photography classes!! Thank you Creative Live for having such a wonderful instructor with John Greengo!! Make more classes John, for just love them and soak it up! There is soooo much to learn and sometimes just so overwhelming. Is there anyway you might do a Motivation class!!?? Like do this button for this day, and try this technique for a week, or post this subject for this week, etc. Motivation and inspiration, and playing around with what you teach, needed so much and would be so fun.!! Just saying??? Awaiting gadgets class now, while waiting for lunch break to be over. All the filters and gadgets, oh my. Thank you thank you for all you teach John, You are truly a wonderful wonderful instructor and I would highly recommend folks listening and buying your classes.
I don't think that adjectives like beautiful, fantastic or excellent can describe the course and classes with John Greengo well enough. I've just bought my first camera and I am a total amateur but I fell in love with photography while watching the classes with John. It is fun, clear, understandable, entertaining, informative and and and. He is not only a fabulous photographer but a great teacher as well. Easy to follow, clear explanations and fantastic visuals. The only disadvantage I can list here that he is sooooo good that keeps me from going out to shoot as I am just glued to the screen. :-) Don't miss it and well worth the money invested! Thank you John!
Dear John, thanks for this outstanding classes. You are not only a great photographer and instructor, but your classes are pleasant, they are not boring, with a good sense of humor, they go straight to the point and have a good time listening to you. Please, keep teaching what you like most, and I will continue to look for your classes. And thanks for using a plain English, that it's important for people who has another language as native language. Thanks again, Juan
Student Work