Pixel Shift, Time Lapse, Selective Cloning & Noise Reduction
John Greengo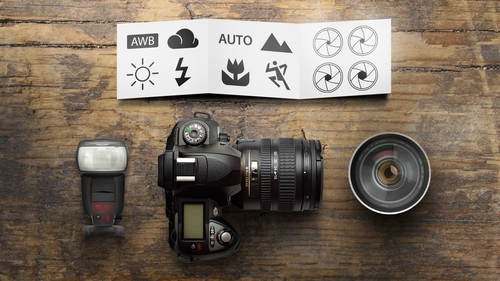 Pixel Shift, Time Lapse, Selective Cloning & Noise Reduction
John Greengo
Lesson Info
97. Pixel Shift, Time Lapse, Selective Cloning & Noise Reduction
Summary
(Generated from Transcript)
The lesson covers three main topics: pixel shift, time lapse photography, and selective cloning. Pixel shift is a feature that moves the sensor in order to capture more color and sharpness information, resulting in higher resolution images. Time lapse photography involves taking a series of photos at regular intervals and then combining them to create a video that compresses a long period of time into a short one. Selective cloning is a technique used to remove people or unwanted objects from photos by cloning areas without them. The lesson also briefly mentions noise reduction, which is a built-in feature in some cameras that reduces noise by taking multiple shots.
Q&A:
What is pixel shift?

Pixel shift is a feature that moves the sensor to capture more color and sharpness information, resulting in higher resolution images.

How does time lapse photography work?

Time lapse photography involves taking a series of photos at regular intervals and then combining them to create a video that compresses a long period of time into a short one.

How can selective cloning be used in photography?

Selective cloning is a technique used to remove people or unwanted objects from photos by cloning areas without them.

What is noise reduction?

Noise reduction is a feature in some cameras that reduces noise by taking multiple shots and combining them.

What is the benefit of using a tripod for time lapse photography?

Using a tripod ensures that the camera stays in the same position for each shot, resulting in a smoother time lapse video.
Lesson Info
Pixel Shift, Time Lapse, Selective Cloning & Noise Reduction
A new feature that we're starting to see on a few different cameras, and this is on a couple brands of major cameras these days, is a pixel shift option. Now, the pixels on most of our cameras are on this bare pattern, this red, green, green, blue pattern, and it captures one bit of data looking for that one color at that particular spot. And so, what the pixel shift will do is it will move the entire sensor one pixel to pick up the color information from those other positions, so that you end up with really true information. Now, some of the systems will go an extra step, and start moving the sensor in between those pixels, to pick up information in between, so that you're getting much greater resolution. The first four photos that they took was to pick up better color information, and possibly a little bit better sharpness information. And then the second ones, or the second set of four is for greater resolution. And so, this first one I'm showing you is with Olympus, that has been p...
utting it on some of their more recent cameras. We'll start with just a standard JPEG image from them, 20 megapixels is what they have, and then they have a 20 megapixel RAW, and then they have a couple of different Hi-Res modes, there's a 25, and then a 50 megapixel RAW. The JPEGs actually look a little bit more contrasty, and sharper than the RAWs, because if you remember back to JPEG and RAW, JPEGs are processed images, and so they're adding their own contrast in them. So, you can actually take this RAW into your software, and add contrast, and add some more sharpness to it, and it will probably end up looking better than the JPEG, if you are half skilled at using that postproduction software in there. But, you are clearly able to get more resolution out of that system using this. Using it out in the field, wanted to check, see how much sharpness we can gain by this. And so, this is for people who are gonna make a really big enlargements, and really wanna push their system as much as they can. Now, you do have to be able to shoot objects that are not moving, from a tripod when you do this. And so, you can get some very, very sharp results using this system. Sony's just introduced it on their latest camera. It shoots for pictures, combines them into one image, you do have to use, right now at least, the Sony software for that. That may change somewhere down the road. And, enlarge this, compare a normal shot, which becomes a TIFF file, is gonna be of greater detail than the RAW file. Now, time lapse really starts kind of edging into the world of video, but it is something that we can do with our still cameras that is relatively easy to do, and is something that's been included on our cameras in a lot of the recent models. They enable you to add a time-lapse mode. This is where you shoot a picture every so often, that might be every five seconds, or 10 seconds, or something like that, and you can then compress a large portion of time into a short portion of time. And in some ways, I see a time lapse as a reverse photograph. A reverse photograph is one moment in time that we get to look at forever, and now we're gonna take a large period of time, and we're gonna look at it in a short period of time, and so it's a way of understanding what's going on around us in a different way. And so in Seattle, this is the Duck Dodge, out on Lake Washington. I was always curious, because I drove by and I saw these boats out, and I'm like, "Where are they going?" You know, "What's the course that they're going on?" And so, by doing it in time lapse, I'm able to see this in a new way, that helps me understand what they're doing a little bit better. Using a tilt shift lens, I've done the reverse tilt here to make it look like a miniature city. I'm not quite up as high as I would like to be, but it's as high as I could possibly get in this case. And so, shooting a time-lapse during sunset, you get to see our fairies coming and going on the waterfront here. And so, there's a lot of just fun things that you can do that will show an environment a little bit differently than a photograph. And so, these can be really fun to add to any sort of presentation that you have. So, this is gonna work with almost any digital camera, you just need an intervalometer. Some cameras have it built in, some you have to add it with some sort of remote to it, but it is something that's becoming quite common these days. You're gonna need to support that camera in some ways. Basic support is gonna be a tripod, and then it can get kinda fancy. You can get these sliders that go back and forth, where they're motorized, and then they can start moving the camera around, and there's a lot of photographers that have kinda diverged off the photography route, and decided to go down the intervalometer time-lapse route, and they've created some amazing works out there. And then, you need time. You're gonna have to set it up, and then you're gonna have to sit around. Some of the time lapses I've already showed you have just compressed about six hours of my life, as I stood around waiting for my camera to, "Click, click." I don't like to leave things there and, you know, hope that they're gonna be there, I gotta watch them. And so, if you wanna get started in this, you need to think about the total number of shots that you need, and then how much interval between the shots to get the effect that you want. And so, what you want to be thinking about is, how long do you want that final time lapse to be, and how long's that gonna play in a video program of some sort? Now, video in general is gonna be played at 30 frames a second. There are other versions of it, yes, I know, but most video is gonna be at 30 frames a second. And so, what I like to have for my uses is about 10 seconds of time lapse. You can do a long time lapse, people get a little tired of it, so 10 seconds holds most people's attention pretty well. And so, if you want to do a 10 second time lapse, you're gonna need 300 frames. And so, 300 pictures is the number of shots that you need. Then, figuring out how much time per shot. Well, it depends on what's moving, and how much movement you wanna see between it. Typically, it's gonna be somewhere between one second and one day. There are some really long scale time lapses, there's one actually that's being shot right now, I don't know if you know this, but we're in a time lapse right now is, is that there is a camera at the top of the Space Needle, that is recording a 360 degree view of the city, and it is gonna be doing a 25 year time lapse of the city. Somebody recently posted a video from the first portion of that, and this neighborhood, which is under a lot of construction, you see these buildings just kind of popping up almost overnight. And so, how long is it gonna be? Now, for most people, it's gonna be somewhere in the one seconds to one minute range, depending on what you're shooting. All right, so some things to think about here. Think about what's gonna look good speeded up. What something that's moving, that you can't quite see clearly with your own eyes. You're gonna get your tripod or slider out, you want to set your camera up manually, so that it has a nice even exposure. There is some exceptions to this. You can use Aperture priority, but be aware that slight changes might cause kind of sudden changes in exposure when you're actually shooting, and that might not look good in the final video, and you may have to go back and pull those frames out. Manual exposure and Aperture priority can work depending on the situation, as I say. And then, set the intervalometer for the right amount of time, and so forth. I've tried shooting things that only move, and it's a little disorientating. It's nice to have something that's solid, so that you can base what that movement is going on. Save battery power, you can turn off the image review, because your camera is gonna be working for quite some time, make sure you have enough battery power. And, yeah, you should shoot RAW all the time, that's kinda the default thing, but when you shoot video, it's gonna be compressed into a different type of format, and so if you just know that it's gonna be in video, if it's not too extreme on it, and you're gonna be shooting a lot of data on your card, you can shoot JPEGs, and you can even shoot medium-sized JPEGs, depending on what your needs are, and so you can save some space with doing that, if you know it's something you don't have to edit too much later on. So, five minutes is equal to 300 seconds. So, if you record a picture every second for five minutes, you're gonna end up with your goal of 300 shots. Usually you need a little bit more time than one second. Two seconds, okay, you're gonna shoot for 10 minutes, and you'll end up with that nice 10 second clip. And so, if you can just remember that kinda formula, one second, two seconds, and all the way up to 12 seconds, you'd be shooting for an hour there. All right, so this is something, this is one of the more interesting ones that I like. It's just, there's some bubbles in a river, and it looked interesting in time-lapse, way more interesting in time-lapse than it did in the real world. But, this is one of those things that, yeah, you can just kinda watch for a while, and kinda daydream on. Another one, using a slider, it was a homemade slider my friend made, going to the forest, starts showing you the world in a little bit of a 3D motion, you can kinda say, because now you're sliding through it. And so, adding that slider motion to it can really benefit it, because it gives it a little bit more life in there, but it does complicate the process, because now you need a whole bunch of other gear in order to do it. So, one of the things I mentioned several times is that you should be shooting this from a tripod, but there is another way of shooting time-lapse, and it goes by the name hyperlapse, and this is where you are moving the camera. And so, back when I was coaching the guys on the cross country team, I wanted to show them the course, to help them prevision the course, you know, prevision what they were going to do, and so I went down, and this was a very painstaking process, where I shot a photo about every three steps that I took. And this is all manual exposure, it's all handheld, and I had to walk, and stop, shoot a photo, walk, stop, take a photo, and I'm able to compress this entire course, which takes about 16, 17 minutes for the top runners, into a one minute time lapse video. And so, they really liked this, and it's up on YouTube if you wanna search for that. That's probably enough for now. And so, finishing off the time-lapse, you're gonna have to use some software programs to put all those individual photos into a video program, and it's just a nice little bit to put into some sort of a project that you have, just to spice it up, and change it a little bit. All right, this will be a quick one here, selective cloning. I call this The People Filter. If anyone travels, and they go to a location, and they just can't wait for everybody to leave a particular location, and every photograph they have, they have people in a different location, just wait for people to move around a little bit, and then use the photograph with the least amount of people, and clone out those people by taking Photoshop, and taking little areas of the ones that there was no people in that particular spot. And so, you do have to have your camera on a tripod to do this, so that it stays in exactly the same position. And once again, you need to have manual exposure, so that things stay exactly the same between these shots, because it's all gonna become the exact same shot. Try not to shoot too many, because then you're gonna have to search through although shots to find those little open spots, and just waiting for those empty gaps to get in there. I don't really use this technique very often, but it is something that people have used to solve a particular problem, where there something that just doesn't leave the situation. Noise reduction, not real important, but just be aware that a number of cameras have built-in noise reduction, that shoots multiple shots, in order to reduce the noise. And so, if you shoot at a high ISO, there is a multi-shot option that, as I say, will reduce the noise. I don't really have a good reason why you would do this, because if you have to have your camera on a tripod, shooting a stationary subject, you shouldn't be shooting at 12,800. Anything that moves, you can probably just be shooting this at ISO 100. And so, this is something that I don't think is going to help out in most situations, and so I would just set a lower shutter speed. I think there are some cameras where you can use this handheld with reasonable results in some cases. And so, if we were to bump it up to 51,000, you'll see that there is a notable improvement in what it can do over the other settings. But, I think a tripod will do a much better job there.
Class Materials
Fundamentals of Photography Class Outline
Learning Projects Workbook
Photographic Vision Keynote PDF
Ratings and Reviews
Love love all John Greengo classes! Wish to have had him decades ago with this info, but no internet then!! John is the greatest photography teacher I have seen out there, and I watch a lot of Creative Live classes and folks on YouTube too. John is so detailed and there are a ton of ah ha moments for me and I know lots of others. I think I own 4 John Greengo classes so far and want to add this one and Travel Photography!! I just drop everything to watch John on Creative Live. I wish sometime soon he would teach a Lightroom class and his knowledge on photography post editing.!!! That would probably take a LOT OF TIME but I know John would explain it soooooo good, like he does all his Photography classes!! Thank you Creative Live for having such a wonderful instructor with John Greengo!! Make more classes John, for just love them and soak it up! There is soooo much to learn and sometimes just so overwhelming. Is there anyway you might do a Motivation class!!?? Like do this button for this day, and try this technique for a week, or post this subject for this week, etc. Motivation and inspiration, and playing around with what you teach, needed so much and would be so fun.!! Just saying??? Awaiting gadgets class now, while waiting for lunch break to be over. All the filters and gadgets, oh my. Thank you thank you for all you teach John, You are truly a wonderful wonderful instructor and I would highly recommend folks listening and buying your classes.
I don't think that adjectives like beautiful, fantastic or excellent can describe the course and classes with John Greengo well enough. I've just bought my first camera and I am a total amateur but I fell in love with photography while watching the classes with John. It is fun, clear, understandable, entertaining, informative and and and. He is not only a fabulous photographer but a great teacher as well. Easy to follow, clear explanations and fantastic visuals. The only disadvantage I can list here that he is sooooo good that keeps me from going out to shoot as I am just glued to the screen. :-) Don't miss it and well worth the money invested! Thank you John!
Dear John, thanks for this outstanding classes. You are not only a great photographer and instructor, but your classes are pleasant, they are not boring, with a good sense of humor, they go straight to the point and have a good time listening to you. Please, keep teaching what you like most, and I will continue to look for your classes. And thanks for using a plain English, that it's important for people who has another language as native language. Thanks again, Juan
Student Work