Quiz: Hyperfocal Distance
John Greengo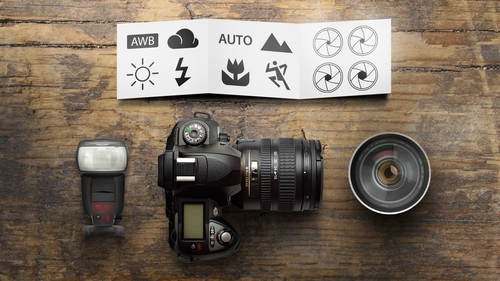 Quiz: Hyperfocal Distance
John Greengo
Lesson Info
52. Quiz: Hyperfocal Distance
Summary
(Generated from Transcript)
This lesson is about hyperfocal distance in photography. The instructor quizzes the students on where they should focus their lens to get everything in focus using different lenses and aperture settings.
Q&A:
What is hyperfocal distance?

Hyperfocal distance is the distance at which a lens must be focused in order to achieve the maximum depth of field, ensuring that objects both near and far are in focus.

How can you determine the hyperfocal distance without using math or apps?

The hyperfocal distance can be estimated by focusing approximately one-third into the frame from the nearest point of interest.

What happens if you focus too close or too far in hyperfocal distance?

Focusing too close or too far from the nearest point of interest can result in a decrease in the depth of field and may cause objects to be out of focus.

How can you find the hyperfocal distance in the field?

Identify the nearest point of interest and estimate its distance from the camera. Then, double that distance and focus on a point that is approximately that distance away to ensure maximum depth of field.

How does the aperture setting affect the hyperfocal distance?

The choice of aperture setting (e.g. f/16, f/11, f/22) can affect the hyperfocal distance, as different aperture settings result in different depth of field ranges.

Can hyperfocal distance be used with any lens?

Yes, hyperfocal distance can be used with any lens, but wider angle lenses tend to have a larger depth of field range and are more commonly used for landscapes and other situations where maximizing depth of field is desired.
Lesson Info
Quiz: Hyperfocal Distance
So, we're gonna have a quiz now, and you're gonna be judged ... You're gonna be judging what you would want to do if you wanted to get everything in focus using a variety of equipment. And so you're gonna have to figure out where you need to focus. And so let's take a look at our first question. And we're going with team A on this one. And so, hyperfocal quiz, where should you focus? If you have a 28mm lens, good wide angle lens, stopped all the way down to f/22, where do you think you need to focus to get everything in focus all the way into infinity? Now, there is no math that you can use for this. There are apps that you could use, but we've taken away your cell phones and you can't do that. And so you're just going to have to guess right now, off of what makes sense. I'm gonna give you some clues a little bit later on on actually how to do this. Bt this is just what do you think makes sense on where you should focus. So, confer with your teammates, and get back to me with an answer...
. So we're not gonna give them too much time. This is gonna be a really hard one. Just think of this as bonus questions. At one point this would have been a random guess for me. Okay. Three meters. You're gonna guess three meters? The actual answer is one point five. But you were one off, that's not bad, that's not bad. One off. And so in this case, if we focus on one point meters we will get everything from 70 centimeters to infinity in focus. If we did focus on three meters, it would work. It still works, it just doesn't get us as close as we could possibly get by going up there. All right, so we're throwing it over to team B, they're gonna have a new lens, it's a 20mm lens, it's set to f/16, and they have three different options on where they can set their focus point. So, suggest to your captain. Captain, come to a decision. And I have to admit, this is hard. And to be honest with you, I don't know how many of these I would get right. All right. We're saying point five. Point five. Correct answer is one meter. If you did focus at point five, if would only reach up to 1.2 meters there. Now, maybe if you got down to f/22, maybe that would extend out a little but further. But, you're close. So you're going in the right direction. Okay, so we're going to throw it back to team A. You got one more lens, this is an ultra-wide lens. A 14mm lens, at f/22, which means it's closed down all the way, where do we want to focus. Now, we are sitting here in the United States of America, and I gave it to you in metric. That's because it should be metric here. But just in case you're wondering, 25 is ... what is that, about a foot? Something in there. So, one foot, two foot, three foot. Where are we focusing our lens at? I don't know. Team, suggest her, help your captain out. Does anybody have a strong idea? This is a hard one, this is a really really hard one. Okay, we're gonna need an answer. Let's get that answer. Don't make me give it to team B as a free bonus one. (sigh) 50? All right, the circle of confusion says, 50 centimeters. All right, that is correct. Nice job. So, at 50 centimeters, you get everything from 19 to whatever is in the distance there at infinity. So, when you actually get out in the field, what's gonna perplex you and make you think about this is you want the mountain in focus, you want the flowers in the focus, and you're gonna be asking, "Okay, where do I need to focus?" Now, there was kind of a rule of thumb that still goes around that is incorrect. And it's 1/3 into the frame. And in some cases I don't know what that means. 'Cause sometimes they say it's 1/3 of the distance. Okay, what is 1/3 of the distance to the top of Mount Rainier? I mean, reality wise, it's about four miles away. Five miles away, so you should focus two miles up here? Okay, that doesn't make any sense. Ah, 1/3 in the frame sometimes they're referring to 1/3 of the way up. Well, that doesn't work if your horizon is down low or up high, it's going to be totally thrown off. And so the rule that I'm gonna give you is much, much more accurate. And, actually, if you were really smart, you would have picked up on it in the quiz that we just went through. All right, so let's go back. I want to show you some of the quiz that you just took. Remember the 28mm lens? It was good from at one point five meters? Well, look at this 70 millimeters right here. That is about half the distance of this. And so when you focus on a point, it's about half the distance in front of it on to infinity. So when we focused here at one meter, it was right about a half meter that was the nearest point in focus. And with our 14, it was 19. 19 times two, well, okay, it's not 50, but it's kinda close. And that's how rules of thumb work, they're not always exact. And so when we get back here to the photograph, where do we focus? Double the near point. What is the closest thing in the frame? And then you have to estimate the distance from your camera, the sensor, to that first object. Three, four, five feet? Something like that, and then you double that number. So, if this flower is four feet away, you need to focus on something that is about eight feet away. And that's pretty easy to do. You just estimate one, you double. You gotta do a little estimation, but this is a pretty easy thing to do in the field. What do I want in focus? This nearest line of cobblestones. And you look at it, pull out a tape measure if you want, and then, okay, note that down. Where's about double that? And we're gonna focus at about there, and you should get everything in focus. Now, this doesn't work if there's one little thing, and that's you focus way too close. So like if you focus three inches in front of your camera you know, it's not going to be from one and a half inches to infinity. And so, it will vary a little bit, but this is how you'd find that focus point in a visual, analog way. What's the closest item you want in focus? Double that distance, that's where you focus. Now, maybe it's f/16, maybe it's f/11, maybe it's f/22 that you need. It's gonna vary according to all those other factors that go into that situation. So hopefully that'll help figure out ... Help you figure out where you find the depth of field.
Class Materials
Fundamentals of Photography Class Outline
Learning Projects Workbook
Photographic Vision Keynote PDF
Ratings and Reviews
Love love all John Greengo classes! Wish to have had him decades ago with this info, but no internet then!! John is the greatest photography teacher I have seen out there, and I watch a lot of Creative Live classes and folks on YouTube too. John is so detailed and there are a ton of ah ha moments for me and I know lots of others. I think I own 4 John Greengo classes so far and want to add this one and Travel Photography!! I just drop everything to watch John on Creative Live. I wish sometime soon he would teach a Lightroom class and his knowledge on photography post editing.!!! That would probably take a LOT OF TIME but I know John would explain it soooooo good, like he does all his Photography classes!! Thank you Creative Live for having such a wonderful instructor with John Greengo!! Make more classes John, for just love them and soak it up! There is soooo much to learn and sometimes just so overwhelming. Is there anyway you might do a Motivation class!!?? Like do this button for this day, and try this technique for a week, or post this subject for this week, etc. Motivation and inspiration, and playing around with what you teach, needed so much and would be so fun.!! Just saying??? Awaiting gadgets class now, while waiting for lunch break to be over. All the filters and gadgets, oh my. Thank you thank you for all you teach John, You are truly a wonderful wonderful instructor and I would highly recommend folks listening and buying your classes.
I don't think that adjectives like beautiful, fantastic or excellent can describe the course and classes with John Greengo well enough. I've just bought my first camera and I am a total amateur but I fell in love with photography while watching the classes with John. It is fun, clear, understandable, entertaining, informative and and and. He is not only a fabulous photographer but a great teacher as well. Easy to follow, clear explanations and fantastic visuals. The only disadvantage I can list here that he is sooooo good that keeps me from going out to shoot as I am just glued to the screen. :-) Don't miss it and well worth the money invested! Thank you John!
Dear John, thanks for this outstanding classes. You are not only a great photographer and instructor, but your classes are pleasant, they are not boring, with a good sense of humor, they go straight to the point and have a good time listening to you. Please, keep teaching what you like most, and I will continue to look for your classes. And thanks for using a plain English, that it's important for people who has another language as native language. Thanks again, Juan
Student Work