Photographic Characteristics
John Greengo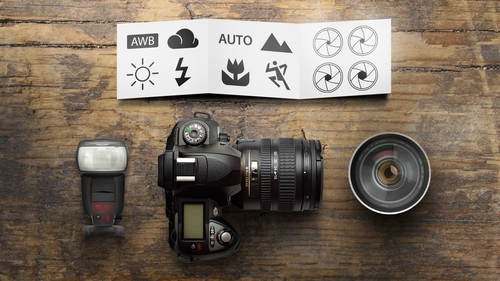 Photographic Characteristics
John Greengo
Lesson Info
2. Photographic Characteristics
Summary
(Generated from Transcript)
In this lesson, John Greengo discusses the characteristics necessary to become a good photographer, including curiosity, problem-solving skills, and patience. He then outlines the steps to becoming a great photographer, which include learning the fundamentals of photography, operating your camera, developing the skills specific to your genre of photography, and actively shooting and reviewing your work. Greengo emphasizes the importance of having a solid foundation of technical knowledge, such as understanding aperture, shutter speeds, and ISOs, as well as balancing the artistic aspects of photography, such as composition and timing. He encourages photographers to photograph both what they know and what they don't know in order to learn and grow.
Q&A:
What are some characteristics necessary for becoming a good photographer?

Curiosity, problem-solving skills, and patience.

What are the steps to becoming a great photographer?

Learn the fundamentals of photography, operate your camera, develop genre-specific skills, and actively shoot and review your work.

What technical knowledge is important for photographers to have?

A solid understanding of aperture, shutter speeds, and ISOs.

What are some artistic aspects of photography that photographers should consider?

Composition and timing.

Should photographers only photograph subjects they know?

Photographers should also photograph subjects they don't know in order to learn and grow.
Lesson Info
Photographic Characteristics
So if you want to become a photographer there's a lot of things to think about and a lot of things that you're gonna need to kind of adjust about the way you think about the world. And so I thought about what does it take to be a good photographer? And so I thought about what are the characteristics that I would attribute to other great photographers and people who enjoy photography and are good at it. And so, I'm going to bring these up. I'm not going to talk about every single one of these, but I think this is just about being an involved human on this planet. You need to be curious and interested in things that are going on. You need to be a problem solver that really gets in and investigates everything. Sometimes, you need to be very patient with things, because they take a while. You know, the baby's crying, and you're trying to get this baby ... Don't worry about it, we're just going to ease him in, and maybe in 20 minutes we're gonna be able to get that shot. Or, sunset's not go...
nna happen for an hour. Let's scout out the location, and really work through these things. And so, these are attributes that you need to embrace and maybe you're not the best at something, but you're saying, "Okay, I'm meticulous. Okay, really detail oriented, not my best thing, but I'm going to work on it, and try to make it better." So, if you want to get great at photography, here are the steps that you need to go through. First, you need to learn the fundamentals of photography. And, as somebody who has taught a lot of classes, somebody who has read a lot of books, and have taken a lot of classes myself, I always get a kick out of the people who say, "I'm a self-taught photographer." And I think it's great, because it is something you can pick up and you can just learn on your own. But, you know, there is this invention many years ago, called school, and we still send our kids to school because we don't want to just send them out in the world, "Oh, they'll pick up things as you go along." School has proven to actually work. There are ... I'm pretty sure there are scientific tests that kids who go to school tend to learn more than kids who run around the woods and don't learn anything from somebody. There are many different ways to learn, and this is going to be a good class for it. So I'm gonna try to help you as much as I can with step number one. Step number two is learning how to operate your camera. Like it or not, this is based on technology, and knowing how to work your camera, it's not really that complicated. I do know a number of highly successful nameless photographers who don't know the technology that well. But you know what? It doesn't matter. They learned what they need to learn, and that's it. You don't need to learn everything, you don't need to learn all the cameras, just learn your camera and the tools that you use. That's all that's important. You need to learn how to see like a photographer. That'll come over time, this class will help. Section 10 of the class will help. You need to learn the field skills. Now what this means is there's a lot of different genres of photography. And this class is general. We're not gonna be talking about specific things for the most part. And you're gonna need ... If you want to be a wedding photographer, you need this class, plus a wedding photography class, or wedding photography experience. If you want to shoot architecture, this class is good, it's a good start, but then you're gonna need some architecture-specific skills. And so every type of photography is gonna need it's own specialized skills. And so, in photography, you got the base level down here, and then you start shooting off in other directions depending on what your needs are. And finally, you need to get out there and shoot. And it's not just shooting. It's reviewing what you have done. It's not just blindly shooting. You need to look at what you're doing and be honest about the mistakes that you've made and edit your stuff. Go through it, look at it, what are you doing, review it, what's going right, and going wrong. And that process over and over and over again in my sight, always leads to success. You will always get better if you follow those steps. Now the stuff that you need to know, your foundation of knowledge, is like this gigantic pyramid. And to start with, it's technical, because photography is technical and it's artistic, but it's based on technology. And so, when you go out there, you want to get the focus and the exposure correct for what you want. Whatever that is, it can be a wide variety of things, but it's what you want correct. Which means you need to have a rock-solid foundation of aperture, shutter speeds and ISOs. You need to know those forward and backwards, you need to know them like you know your kitchen, and how to find your house, and how you get from your house to work, and all those sorts of things. That is what you're doing here, is you need to know this really, really well. There's a bunch of other camera settings we'll talk about as well, as far as focus points and white balance and file types and things like that. And we'll be talking about most all of the camera settings here in this first section and over the first three sections those aperture, shutter speeds, and ISOs. Now we're starting get a little bit of a balance between art and technology. That's your choice of lens that you want to use, what type of light you're gonna work with and how you deal with it, and your choice and use of depth of field. So there are technical things to achieve those artistic goals of yours. Composition, we'll talk about that in an entire section. Timing, that's more with your field skills, for your particular subject. Whether you're a portrait photographer, when do you want to shoot your portraits, the timing of them, how you set them up. Or a landscape photographer. What time of day do you go out? Is this a morning location or is it an evening location? But, I want all of you at home and here in the audience, just to think for a moment, about something that you want to photograph really good. What would you like to get a great, great photograph of? All right, some of you are saying a family relative, it might be your boyfriend or girlfriend, or your mom or your dad, or your dog. It might be a trip that you're gonna take. You're like, "I'm going to Rome, and I would like to love to get a great picture of Rome." Or maybe some of you are going to start a business and you wanna shoot something in that realm. What you need to be an expert in to get that photograph is whatever that subject is. And all of you are experts in things that I am not an expert in. Some of you have access to great locations and knowledge of people that I don't know that you could get great shots of them that I, and the rest of the world out there, can't get any shots of. And they often talk about if you're a writer, what should you write about? Write about what you know. And it's true with photography. You should photograph things that you know. You'll have an advantage on that. But I also agree with the exact opposite. And there's a lot of things in photography that are like it's either this, or this, but maybe not in between. And so, photograph things you don't know. You don't know about this. I bet if you photograph it you're gonna learn about it. And that encourages you to learn and find out more about that subject. So, this is what you're gonna need to know for taking great photos going forward.
Class Materials
Fundamentals of Photography Class Outline
Learning Projects Workbook
Photographic Vision Keynote PDF
Ratings and Reviews
Love love all John Greengo classes! Wish to have had him decades ago with this info, but no internet then!! John is the greatest photography teacher I have seen out there, and I watch a lot of Creative Live classes and folks on YouTube too. John is so detailed and there are a ton of ah ha moments for me and I know lots of others. I think I own 4 John Greengo classes so far and want to add this one and Travel Photography!! I just drop everything to watch John on Creative Live. I wish sometime soon he would teach a Lightroom class and his knowledge on photography post editing.!!! That would probably take a LOT OF TIME but I know John would explain it soooooo good, like he does all his Photography classes!! Thank you Creative Live for having such a wonderful instructor with John Greengo!! Make more classes John, for just love them and soak it up! There is soooo much to learn and sometimes just so overwhelming. Is there anyway you might do a Motivation class!!?? Like do this button for this day, and try this technique for a week, or post this subject for this week, etc. Motivation and inspiration, and playing around with what you teach, needed so much and would be so fun.!! Just saying??? Awaiting gadgets class now, while waiting for lunch break to be over. All the filters and gadgets, oh my. Thank you thank you for all you teach John, You are truly a wonderful wonderful instructor and I would highly recommend folks listening and buying your classes.
I don't think that adjectives like beautiful, fantastic or excellent can describe the course and classes with John Greengo well enough. I've just bought my first camera and I am a total amateur but I fell in love with photography while watching the classes with John. It is fun, clear, understandable, entertaining, informative and and and. He is not only a fabulous photographer but a great teacher as well. Easy to follow, clear explanations and fantastic visuals. The only disadvantage I can list here that he is sooooo good that keeps me from going out to shoot as I am just glued to the screen. :-) Don't miss it and well worth the money invested! Thank you John!
Dear John, thanks for this outstanding classes. You are not only a great photographer and instructor, but your classes are pleasant, they are not boring, with a good sense of humor, they go straight to the point and have a good time listening to you. Please, keep teaching what you like most, and I will continue to look for your classes. And thanks for using a plain English, that it's important for people who has another language as native language. Thanks again, Juan
Student Work