Practicing Angle of View
John Greengo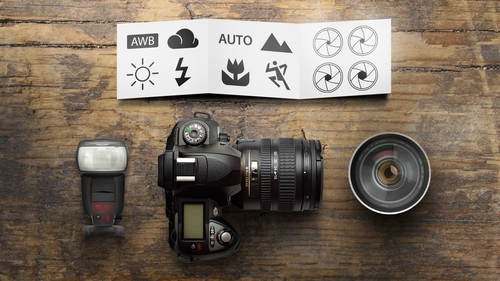 Practicing Angle of View
John Greengo
Lesson Info
20. Practicing Angle of View
Summary
(Generated from Transcript)
The topic of this lesson is the fundamentals of photography, specifically practicing the angle of view. The instructor explains how to remember what different lenses do by using hand exercises, and provides examples of different focal lengths and the corresponding angle of view. The lesson concludes with a learning project that involves shooting with different lenses to understand how they work with the camera.
Q&A:
How can I remember what different lenses do?

The instructor suggests using hand exercises to remember the angle of view for different lenses.

How can I determine the focal length of a lens?

The instructor explains that you can adjust your arm stretch while using hand exercises to determine the angle of view for different lenses.

What is the angle of view for a 50mm lens?

The angle of view for a 50mm lens is demonstrated by extending your arms and bringing them back until your thumbs are about 10cm (4 inches) across.

How can I determine the angle of view for wider lenses?

For wider lenses, such as a 24mm or 16mm lens, the instructor demonstrates using hand exercises with different positions of the thumbs.

How can I determine the angle of view for telephoto lenses?

The instructor demonstrates using hand exercises with fully extended arms to determine the angle of view for telephoto lenses, such as a 200mm or 400mm lens.

What is the normal lens for different types of cameras?

The normal lens for full-frame cameras is 50mm, for a 1.5 crop sensor it's 35mm, and for four thirds it's 25mm.

What is the learning project for this lesson?

The learning project involves shooting with different lenses to understand how they work with the camera, and a workbook with a checklist and tests is provided.
Lesson Info
Practicing Angle of View
Come up with a very simple way of remembering what different lenses do. And so you might want to put your notes down in here because we're going to be doing some hand exercises, so you need your hands free for this, all right. Now, if you want to know what a 50mm lens looks like, what you need to do, and follow along with me, is put your hands out like this, reach them all the way out, and then bring them back so it's kinda comfortable here. Your thumbs should be about 10cm, or about 4 inches across, and you can close one eye, and what you see as you kind of an back and forth with your hands, that's about a 50mm lens. You can check this at home, and you may need to adjust your arm stretch just a little bit. But that's a 50mm lens. Now, let's do the 35mm lens. It's basically the same thing, but just move the thumbs a little bit further apart. And so this is your moderately wide-angle lens. This is a good environmental portrait lens, all right. So I've had to get a little goofy on some o...
f these. All right, so the 24mm lens, put your hands on your elbows, all right, now stick your thumbs up like this. Get your thumbs out to the edges of your elbow. Now, what you see through one eye. Yeah, do this out in public, see what people think about you there. (laughs) That's a 24mm lens. The 16mm is a little bit easier, just close one eye. And that's kinda just about everything you see with one eye, and that's gonna be your 16mm lens. Now, a little bit easier to do here. So, if you want to shoot a portrait of somebody, the thumb to pinky, arm extended. And so if I wanted to shoot a picture of Kenna here, I'd need to move up here about to get that head to belly button type portrait shot. All right, next is the 200. This is my favorite one. Here, this is the here birdy, birdy, birdy. Like you want a bird to land on your finger. Arm completely outstretched, it's the length of your finger is gonna be the width of about a 200mm lens. And so it's like, "Do I need a 200mm lens?" All right, what about a bigger lens? A 400mm lens is an arms length okay. And so I can get Kenna's head in here, fully extended. And so if I want a head shot of Kenna, just like that, I'm gonna need about a 400mm lens from here. Now, not on here, if you can completely obscure it with your thumb, it's too far away. Okay, so if there's a bird on a tree over there or something, and you're like, "I'm gonna get a photograph, and what lens? Well, let's see. Um, no, no, no, oh, too far away." if you go outside at night and you put your thumb up, you'll be able to completely obscure the moon. The moon is smaller than your thumb. And so you would need something much bigger than a if you want to photograph the moon. So I realize that there are some people out there that are still saying, "Well, wait a minute. What lens is normal for my sensor?" Sometimes people who are new kinda get confused, and so the best thing to do is to think about what is the normal lens for you? Forget about the world and everyone else, and whatever the standard is. Just what is the normal lens for you? If you shoot full-frame, it's a 50. If you shoot the 1.5 crop, it's a 35. The four thirds, it's a 25. And then you think, "Okay, that's my home base." Everything in one direction as those numbers get smaller, that's your wider angle lenses. And if you were going to cut that number in half, that's gonna be a pretty significantly wider lens. And then when you go the other direction, you can double that normal lens, and that's a short telephoto. You quadruple it, and that's a pretty good telephoto. And you can multiply it by eight, and that's a really big telephoto. And do just think what's normal for you, what's a little bit in one direction, and what's a little bit in the other direction. And then if you want to pay attention to what other people are doing, then you're gonna have to do some math. But that's what's normal for you. So your learning project for this is your focal length comparison. And so what you need to do is you need to find a penguin, or a cat, or a water bottle, or anything that you work with for a while to shoot with different lenses. Photograph it up close with a wide angle lens. Photograph it from far away with a telephoto lens, and just really get to learn how your lenses work with the cameras that you have. And so there's the project four, and this is in the learning projects workbook that comes with the class. And there's going to be a whole little checklist in here, do this, do this. And then you can practice about what aperture, you can write down what aperture you shot at. And then there's ... we have a couple of tests in here. We have a number of tests that you can run in there. And just learn about how your lenses work.
Class Materials
Fundamentals of Photography Class Outline
Learning Projects Workbook
Photographic Vision Keynote PDF
Ratings and Reviews
Love love all John Greengo classes! Wish to have had him decades ago with this info, but no internet then!! John is the greatest photography teacher I have seen out there, and I watch a lot of Creative Live classes and folks on YouTube too. John is so detailed and there are a ton of ah ha moments for me and I know lots of others. I think I own 4 John Greengo classes so far and want to add this one and Travel Photography!! I just drop everything to watch John on Creative Live. I wish sometime soon he would teach a Lightroom class and his knowledge on photography post editing.!!! That would probably take a LOT OF TIME but I know John would explain it soooooo good, like he does all his Photography classes!! Thank you Creative Live for having such a wonderful instructor with John Greengo!! Make more classes John, for just love them and soak it up! There is soooo much to learn and sometimes just so overwhelming. Is there anyway you might do a Motivation class!!?? Like do this button for this day, and try this technique for a week, or post this subject for this week, etc. Motivation and inspiration, and playing around with what you teach, needed so much and would be so fun.!! Just saying??? Awaiting gadgets class now, while waiting for lunch break to be over. All the filters and gadgets, oh my. Thank you thank you for all you teach John, You are truly a wonderful wonderful instructor and I would highly recommend folks listening and buying your classes.
I don't think that adjectives like beautiful, fantastic or excellent can describe the course and classes with John Greengo well enough. I've just bought my first camera and I am a total amateur but I fell in love with photography while watching the classes with John. It is fun, clear, understandable, entertaining, informative and and and. He is not only a fabulous photographer but a great teacher as well. Easy to follow, clear explanations and fantastic visuals. The only disadvantage I can list here that he is sooooo good that keeps me from going out to shoot as I am just glued to the screen. :-) Don't miss it and well worth the money invested! Thank you John!
Dear John, thanks for this outstanding classes. You are not only a great photographer and instructor, but your classes are pleasant, they are not boring, with a good sense of humor, they go straight to the point and have a good time listening to you. Please, keep teaching what you like most, and I will continue to look for your classes. And thanks for using a plain English, that it's important for people who has another language as native language. Thanks again, Juan
Student Work