Texture & Negative Space
John Greengo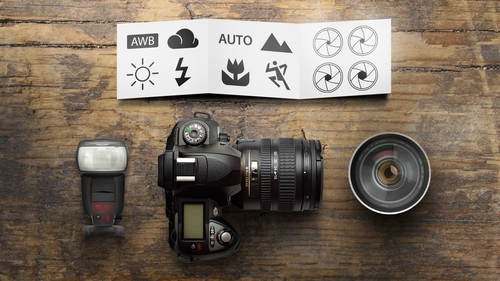 Texture & Negative Space
John Greengo
Lesson Info
103. Texture & Negative Space
Summary
(Generated from Transcript)
The lesson is about the concepts of texture and negative space in photography. The instructor discusses how texture can add depth and evoke emotions in a photograph, while negative space can provide context and emphasize the subject's size and location.
Q&A:
What is texture in photography?
Texture in photography refers to the visual quality of the surface of an object or subject, and it can add depth and interest to a photograph.
How can texture be conveyed in a photograph?
Texture can be conveyed through the use of lighting, composition, and focus. Capturing the details and patterns on the surface of the subject can help convey its texture.
Why is texture important in photography?
Texture can evoke emotions and create a more immersive experience for the viewer. It adds a tactile quality to the photograph, making the subject more relatable and engaging.
What is negative space in photography?
Negative space refers to the empty or unoccupied areas surrounding the main subject in a photograph. It provides context, emphasizes the subject's size and location, and can create a sense of balance in the composition.
How can negative space be used effectively in photography?
Negative space can be used to enhance the focus on the main subject, create a sense of emptiness or solitude, or provide room for text or other design elements. It can also be used to show the subject in its environment and convey a sense of scale.
Can negative space be used in different genres of photography?
Yes, negative space can be used in various genres of photography, such as landscape, portrait, and still life. The key is to understand how it can enhance the composition and convey the desired message or mood.
Lesson Info
Texture & Negative Space
Something else to look for is texture. And texture really is a pattern in many ways. It's something else though that we might have a little bit more awareness of what it feels like, is it hot, is it cold? We're gonna relate to that subject in a different way. Does anyone know what this is? Raise you hand, let's see if we can get? Okay, what do we have over here? Get your microphone. Elephant skin? That is correct. It's a close up of an elephant. An elephant got so close to me when I was on safari, my big lens didn't do much good, but I figured this is a good opportunity to get a nice close up of it. But I think it would make a nice backdrop on a desktop for a computer screen or something. It's nice, simple, clean background. And so, texture. The smoothness of those rocks is something that you can almost reach out and feel. It's aluminum siding. And that's sidelighting, all that detail in there, really makes you feel for what that might be like to walk on. Or feel with your own hand...
s. And when you can really identify with that subject on another level, just beyond the visual level, you start imagining what that would feel like, you're drawn a little bit more closely into understanding what that is like. I love these old walkways in some various small European countries, 'cause they're just so slick and smooth, I would hate to be there on a rainy day 'cause you just know how smooth they are. And you can tell at how slippery this is and how hard it must be to walk around on this and get photos because it's very, very slippery. One of my favorite textures is the fur on the baby King penguins, which are really the soft brown bears, they call them bears with beaks and flippers and when it gets wet the texture completely changes and so then you know it's just kind of that wet coat, wet cat feeling there. (audience laughing) Another concept to think about and this is the reverse of filling the frame. This is having some negative space around your subject to give it context in size and location and this is so for those times where you don't need to fill the frame with every bit of detail and maybe you need space for one reason or another, maybe you're gonna use it for a poster and you need to put text in there, or maybe you just want to show size and scale as I say of what else is around that subject. What's filling that space. And so it's okay to have a bunch of blue sky, from time to time in your photographs. I was up in northern Canada and we were canoeing down this river and there was just nothing, but I really felt like this was a good picture of nothingness. This is what it felt like just nothing around, everything was just very, very far away. And so showing your subject within their environment. This one of my favorite photos of cars in Cuba and it's unusual because generally cars don't have smooth clean paint jobs and I wanted to show as much of the smooth clean paint job that this really is all that very, very smooth. You know, giving the idea of that dark cloud just hanging above there a little bit. Giving space a little bit of direction for that chair, that curve of that chair, leaning forward. What it's like to be in the Mali desert, the Sahara desert here and there's just a lot of big open sky above you, big open expanse. And having that negative space there, helps you give a feel for that area. And this might be my favorite slide of the whole class, so we have a little bit of scale here but we don't have to get in close, we just like to have this person sometimes, little bit to show us where we are in this giant expanse of this beautiful place.
Class Materials
Fundamentals of Photography Class Outline
Learning Projects Workbook
Photographic Vision Keynote PDF
Ratings and Reviews
Love love all John Greengo classes! Wish to have had him decades ago with this info, but no internet then!! John is the greatest photography teacher I have seen out there, and I watch a lot of Creative Live classes and folks on YouTube too. John is so detailed and there are a ton of ah ha moments for me and I know lots of others. I think I own 4 John Greengo classes so far and want to add this one and Travel Photography!! I just drop everything to watch John on Creative Live. I wish sometime soon he would teach a Lightroom class and his knowledge on photography post editing.!!! That would probably take a LOT OF TIME but I know John would explain it soooooo good, like he does all his Photography classes!! Thank you Creative Live for having such a wonderful instructor with John Greengo!! Make more classes John, for just love them and soak it up! There is soooo much to learn and sometimes just so overwhelming. Is there anyway you might do a Motivation class!!?? Like do this button for this day, and try this technique for a week, or post this subject for this week, etc. Motivation and inspiration, and playing around with what you teach, needed so much and would be so fun.!! Just saying??? Awaiting gadgets class now, while waiting for lunch break to be over. All the filters and gadgets, oh my. Thank you thank you for all you teach John, You are truly a wonderful wonderful instructor and I would highly recommend folks listening and buying your classes.
I don't think that adjectives like beautiful, fantastic or excellent can describe the course and classes with John Greengo well enough. I've just bought my first camera and I am a total amateur but I fell in love with photography while watching the classes with John. It is fun, clear, understandable, entertaining, informative and and and. He is not only a fabulous photographer but a great teacher as well. Easy to follow, clear explanations and fantastic visuals. The only disadvantage I can list here that he is sooooo good that keeps me from going out to shoot as I am just glued to the screen. :-) Don't miss it and well worth the money invested! Thank you John!
Dear John, thanks for this outstanding classes. You are not only a great photographer and instructor, but your classes are pleasant, they are not boring, with a good sense of humor, they go straight to the point and have a good time listening to you. Please, keep teaching what you like most, and I will continue to look for your classes. And thanks for using a plain English, that it's important for people who has another language as native language. Thanks again, Juan
Student Work