Unmoderated UX Test
Daniel Walter Scott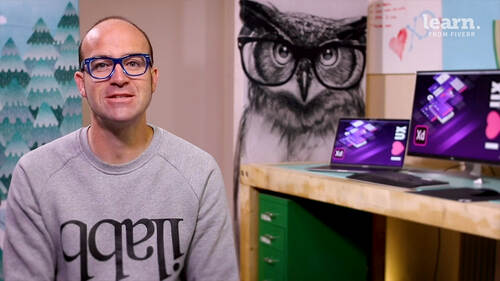 Unmoderated UX Test
Daniel Walter Scott
Lesson Info
83. Unmoderated UX Test
Lesson Info
Unmoderated UX Test
Alright. So we're going to run an unmodified rated test in adobe xD and moderated remember from the last video, it just means there's you send it off and you're not around your u the moderator and not around your um moderated. Now the simplest one moderated test is actually something you've already done. So this would be considered an moderated you'd go to, Here you go. Published prototype. Okay, give it a name, allow commenting, create public link. You grab the link and you copy and paste it into an email and you send it to people. You ask them to make comments like we did earlier and that is an unmodified rated test. Get feedback. It's not the best, but it's the easiest. Okay, moderated testing requires and it's quite stressful. Especially your first one. Remember doing it really hard to kind of know how to structure it and do it and find your flow. That's the kind of quick way. The problem with that is that you need to go off and find your own users. Remember your persona Katrina fo...
r your mammoth project. Might not know many Katrina's or any at all. So there are services out there to help you. The one that I use is who is it? This one here called? User testing dot com. It's good. It's cheap enough and they organized the users, they've got users on the books with all sorts of different demographics and Geographics and you can ask them to go give you some feedback. It's a weird place you need to go there request a trial. Okay. It's like invite only, give them name, give them everything about you and for you business case you're the for a school project is fine actually pick whatever one you want. Okay and request a trial. Now once you get an email back from them saying yep you're in it's like all good sales deals. Your first few are cheap and they get more expensive later on. How expensive are they? So when you get started I've got an old account here that I found the one I'm using at the moment but it's an old one and for the 1st 20 they were for 50, well $49 us dollars after that they go up, you have to look at their pricing on their site to work out what seems to change all the time. So this is something you might have to allow for in your budget. Remember if you're charging somebody nothing or $200 for this UX test or this UX design, you might have to explain. Look user testing, you need to supply the users otherwise it's going to be $250 we need 15 of them for the first round and then maybe a second round. So it's going to be $500. So for companies this ain't no thing but if you're dealing with a personal client, your mum's grandpa's dad's Oh wrong way. So so a friend of a friend's um website, they're probably not going to cough up $500 and you don't really want to be yanking that out of your fee unless you've built it into it. Like I do I kind of make it all feel very professional. It is professional but I just make sure my price covers it. I get what I want. Plus I get to do the user testing. Makes my price is quite high though. Now the reason I like user testing is that they've gotten a plug in for X. D. So you like we did all the other plug ins. You go to discover find user testing, install it and it's not a really great connection. It's just a it's a moderate. It's okay. I'll show you what it does basically. You load it up. It's going to ask you to put your user name and password in. So I'm logged in at the moment so it's going to ask you to verify and connect all up to your account and user testing dot com. So you have to go do that first and I can initiate tests from here which is cool. It's kind of one way though I send that off to user testing from here but then nothing comes back to XD and I can't wait for the day where comments actually appear back in the XD. They don't at the moment. So before you get to hear you can do it just by the website. It doesn't really matter whether you do it here or here and say new test. Okay. You're going to end up with the same details. Now you don't have to use user testing. Some of the competitors are the only other one I've ever used was this one here use analytics, but I end up using user testing mainly because that was the first one around and it's the one I started using. So to make it work, you need to do a couple of things. You need to make sure that you have set the homepage and the right thing. Okay? Because you don't want it loading in some random page, you want the first page to be here. You wanna make sure you've connected all your pages up that you want them to test. Okay. You need to make sure you've got a public link. If you haven't yet, you have to click on the public link, can't be a private link. Make sure it's up to date and then grab and copy that your RL. Then whether using the website interface or the one using the plug in here. You need to pace that you are Ellen. So peace to your prototype. I'm gonna name this test. This one is going to be the instructor. I'm going to use the file name instructor. HQ. Mark up the .2.0. Now at the top here, choose your audience. You if you are a kind of a seasoned user of user testing dot com, you can create your own users as in um say that I go off and I asked for 55 years of test to test my mock up please, if you like the results of one of those people, like physical people Dave or Cindy. Okay. And you're like, I want to, you can add them to your user testing panel. It means that you can go back to the same people every time that can be useful. And I actually got that mixed up. That's what I mean by my panel. That's the ones that you've picked. Use a testing panel. It means they often pick it randomly for you based on your requirements. The template. Is it just a mock up or is it a prototype houses a full arm prototype we're going to collect, go to user testing and I will show the other side of it. Alright, so we're gonna pick our first audience. Okay. I want to pick three participants from. Actually depends you can go to five, remember five is going to give you all that you need often I'll do like lots of threes because I'm cheap. Okay? And I'll do at least the first one. The first one is gonna show up some really glaring problems and maybe for your last few or last one you do five just to kind of make sure everything is looking good and you can prove to the client this is as good as it's gonna get. It's amazing. So I'm going to use the highest rated, they're going to be using a computer, you can pick the age income, all of that sort of stuff at the moment. My account, this particular account is, it doesn't have all the details they're trying to get you to upgrade. So three participants, this is how much it is. We're going to split the tasks for them. Now. This is where you're gonna spend a bit more time. I'm not going to go through every single thing, but you can go through here and say and tell them what what mindset they should have. Okay? You say you explain to them your persona is you say you are a person who's refitting their house would do using Katrina. Kids have left home and you want to kind of remodel the house with some new furniture. Now, user testing gives you good examples of how to set that mindset. So go through their help and you can ask them different tasks. Okay. Often use a lot of these kind of first ones you can see here without leaving the screen. This will be asked to, your user will be asked to take a moment and give them their initial feedback what they feel and it's all recorded for you. Okay? It's all screen cast and recorded for you. You don't have to do any of that and you can work through the different tasks I'll go through and kind of fill in these blank bits here. So I would like you to pick a sofa and make a sale and check out and into your credit card details. So I want to get to tell them what to like. It's very vague or guess generalize and they'll go off and try and do that thing. You might do. Another one that says, I want you to add something to your favorites. I want you to go in and change your subscription or update your email address, whatever you need to do in yours over here. There's loads of good suggestions from user testing dot com. So you submit it all, you pay your bill and what happens. It's amazing how quick it comes back. You'll end up with something that looks like this. This is an old one of mine. Let's have a little look at it. So these two guys, both young, both male earning potential, where they're from. I can add my own notes and let's just look at what we get back. I'm not going to go through the whole thing, but we'll give you a preview of one. The stuff that you'll expect back. All right. Actually I pause it there and I'll come back so you can hear a little bit of them. I've turned on the kind of system audience answer three questions. Do not go to test two until you answer these questions. Cars is for visual people. Mm hmm. All right. Answer the questions out loud. What do you remember something about visual people? What can you do on this site? It looks like you can learn how to do graphic things. I'm not exactly sure. So, there was an initial test I did a couple of years ago and it was really good because you're like, ah what I thought was going to be useful and what made sense doesn't Okay. So I had to do loads of changes to that site and but instantly you can start to see how useful user testing is and being a UX designer. Okay. This feedback loop before you go off and code it and build your app, you can get this feedback and um moderated tests are really good because they are high money depends on your budget, but it's low kind of I find it you get quite nervous doing moderated tests and quite anxious and stressful and it's it's quite hard to do. I'm pretty experienced and I still find them hard to do depends on the user group. Whereas this I still get nervous watching them because I'm like, oh, he's criticizing my work. But it's so easy to go and change now and upload it back into user testing dot com and get more feedback and to see if you fix the problem if you haven't Now. One of the things I promised in the last video was I'll show you how to because um, we've using user testing is amazing because they record the screen that asks the question, It's all very cool. Let's say you're doing kind of a little bit more caveman version. So the full caveman on moderated test is just to send people links. And the problem with just sending them the link is that you don't get that audible kind of feedback. It's all just comments. So there's a way to get around that you can ask that it will depend on your user group. If my user group was my mom and my dad, I could not do this because it requires a little bit of technical ability. I love them, but computers is not their thing. So if they are and it was really easy to test this one because I could, instead of using user testing dot com, I knew some instructors and I said, hey, could you just use quicktime to record the screen and talk to it and answer these questions for me? And they did. And they just, they just sent me a video back linkedin, Dropbox. It was great for people that are on a Mac. It's easy enough. You open up something called Quicktime. Where is the Quicktime player? It's free. It's installed on all Macs and you just go up to here, you've got a file and you go to new screen recording. Okay, This opens up and you just gotta make sure you're asked, they should know do a test first for themselves. Like you've got to ask them to do this thing. Say hey Cindy can you use quicktime to record when you're doing the test? So open the link that I've sent you open up quicktime and then go to screen recording and hopefully they're wise enough to be able to, it'll ask you would you like to use your microphone? Say yes, you can see here, they can turn it off, they can turn it on the head records, they click on the mock up and then they start working through it answering your questions when they're finished. There's a little quick time window here, they can stop it and they've got a video to send you so listen to answering your questions me talking about me. So that's one way of doing it on the cheap but you've got to remember okay they can save an email it to you, you've got to remember some users, they're not going to be able to do it on a Windows machine. Remember you've got that option in the Xbox app. So open that up then Windows G okay you might give them instructions on how to do that and record it harder but cheaper than say user testing dot com. Alright that's enough for my um moderated test video. I've got a larger course on kind of uX theory. It's a big old long course around the more research part of it we talk about un moderated tests and moderated tests more. There's all sorts of other kinds of tests. Not as common, but you can go check out that course if you like. The other thing you might do is use the testing under their resources. So because on their resources tab they've got really good stuff in here about how to run good tests. They've got lots of templates on what questions to ask. They don't even have to kind of sign up to pay for it. Just go in and kind of borrow all of their lovely content marketing in here. There's loads of good stuff. All right, that's it for this video. I'll see you in the next one.
Ratings and Reviews
Thank you, Dan Scott, for providing such a beautiful Adobe XD course. I completed the course today and noticed a couple of things that are missing. I want to share them here so that you can upgrade the course, which would be helpful for us. Hover state and toggle state. Dragging pages from 1-2 to 2-3 and then back from 3-2 to 2-1 with dragging is not working. Another thing is that we learned scrolling the website from top to bottom, but scrolling or pushing things from right to left has been completely omitted. These are the things I have noticed, and I would like you to upgrade them so that we can improve our Adobe XD skills.
Student Work