Plugin - PhotoSplash
Daniel Walter Scott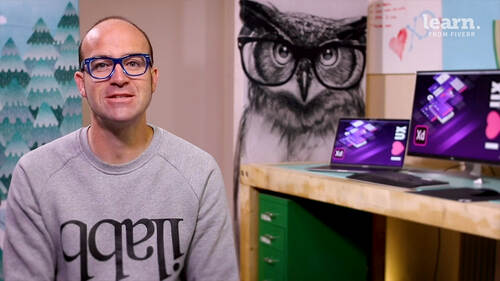 Plugin - PhotoSplash
Daniel Walter Scott
Lesson Info
66. Plugin - PhotoSplash
Lesson Info
Plugin - PhotoSplash
Hi everyone. This plug in is all about connecting pugs into images for all of your pug related XD projects. Okay. It's not specifically about pugs. It's all about drawing down images from unspool ash. Okay. Using our plug in called photo splash. It just means you don't have to jump out to the website to grab images. You can just select a bunch of boxes down here. Say I want pugs and click apply and it downloads them, ready to go. All right, let's get started. I love those plugs. Especially this guy. Alright, let's get started. Alright, just like our other plug ins, you need to install them. Go to discover. Search for um photo splash and click install. It'll appear here. You click on it and it will give you an error. So you need to click on something. I want to replace this image and one little note about this particular plug in, they all have their own little quicks and this particular one for some reason, if there's already an image in the rectangle doesn't seem to update it, I'm not ...
sure why. So I'm just going to give it a full color and replace it. Thank you, logitech. Go away. So with that selected and it's got no image in it. You can go into here. Maybe it's just a bug for my one. You might test it again later on. There's always getting fixed these things and what will end up happening is you'll probably end up at this first option here. This is like generally just random images. If you need just random images and this one here is where you can search for it and you can, it showed me I wanted to search for a profit just because that's what that video was about. Find photos. It goes off. Looks unspool ash. Remember the cool thing about unspool ashes? I get to use them commercially. Okay, what looks like profit? Beer, that looks like profit. Okay, so let's find this one. Now I'm gonna leave this in here because this happened to me a couple of times. It normally works perfect, but because something's wrong with this thing that I made, I'm not sure why and I'm going to draw out of just a regular rectangle and it works perfect. Okay, lets try the exact same thing. Let's go to unspool ash or photo splashes what they call it and the same thing I'm going to click on profit. It's going to go to a search. Even click on the same one to see if I can make this work beer on beer, gets a little techniques to it and you click apply and it downloads it. Cool, something wrong with that or I'm not sure what's wrong, but know that you might have that same problem and there you go and just draw a new rectangle can be a circle. Now we've just done one. Right? So I'm going to undo that I'm going to grab this and I want to generate a bunch of them. Now. A couple of little things with this Is that it won't work with. Um It won't work when it's still in this repeat grid. So you have to um group it. Okay. Have them all selected same thing. Photo splash. Do a search. Any pictures of pugs can never have too many pug photos. And this is like the best one that always appears with the yellow him. This guy where's his yellow self? I love that pug. Anyway, he's quite popular on sunsplash. So let's say I want you because I need, How many do I need? I need 12 of them. Give me a pure pugs in your pug. Who's the guy with the beret? That's a real good one with the beret. If you've done one of my other courses, you'll see my Photoshop courses. You'll see the pug with the beret now before we go any further. Okay, let's look at this little cog icon here, The settings and what you might do is instead of saying small is bring me the regular ones. So the larger size we talked about earlier. Making sure you get the highest quality images. You can uh Yeah, I think that's on by default. I'm not sure why I turned that off. No real big deal. Uh No real big deal, but I'm gonna go back to here. Got them all ticked, click, apply, kick back, relax. Or my pointer email will slowly download them. Did I switch it to regular. I think I did. I shouldn't have go slow. All right. I'll fast forward it and I'll see you in a sec. Alright, there it is, pork tastic. Just so you know as well is if you double click these, you'll notice that the portrait ones are all cropped nicely. Thank you so much. Photo splash and XD. You guys are great. We don't need the pugs. Just wanted to show you a really easy way instead of jumping out to a splash is just do searches through that plug in. I'm gonna undo. Put that graphic back in and we'll get on to the next plug in. Alright, I'll see you in a sec.
Ratings and Reviews
Thank you, Dan Scott, for providing such a beautiful Adobe XD course. I completed the course today and noticed a couple of things that are missing. I want to share them here so that you can upgrade the course, which would be helpful for us. Hover state and toggle state. Dragging pages from 1-2 to 2-3 and then back from 3-2 to 2-1 with dragging is not working. Another thing is that we learned scrolling the website from top to bottom, but scrolling or pushing things from right to left has been completely omitted. These are the things I have noticed, and I would like you to upgrade them so that we can improve our Adobe XD skills.
Student Work