Pros & Cons for Images
Daniel Walter Scott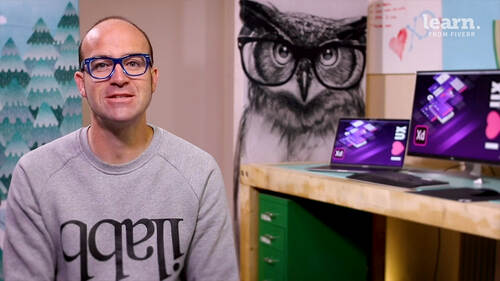 Pros & Cons for Images
Daniel Walter Scott
Lesson Info
53. Pros & Cons for Images
Lesson Info
Pros & Cons for Images
Hi there this video is all about working with images. This kind of pros and cons and things to consider when you are working with images first up is what you can bring in, we we've done this a bit. We've brought in J Pegs, you can bring in PNG s you can bring in S V G s and you can bring in gifts. That's easy. But when you do bring them in you need to be considerate of the final export because when we finished this right, we designed it, client likes that, we do our user testing they like it, then we need to send elements to our developer to build this website or build the app. We might be building it ourselves and what's going to be needed is really high res images. So in the past we'll be able to get away with kind of like 72 D. P. I. And it would look fine but more and more screens. Okay. Laptop screens are becoming four K or apple cause that retina okay. For the imax and for the laptops and it just means that shows a lot more quality than it used to. So if I bring in an image so fi...
le import you can use that. I never use that. So this is one of the pros you can actually just have the window open and drag it in. So in my images exercise files Hunter images there's one called lower it's gonna bring him in. That's the way I bring in images. Okay, so the problem with him is that he's pretty small. He's about 900 pixels across. And the trouble with it is if I have to expand it out, Okay. Make it bigger at all. It's just going to export really low quality because now brittania is about twice the size. Okay, so most screens need double the resolution that we used to. So if you are old school and you're like remember 72 D. P. I it needs to be about 1 44. And for apps even worse depending on the device, it'll be looking for up to about four times the original size. So it needs to be super big and that's not always possible. But you just need to know instead of kind of like trying to make it small and low because it's going out to web design. Try and keep the quality as high as you can while you're in XD. I've got another version of this one. It's the background blur. If I bring that in, that is a nice big image. And even if I'm going to use it at this size. Okay, don't go into Photoshop or anything and try and resize it down to a more kind of compressed version. Leave it at this size because there's going to be a time where I'm gonna later in the course where I'm going to try and export this and I'm going to say B B times one which is the size it is now. But I'm also going to say I want a size that is double this, triple this and maybe even four times the size. So it's going to try and export it kind of like this giant size so skinny is bringing the largest size you can, it'll help exporting later on. So I feel like it was in the cons list. Let's look at the pros list. So we've worked out that we can drag in images from dragging in this background blue and just put them over here and updating images is really nice and easy. Let's say we kind of mess around with this guy and we do stuff with him and we give them the kind of size we want and the kind of crop we want and then we need to update them. You can actually just drag people on top. So I've got this bike image here or PNG just drag it on top of that image. You see this updates takes the same kind of height and width, fills it out nicely. But the same thing was squares, we drew this one earlier, This big rectangle, so it was a placeholder. Now we're going to add This one here from now for a video and I can just drag it on the box as well and it just fills it perfectly. I love it super handy. And lastly we'll do the same thing for that swirl image. I've got a guy over here, where's my man? It's called hero image one. Okay, I can't use the PSD remember? It has to be the jpeg, drag it in and in this case I need to do a little bit of board rejigging, gonna move my app over here because I keep extending it past it. There you go. Well, have you fellas come down and then you like a breakdown? Here we go. And one thing I guess is his chopped off, so I'm gonna double click it because you see it's cropped to the edges here, so I'm going to drag it down. Here we go so we can see his little face. Alright, so there's some of the perks and interesting things about using images. Let's jump into the next video.
Ratings and Reviews
Thank you, Dan Scott, for providing such a beautiful Adobe XD course. I completed the course today and noticed a couple of things that are missing. I want to share them here so that you can upgrade the course, which would be helpful for us. Hover state and toggle state. Dragging pages from 1-2 to 2-3 and then back from 3-2 to 2-1 with dragging is not working. Another thing is that we learned scrolling the website from top to bottom, but scrolling or pushing things from right to left has been completely omitted. These are the things I have noticed, and I would like you to upgrade them so that we can improve our Adobe XD skills.
Student Work