Plugin - Content Generator
Daniel Walter Scott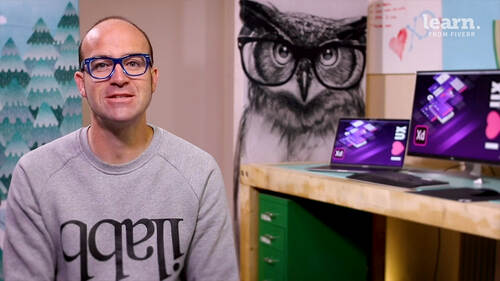 Plugin - Content Generator
Daniel Walter Scott
Lesson Info
64. Plugin - Content Generator
Lesson Info
Plugin - Content Generator
Alright, so we are in the kind of placeholder content and plug ins like mash up section of this course and this is both of them. It's a really good one. So what we're going to do is I need to add comments to this. So what I'd like to do is I want random comments or at least I need content to go in here. So I want there to be a person asking a question and then another person asking, So what I'll do is I'll quickly zip through and fast forward making some text boxes. Alright, I'm back. Um if you were watching that, I made it real painful for myself anyway, I gotta made made a little button. So this is the kind of, you know, it's going to be questions for this thing. So what I'd like to do is show you how to use a plug in. So remember plug ins, you can click discover plug ins and you click on them to install and they appear in this list. Already. Got it installed. Okay, it's called content generator. This one here is brilliant. First of all, there's a little error saying you need to sele...
ct text first. So click on this, go to hear content generator and say actually give me a name, I want a female name. And actually what I want to do is make a bunch of these at the same time. So let's have a few of them, you can't use the repeat grid, that's why I'm not using it. This plug in doesn't work with a repeat grid for some reason and lots of them don't, they don't kind of dive in the repeat good. Very well. So I'm gonna click all of these guys, well all of them and do the exact same thing. So I'm going to go plug ins content generator. All both male and female. Ronald Hughes, richard, Sullivan robert, walter roberts and Andrea bailey. Good work. Okay, so it's just awesome. Just a magic up names and I'm gonna grab the dates, do the same thing. So this is when people kind of like submitted their questions, same thing. Conte generator. And you can see there's a bunch of different things dates, other text email addresses, countries you can put in percentages. I'm going to put in that when you are dealing with this, if you are based in the US, it's kind of weird like um it's weird that the rest of the different parts of the world decide to go month, day, day, month. So I find especially when I'm designing anything that's going to be kind of like international. I just used the full words july august then it's really clear alright, but it picked random dates except those dates. So they're all random. Okay, what it doesn't do is it doesn't randomly pick questions. Okay. There's no random question maker. Okay. I bet you there'll be one online, but for the moment. I'm just gonna use the Lauren ipsum. Um I wonder if it will generate, It does, this one generates Lauren ipsum, like the other one does okay, we've used this in an earlier tutorial. Let's see if this does random stuff, whereas a paragraph it does, which is quite nice, so it's not just the same one over and over again, so it's going to work for me, I'm gonna do this like little in denting to kind of make it feel like that person's replied that person, you know what I mean? Alright, you can zip ahead now, what I'm gonna do is I'm going to just add a title in it to make it look kind of pretty, I'll see you in the next video you can hang around, I'm gonna do it. Um So what am I gonna get it from? I want a big, I want that guy, come with me please, yep, yep, yep, I'll use my H. One. Which one are we using? Play Fear. There's the white ones. Which one is it? Let's try 3. 2. Nice. And this is going to be my comments section One thing I will do though is make sure that the weird thing is it looks like the shadows come off it, but watch this when I go back to the black hair and come out, applies the shadow again. So temporarily it goes off and then comes back on again. I think I need this to be on the other side then it is my little Q. And a thing or other comments. Alright, that is it for this particular plug in. I will see you in the next one loads of cool plug ins to come.
Ratings and Reviews
Thank you, Dan Scott, for providing such a beautiful Adobe XD course. I completed the course today and noticed a couple of things that are missing. I want to share them here so that you can upgrade the course, which would be helpful for us. Hover state and toggle state. Dragging pages from 1-2 to 2-3 and then back from 3-2 to 2-1 with dragging is not working. Another thing is that we learned scrolling the website from top to bottom, but scrolling or pushing things from right to left has been completely omitted. These are the things I have noticed, and I would like you to upgrade them so that we can improve our Adobe XD skills.
Student Work