Drawing Practice
Daniel Walter Scott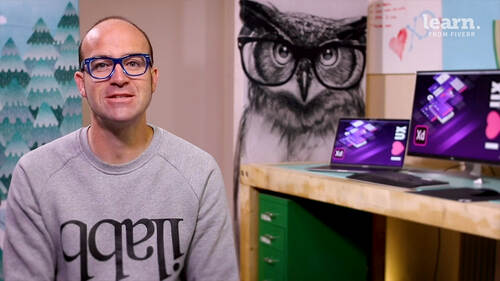 Drawing Practice
Daniel Walter Scott
Lesson Info
48. Drawing Practice
Lesson Info
Drawing Practice
everyone in this video, we're going to draw this kind of like cool wavy thing, okay with our pen tool skills, if you've already got pento schools, it should be easy if you're new to it, it's probably going to be a little bit tough but good practice, we're also going to draw this kind of like wavy mini note thing, it's going to be for pricing Alright, let's get started. Alright, first thing we'll draw is the big swoosh that we're going to use at the top here so to do it, let's practice drawing the kind of stroke first or the wave, I'm gonna grab my pen tool, I'm going to kind of start over here, click once it's a little hard with the pen tool to kind of like snap to the edge just doesn't so what I do is I kind of start just a little bit off, let's start here, I'm gonna come down a little bit, we're going to cut this into like kind of go up here and down here so I remember I'm just imagining this and I'm going to go like this and drag it across, cool and then up here I'm going to click a...
nd drag it across and then I'm going to kind of come back down again and click it once I've gone through it. Why? Because these dots don't want to stick to the edge that much, okay so what I do is I just kind of click it over here so cooking ones for corners, I'm going to just fill it with white because I want to show you what we're going to do, it's going to click and drag it now. And even if it doesn't snap, just keep it just on the outside here. Here we go. You yeah, its weather doesn't snap anyway, as long as it's just on the outside here when it exports it will be cropped off of the edges here, so it'll look perfect. So even if it just overlaps a little bit, gets cut off by the preview, you can see here, if I click off, you can see it just gets lobbed off and when it exports the same. Alright, so I want to do a couple of things, gonna move it down. I want to add the gradient from this, you might think I'll just use the eyedropper tool and grab this, but it just grabs one of the colors. Okay? So what you can do is I can grab this, that's that's what I made before, or you could use this, it doesn't matter actually. I want this one, either one actually, and you can add it to the swatches so you can see here it's moving between those two gradients, so I'm going to bend that fella, I'm gonna grab this one, click on this and I'm going to raise that up here about there. I'm gonna send it to the back, I'm using my shortcut, it's control shift and your square bracket which is the one next to the P. M. P. C. It's control shift, square bracket, You're not sure I right clicked it. It's that one there. Send it back to center back and center front all the time. It's a shortcut with writing down. Cool. So what I want is is at the back I want this one to be even further back so we're gonna use the shortcut. I'm going to lift up a little bit man. I want to change this around now. I want it the other way difficult on it, click on this color, drag you to the bottom, drag you to the top. There we go. Cool. Another couple of things I want to get rid of the border and I want to add a drop shadow, big lofty one. We're going to put an image underneath here because this is the video. Remember that we had that automatic playing video that's what's going to replace this green box. That's why I'm not too worried about the contrast here and the other blue box. This is going to turn into an image later on in the course. Okay, so this guy here, drop shadow wanted just going down but I want it to be quite blurry. 1020. Nice. Cool. The next one is that money icon? I might as well start drawing it up here. Okay, so I'm gonna grab my, it's gonna be a little bit tougher to draw but it's basically the wave again and I probably actually go out to maybe the market. I did try. That's why I ended up drawing this little pricing icon awhile ago. It's because I went to the market and looked at materials and it's google material and I couldn't find one that I liked. So I just drew one. I don't know if you're a designer like me used to draw everything and now there's just so much good stuff out there that kind of end up using my design talents to pick somebody else's good icon. It's a bit of a cop out but there are some pretty amazing stuff out there. So what I'm gonna do, click once, click once we want to do a little wave we can adjust this afterwards looking okay. Yeah, it's pretty cool that snaps of these anchor points are right above each other. It's going to make it balance kind of nice. So corner, corner, corner, corner curve curve, does it like a ripple of money? Let's try and match. What's that stroke here? Actually I'll grab the border from this one, pulls the color, doesn't pull the um stroke weight at the moment. Okay, so what is that one we want it to be too, I'm gonna go straight wake of two. I can't even select on it straight away with two and I want to try and match, we'll have a look at the different edges. I wanted to be rounded at the corners, it's big, I'm gonna have my doll sign and I'll show you one last thing before we go. I'm gonna go call sign. I'm probably just gonna use the same one as we've been using so far. We're gonna use Roboto will use white and I'm gonna stick it in there because it doesn't look like a dollar bill until we do that. And I'm in europe, we have euros. It's okay. Everyone knows what the dollar sign is euros. Crazy looking icon if you are in a country that doesn't know who doesn't use euros. It's a pretty crazy looking symbol. I'm kind of new here to europe so it's a weird one to draw. Anyway, dollar sign looks kind of good. Remember you've got to be at one as well. Sorry, command one control one on a Pc to kind of get the real sense of it. It's probably a little small. I probably want to do this to it and maybe shrink it down in general. Everyone's like, it was way better before it kind of was I just need to fit this guy in a bit easier. There you go. He's looking fine. So the thing I wanted to show you was I want, I hate, I don't hate it. It's not very good. Um so I want this to get inside because at the moment it's not part of my symbol. So I want to add it to the symbol. Now remember we did this a while ago and it's kind of like a recap, I guess I'm going to select just these two so I'm going to click on that hold shift, grab that, I'm going to cut it. I'm going to go inside the symbol. How do you know you're inside? It kind of gets that light green glow around it. It's a little hard to show on the video you see here on the edges. So off watch this edge here double click I'm inside of it. It's got this kind of like green halo and if I pace while I'm inside there, the difference is it should appear on both that and that one over there and watch this. You've seen this before. Any trick. Okay, so they line up there in, that's my pricing, that's my account and that's the pentacle. I really want to go back and mess with him a little bit. I think it's too wiggly. Just needs to be a little bit more subtle. That is drawing practice and that is getting used to using the pen tool a little more. If you're new to the pen tool, I hope you learned a little bit more about it. If you're already a pen tool master, you might be shaking your head regardless. That is the end of the video. I will see you in the next one
Ratings and Reviews
Thank you, Dan Scott, for providing such a beautiful Adobe XD course. I completed the course today and noticed a couple of things that are missing. I want to share them here so that you can upgrade the course, which would be helpful for us. Hover state and toggle state. Dragging pages from 1-2 to 2-3 and then back from 3-2 to 2-1 with dragging is not working. Another thing is that we learned scrolling the website from top to bottom, but scrolling or pushing things from right to left has been completely omitted. These are the things I have noticed, and I would like you to upgrade them so that we can improve our Adobe XD skills.
Student Work