Class Project 12 - User Testing
Daniel Walter Scott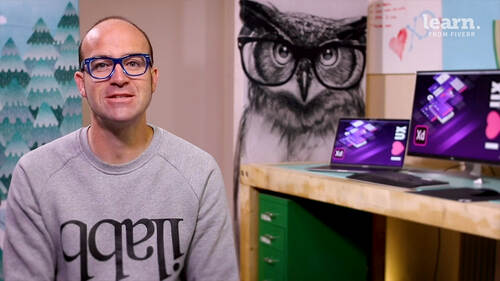 Class Project 12 - User Testing
Daniel Walter Scott
Lesson Info
84. Class Project 12 - User Testing
Lesson Info
Class Project 12 - User Testing
hi everyone, it is class project time and you'll be like, no way, I'm not doing the user test, I'm here to convince you otherwise. So take your manu furniture and get it tested now, you can do it the skinny pants way or you can go full noise and you're like, I'm gonna get this and I'm going to learn from it. Your first one's gonna be bad. It was for me, it's probably going to be for you as well. You're gonna get some like critiques back and you're going to be, it's gonna be like in your heart and twisting ah but you will get used to it, you'll send stuff off to user testing, you'll get feedback and with a few experiences under about you'll get kind of, you will appreciate it be like, yes, I that's lucky because I would have done that other thing and it wouldn't have worked, but it can be a little bit ego knocking. Even now I kind of make the best thing I can write and I send it out to testing to come back and say it's not very good and you're like, but you appreciate it. So what I want...
you to do is do a moderated test, you can do with anybody. He doesn't have to be Katrina, okay or somebody like her. Just do it with your significant other, your kids, your mom, your dad, whoever's around to say, hey, I just need to practice on someone, can you help me out, do the test, run through some questions just to get a feel for it. So because you don't want to be working with a client or going for an interview and not have never done this, you know, just I thought about it theoretically it's, it's amazingly different to actually do it in person. The other thing I would like you to do is sign up for the trial at user testing dot com and I'm not sure. But they used to, they used to give you like one free test. They might not be doing that, but request and then drop a note in the comments to say yes, they're giving away free trials still whether they jump straight to that $49 I don't expect you to pay the $49. You might just to go through the experience. But when I was doing it with students a couple of months ago, they were giving away like a free one or two trials, let me know how that goes and what I want in terms of results. I don't want, basically I want your experience. I want you to drop in the comments and say, hey, I did this thing with this person and this is what I found out or this is what I found hard or this is the benefits from doing this. I just want to get everybody's experience I guess. So either. So it's just gonna be text comments. Okay. You can do it on the assignments page. The comments or social media just to let me know how it's gone, but you're only a few of you going to do it. But if you do do it, report back how it went, because this kind of feedback loop here is really what makes you a UX designer. The rest is UI design and it's amazingly important. But I find without this loop of feedback, there's just too much guessing. All right, that is going to be it, go off and do it. Go on. You know, you want to you don't but you do once you are done, I'll see you in the next video.
Ratings and Reviews
Thank you, Dan Scott, for providing such a beautiful Adobe XD course. I completed the course today and noticed a couple of things that are missing. I want to share them here so that you can upgrade the course, which would be helpful for us. Hover state and toggle state. Dragging pages from 1-2 to 2-3 and then back from 3-2 to 2-1 with dragging is not working. Another thing is that we learned scrolling the website from top to bottom, but scrolling or pushing things from right to left has been completely omitted. These are the things I have noticed, and I would like you to upgrade them so that we can improve our Adobe XD skills.
Student Work