Recording Your Interactions
Daniel Walter Scott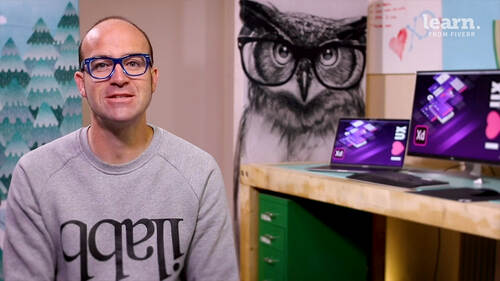 Recording Your Interactions
Daniel Walter Scott
Lesson Info
30. Recording Your Interactions
Lesson Info
Recording Your Interactions
Hi there in this video, we're going to create a video of us interacting with our mock up. So instead of sending them like an interactive mock up, we are going to do it and just record ourselves both doing it and talking over it and just send it to them and it's more like a presentation. Here's the video here. You see me kind of interacting with it, they're gonna pause it. So make the video, send it to them and demo it rather than get them to kind of explore. Alright, let's jump in and work out how to do it. All right, so we want to make a video of ourselves using the mock up kind of just walking through it and talking through it so that we can send it on to the client. So instead of them trying to like maybe muddle their way through it all, you can just kind of present it. Okay, so to do it, first of all going to move to prototype and just make sure my home button is set to the home page. And then basically all you need to do is you preview it using your normal shortcut. Okay, so we've...
got this up and what will end up happening is I'm going to shrink it down so you can see a bit easier. Now this works only on a Mac. Well, at least this option up here does there's a workaround for Windows but for Mac there's this little icon, so basically click on it and you need to remember that it's doing two things. It's recording your screen but also recording your what you're saying. Okay, so remember that. So I'm going to work through and say hi welcome client person. This is our mock up. You can click on start trial, the user can fill in their details on this start trial button and you just talk through what you've done and what you've done it, close it down and when you're finished you had escape where you can click that button again and magically XD will save a video for you. I'm gonna stick my on my desktop and put it in here and this one is going to be called. I'm gonna use the same name as that, spell it right. And that will end up with an Mp four that we can share. You can either email it if it's small enough or you might have to upload it to Youtube and share a link or vimeo. The window users might be going like, hey I don't have that button. You might do at the time of this recording. It didn't, it was only a Mac only option. There's a workaround for Windows. You can hold down the Windows key on your keyboard and a G I think you have to have the latest version of Windows and it will launch the kind of native recording software that's on Windows and then you don't just record this Window records everything on your screen. But that can work just as well. It's just really handy when you are like instead of having to ask people to work through it, you just kind of like display it for them. I signed some clients just, they don't want to like just just just let's get through this process and they want to be presented with ideas rather than them. Kind of like exploring. The other thing that's useful for is when you actually get to use the testing. So you go to a meeting, you meet with somebody who's remember Catherine for men with furniture. So we find somebody who's like our user and we sit down in front of them and we kind of present them with this mock up to start working with and you just explain to them, I'm going to record you, click record and ask them to talk through their their experience. Okay? And it can be used to go back to the client and say look, these are these are some of the results from our user testing. It's an easier way to do that. Alright. That is recording your interactions. Let's get into the next video
Ratings and Reviews
Thank you, Dan Scott, for providing such a beautiful Adobe XD course. I completed the course today and noticed a couple of things that are missing. I want to share them here so that you can upgrade the course, which would be helpful for us. Hover state and toggle state. Dragging pages from 1-2 to 2-3 and then back from 3-2 to 2-1 with dragging is not working. Another thing is that we learned scrolling the website from top to bottom, but scrolling or pushing things from right to left has been completely omitted. These are the things I have noticed, and I would like you to upgrade them so that we can improve our Adobe XD skills.
Student Work