Number Ticker Scroll
Daniel Walter Scott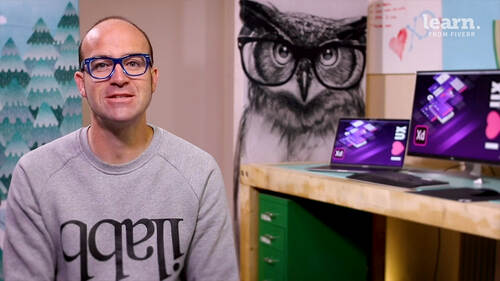 Number Ticker Scroll
Daniel Walter Scott
Lesson Info
80. Number Ticker Scroll
Lesson Info
Number Ticker Scroll
Hi there in this video. Watch this little ticket here. Ready? Watch him 00. Look, it goes up like a little counter clocky ticker thing. It's not hard to do. It's based on everything we've learned so far. It'll take us a little while to get set up. If you want to cut to the chase. Just so you know, all I've done is created a big long numbered list masked it auto animated after a certain amount of time into here to just different positions. We just kind of moved it up. So if you are just looking at this one too quickly, get on with it. Okay. You can give it a go. Otherwise hang around with me. We'll do it all together and we'll make this super cool little number tiki thing. Awesome. Alright to get started we need to kind of construct the mask that allows us to do this animation. I'm going to do it with, we'll leave monthly revenue and we'll do this one here. So this one is now going to be used to turn my nemesis. Okay. And this number in here, I'm gonna break it apart from this repeat gr...
id just so that's, it's not all connected. And I want you to turn this is the, I guess the first, but let's we're going to have, We'll start with 00 at the beginning kind of started at 00. So I'll have these two. Okay, so there's gonna be the first to the numbers have to put them together a little bit more. Still grouped and group it nice and tight. And then the last one is gonna be a percentage, wow, that's a really good percentage. Well it might have to play around with this in a second. But anyway, so you've got two numbers that we want to kind of animate separately. So what I need to do is I need to put in some returns 1234. I'm going to go through this and we'll get the editor to speed it up. Alright. I'm going to do it over here where it's easier. Okay, so I've got the first block of numbers. I'm going to copy them and just kind of paste it a few times. This is basically how much do you want is it's how fast or how many times you wanted to run through, you know, kind of like, like slot machines. Okay. You can spend loads of times, but you need loads of numbers. I've done three lots, so Kind of like in total. So where is it? So I don't need you actually, we're going to have you there, will have his buddy there, type them in. So that kind of close ish, Natalie and this guy can come out a little bit. So what we're going to do is mask both of them separately. Actually would like the second one. We just need this one. We'll duplicate them right at the end. So we've done masks before. Okay, decide on the mass size. It's like both of them. It doesn't matter what the mask is. White box border doesn't matter slick both of them. Now we want to mask this so we're going to go to object and we're going to go mask with the shape. So you probably got a feeling of how it's gonna work, right? So if I double click it, all of that stuff is in here, all of these guys, Okay. And a big text box that I can kind of move around now. That's what we're gonna do. So I need two of them will be the last time I made two of them. We're gonna need two outboards. So I'm gonna have to zoom out. You can see ours is not a huge project, but we're starting to get into like loads of art boards. It's okay. two of these guys, I'm gonna make sure my prototype just in case I've got any prototyping, which I don't uh anyway, working design. So between this two here, something's going to change. What's going to change is it's going to go up maybe just a couple of numbers. I'm going to double click it to go inside. I want to grab the text box, which is the thing around the outside. I don't want to keep clicking because they'll end up getting into the type tool. So I just want to grab the box around the outside and go up to like my user chin is always real high. Um, Let's say 30 and then this one here, lets say it's going to go to 30, but actually I wanted to, instead of going to that 30, I wanted to go to the next one. It's still going to end up with 30%, but it's gonna have a nice kind of fun little spin through it. And this one here, we're going to go up to where we're gonna go. Probably need more in this one. I feel Okay because I feel like the first one needs to spin loads more than the first one. We're gonna go to 39 and yes, use a turn. If you have no idea, it's people sign up to my courses and how many verses, how many sign up in a week versus how many people unsubscribed. I like love the courses, but now I'm out. So lots of people do that. So the main connection is this guy here. Okay. It needs to be connected. So it's the art board, click on the art board, switch to prototype mode, click on this. And all we need to do is go to tap and go to auto and the mates and you don't have to do this, but he's in and out works really well for this one and having the seconds higher. So two seconds. I practiced. It looks good. Okay, so click on this outboard preview and get ready and nothing happens. Why? Because I've got no kind of like, I'm not forcing it across here. I could use a button, okay, I could use a button to jump to this next next art board, but I need a way of getting across here and we're gonna double back to one of our cool little automatic things. So I'm gonna switch the prototype, change this. And when I said tap, what I really meant was after a certain amount of time and how long basically straight away, I'm going to put a pause on it so that we can all see it. So maybe after like one second. So someone's going to get to the dashboard page and then one second later XD is going to force it to go to this page. Order animating between them. Let's give it a go. This guy, this guy Cool. Huh? I love it. So this could be, we've done it with text because it's sorry, numbers because it's easy. You could do that whole like airplane checker thing could be like an old digital clock though. I have no idea how you'd use that in your app. But anyway, you get the idea looks cool. It's just a little bit of a hack. We've used the time transition and we've used that order animate altogether. Makes this cool little still one more time and then we'll say goodbye. Hey, now one of the things you might come up to and you're like, oh, I want them all to go separately. You kind of can and kind of can't. So what I could do now is after a certain amount of time, I can transition to the next outboard. Okay, and get this next one to do it. You can't get them to overlap at the moment though. So I want that one kind of starting and this one before this one finishes, I want this to start and then this to start. It's not that clever. It all has to happen at the same time at the moment with order anime, there's no kind of like timeline editing like cannon something like after effects or adobe animate later on the course, I'll show you how to do that in after effects. Okay? We'll show you how to export XD to after effects. It's pretty good. It's pretty easy to do the exporting at least. Yeah, that's it. That is cool. Little number ticket things. Alright, let's get into the next video.
Ratings and Reviews
Thank you, Dan Scott, for providing such a beautiful Adobe XD course. I completed the course today and noticed a couple of things that are missing. I want to share them here so that you can upgrade the course, which would be helpful for us. Hover state and toggle state. Dragging pages from 1-2 to 2-3 and then back from 3-2 to 2-1 with dragging is not working. Another thing is that we learned scrolling the website from top to bottom, but scrolling or pushing things from right to left has been completely omitted. These are the things I have noticed, and I would like you to upgrade them so that we can improve our Adobe XD skills.
Student Work