Groups & Isolation Mode
Daniel Walter Scott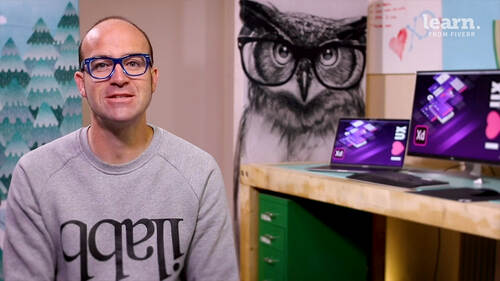 Groups & Isolation Mode
Daniel Walter Scott
Lesson Info
16. Groups & Isolation Mode
Lesson Info
Groups & Isolation Mode
Hi everyone. This video is all about working with groups. And isolation mode. There's just some quirky things that happen with groups inside of XD. So let's cover them. Now. The first thing is we're still in prototype mode. Let's switch back to design mode and we're gonna make a group and then work out kind of some some tricks for working with it. So let's grab our black arrow. Let's draw a box that kind of starts out here and drags across all of these, including the text. Okay. You know, you've got it all when you can kind of move it all in one big group. So what I'd like to do with it all selected, You're going to go to object. I'm going to go to group. Okay, So command G or control G on a PC and now it's a group. Everything that really changes. They don't have to kind of be as careful when I select. I can grab any of this blue area and it's all selected. But you know what a group is and you're like, there better be more for this entire video. Not much more. But Let's have a little l...
ook at working with groups. So I'm gonna zoom in command three. It's a good one in this case it's going to go around the whole selection. And what I'd like to do is I don't want to say I want to switch one of these. I want to switch example. Okay, around with pricing. So instead of Ungroomed, ping it, moving it and grouping again. You can go into what's called isolation mode and it's a fancy name for just going inside the group diving inside and you do it by double clicking clicking it once I get the whole thing. But if I double click example, you can see this weird little lightly colored cyan box appears around it. Okay. And it just means I'm inside of it. And what that means is I can move this within the group. Okay, so I move it over here. Where is something? I can see it? I can't see it. You can kind of see it down there, like the white text against the gray background. This just says I'm still in isolation mode because there's that box around it. But if I click it in the background here. Okay, so you can work within groups without having to um group them. That's I guess what I want to get through to you here. So then when I'm working with symbols in the next video it's a little easier. I'm gonna double click them again, put them back and I want to switch these two around. I want to go you over here, you over there, Same grouping, you're grouping there to come back out. Just click anywhere outside the box. And that is isolation mode. Is he not lined up? He is not lined up as he is a bit higher. Okay, I'm going to use that one. All right, that's it. You can dive into groups and come back out again without having to try and recruit more. And that seems like a simple thing here. We've got a really simple wireframe, But when you get into some more detailed multi card, you wise with repeat grids and all sorts of fun stuff later on, I know that you can dive in and out. It makes it easier. All right on to the next video.
Ratings and Reviews
Thank you, Dan Scott, for providing such a beautiful Adobe XD course. I completed the course today and noticed a couple of things that are missing. I want to share them here so that you can upgrade the course, which would be helpful for us. Hover state and toggle state. Dragging pages from 1-2 to 2-3 and then back from 3-2 to 2-1 with dragging is not working. Another thing is that we learned scrolling the website from top to bottom, but scrolling or pushing things from right to left has been completely omitted. These are the things I have noticed, and I would like you to upgrade them so that we can improve our Adobe XD skills.
Student Work