Draw Custom Icons
Daniel Walter Scott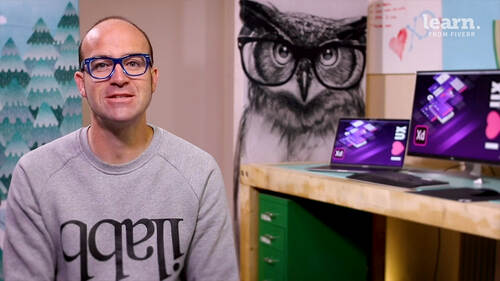 Draw Custom Icons
Daniel Walter Scott
Lesson Info
45. Draw Custom Icons
Lesson Info
Draw Custom Icons
Hi there, this video, we're going to draw custom icons in XD. We're going to use something called the boolean operator and we're going to draw this little account, man, click them and view your account. It's super easy. Let's jump in now and work it out. All right. One of the drawing techniques in adobe XD is something using boolean operators. That's a really weird word for using shapes to cut out other shapes. Kind of like a cookie cutter or if you've used adobe illustrator before, it's like the pathfinder. Well, the shape builder tool. So I'm using the ellipse tool. I'm going to hold down shift gives me a perfect circle when I draw it out and I'm going to draw a couple of shapes so I'll grab you and I'm Gonna Draw one More. You could copy and paste it. Okay, so actually just want these to not overlap them a little bit. So with them selected, you've got these four options. These four boolean operators add subtract the borgo shortcuts intersect and overlap. So I'm going to have 1234 ve...
rsions. First one add ready boom, easy draws, connects them both. This one here, two separate circles. This one here uses whatever is at the front. Okay, this one's called subtract, is it subtract, yep. It uses whatever is at the front to subtract from the back and if that role is reversed. If I bring this large one to the front and do the exact same operator. Okay. It'll use the front 12 chunk out the back. So you just gotta be not careful, but you've got to know what you have. The one up front that you want to use as the slicer. This one here, let's have a look at this one intersect. Is it intersect? So just wherever they overlap is what's left and this last one here will cut a hole where they overlap. Now, that's all well and good and that's cool. You can build lots of shapes this way and that's how we're going to build that login guy, You can see quite easily how we're going to do it. What's really cool about these operators? Is that the non destructive, even though that looks like a legit kind of shape, Watch this. If I double click the circle, you see he's still kind of like a thing. Okay, this one here, if I double click it you can see this one here is actually kind of a nondestructive will shape, so it actually it's still editable. That's a better way of saying it. Double click them and kind of jump in, you can kind of make adjustments so it's really handy. Really cool. Not a one way street. Alright, so what I want to do is draw our little account man, so I'm going to do two circles, I'm gonna slit both of them, I'm gonna line them up. Okay and I finally end up during like little snowmen counts people come on account. I'm going to, I'm squinting my eyes thinking isn't the right size proportionately that looks right. So I'm going to join these two together. Okay, so I'm gonna go kaboom so there's one little unit and then I want to slice the bottom off and I'm going to so you can do more than one. These were just kind of one action we're going to do to so I'm gonna grab this, it's like these two. And then which one do I want to have a guess? Subtract? That's the one game because this rectangles that front boom, we can cut him off. Okay, that's is it an account man that's close enough look good in my head and when I practiced it before this course it looked better, I promise. So I'm gonna scroll it down or shrink it down to an appropriate size. Going to zoom in and I'm going to get it sort of fits in here. Cool. And now I want to kind of zoom out and see I'm going to go command one and work out what size I want in terms of the stroke so we have no Phil have a border of white and I'm going to crank up this border size to, it feels about right and the good thing about it, remember if you're like that guy double click it, okay, keep double clicking until you find the bits you need, Am I gonna make this guy better? It's a bit better. Here you go like it better. Anyway, command one and that my friends is how to do basic things with Yeah, those bullying operators. There's tons of things you can make by subtracting and minus sing and dividing. That means you don't have to dig around in the pen tool. We'll look at the pen to a little bit later on, which is a lot more complicated if you haven't used it before. All right, let's get on to the next video.
Ratings and Reviews
Thank you, Dan Scott, for providing such a beautiful Adobe XD course. I completed the course today and noticed a couple of things that are missing. I want to share them here so that you can upgrade the course, which would be helpful for us. Hover state and toggle state. Dragging pages from 1-2 to 2-3 and then back from 3-2 to 2-1 with dragging is not working. Another thing is that we learned scrolling the website from top to bottom, but scrolling or pushing things from right to left has been completely omitted. These are the things I have noticed, and I would like you to upgrade them so that we can improve our Adobe XD skills.
Student Work