Plugin - UI Faces
Daniel Walter Scott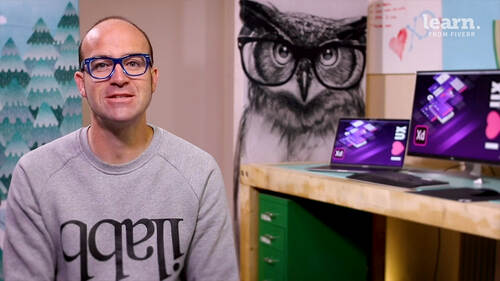 Plugin - UI Faces
Daniel Walter Scott
Lesson Info
65. Plugin - UI Faces
Lesson Info
Plugin - UI Faces
Hi everyone. We're going to look at another plug in. This one's called UI faces and we're gonna add some. It's really cool. You can pick all sorts of different kinds of people for the profile photographs. These handsome people have been generated by the plug in automatically. It's really easy to use. Let's jump in and have a look. All right. So we're not going to go through every single plug in. Don't worry. But I'm gonna go through the ones that I use. Okay. And we've installed this one called UI faces. Okay. So if you can't remember so long ago, click on discover over here and search just type in UI faces. There's a couple of alternatives to this one as well as the one I started using. Is it the best? I haven't used them all. So that's the one I like. So it's gonna start up and it's gonna say you have to draw a circle first. Okey dokey. I can do that to grab the for some reason remember people have to go inside circles. Products can go inside squares. People can't for no good reason.
The internet rules. So I want 1234. How old are you too? And create a couple of them. So is that big enough? Yeah. So with the more selected, let's go to plug in. Let's go to UI faces and let the work happen. So where do you want them from? We've talked about a few of these. You could pick movies. Okay. Tiny faces. Another one pixels on this place. I'm going to use any of them. Don't care Ages. I don't mind either. But it's cool that you get to have all of this picking emotion. Our people are always going to be happy. What kind of hair do they have randomized? I don't know. It's gonna be random anyway. Right? Maybe that overrides all of this. I don't know. Click faces kickback. It depends on your internet. It's pretty good though. Like I've got the world's worst internet and network pretty fast. All very good looking people. If I ever see like a comments section like this, I know it's faked but we want to kind of present this to the client. This is the beautiful people are going to be working with. Okay. Who have thought Ronald was so good looking thing with Richard that match very well. I might have to be. I already got one woman here. So what am I have to do is get these in place and how I want these to be. I'm gonna knock them all across these guys will get them to line up and I want all of them. But this to be men because that's not gonna make much sense. You can skip on. That's all we've learned in this course. But I'm going to go through and say you're all male please. And your for your name's Ronald. I don't know. You might be a Ronald and you might be 16. Okay, what would I know, but I reckon Ronald's a little older. Let's see what that comes up with kick back, relax. Richard nailed Ronald's. That is not somebody who's 40. Should I put 30? I'm not sure walter. They're all good. What's really cool about it is just quick and easy. And because it's come from something like unspool ash, they're all kind of like commercially usable. And we're in a mock up anyway, so these aren't going to be used in the actual product because it will be actual people. Thank you for everybody for participating. Thanks, Richard Ronald. I will see you in the next video.
Ratings and Reviews
Thank you, Dan Scott, for providing such a beautiful Adobe XD course. I completed the course today and noticed a couple of things that are missing. I want to share them here so that you can upgrade the course, which would be helpful for us. Hover state and toggle state. Dragging pages from 1-2 to 2-3 and then back from 3-2 to 2-1 with dragging is not working. Another thing is that we learned scrolling the website from top to bottom, but scrolling or pushing things from right to left has been completely omitted. These are the things I have noticed, and I would like you to upgrade them so that we can improve our Adobe XD skills.
Student Work