Tricks for Using Colors
Daniel Walter Scott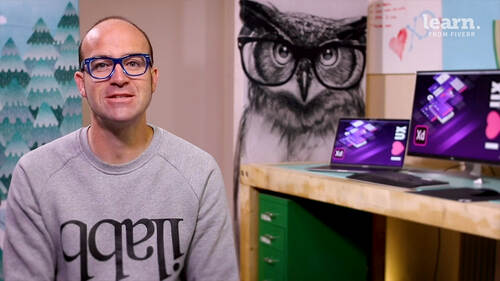 Tricks for Using Colors
Daniel Walter Scott
Lesson Info
36. Tricks for Using Colors
Lesson Info
Tricks for Using Colors
Hi there, this video, I'm going to show you how to do Cool quick tricks to train transparency using super shortcuts. We're also going to go and change colors globally. Remember our wireframe. Imagine if you could just grab all the colors in one easy thing and just go and pick a new one. Let's get started with adobe. XD color tricks and tips. Alright, color tricks time. Um don't skip this one because I need you to build some parts for us so I'm gonna make sure the grids on. Okay, remember the shortcut? Who remembers that's right. Command automatic control on a pc and apostrophe should turn this on and off and mine's not working. Why? Because they don't have my upwards selected now it'll work pretend that was a test. So I need a couple of things. I need the rectangle tool I'm going to draw out. Ah never bar and the reason I got the grid on is so that it snaps to it right? And we've got some consistency again. Remember never bar, how high is it going to be? Make sure you're at command one...
on a Mac control one on a pc to be at 100%. So you're kind of designing the right size great. That's going to be black for the moment and it's going to have no border. Next thing I want to do is draw out. I want to be able to see the column, that big thiel column in the middle, there's command shift apostrophe to turn that on now that if you're like man, stop, stop with the shortcuts. These are the two to turn on and off, remember. So I'm gonna grab my rectangle and I want to draw a bunch of like little these are sections, remember from the white frame there's going to be five of them in total. So I've got that I'm going to switch to my grid to make sure it's all snapped to that as well. It has. Thank you very much. And now I want a bunch of these so I'm gonna zoom out now it's all snapped everything. I'm going to grab my black arrow, connect the edge and I want a nice long document. Double click the edge. Sorry seamount. So this first one is going to be no border going to be the green. Don't worry about the colors of the moment whatever goes in because they're all going to end up being switched out for either images or kind of patterned backgrounds. So just kind of just want five Cubes with different colors just because. Perfect. So not so many tips and tricks yet. Alright. The tip and trick I want to show you is I want this navigation to be fixed to the top because at the moment it's gonna be my navigation right? But it's disappearing off the top, who remembers how to fix it there. It's a little test and with it selected you're like right there look you're pointing to it. I see it there too. Okay so now that's fixed to the top so the problem with it it's fixed but it's below these other boxes that might run into you. So I'm gonna go back into X. D. I'm going to close down my little preview. I'm going to say you right click are going to be bringing to the front. I'm gonna preview and now they should all slip underneath. The next thing I want to show you. Close down preview is we're going to actually start doing the tips and tricks for colors right now. So the opacity, I'm going to lower this down so you can see through it. I want this kind of like gray. Okay just cool. And you can see everything slips underneath it and I find it's a nice easy way to good looking. But also kind of helps people see what's coming up or what they might have scrolled over the top of. So you can kind of see partially through it. Now the trick is this this slider here is fine. Move it back up to 100% but along your keyboard. Okay, so the keys on your actual keyboard, not the little one on the right hand side, not that number keypad just above the letters if you type if I had to just the letter to watch what happens 2% or 20%. Sorry five is Eight is 80. So just an easy way to kind of like just move through it instead of dragging the sliders just kind of tap those keys. 80% is going to work for me and that cool little trick works in Photoshop and illustrator and in design just picks the capacity. Next little trick is let's say you get to hear and you're like dan, I hate the color you picked. I want to change them. Okay. You can go into, you say this, this dark green, you want to switch okay. You can edit it over here and because it's an asset in the asset panel, these are all connected. You don't actually have to physically connect them. It just looks through the document and looks for any hicks number that uses that same one and we'll change it. You can see, I can just pick a new color, you see it adjust both. I'll change into something really. You see it changes that one and that one. So it's really easy to change kind of like large parts. I'm going to undo that and it's not that useful at this stage, but I want to throw in all the colored tricks here and I'll show you where it is quite useful. So let's say this is a project that I'm working on and it's got a, you know, clear, it's got a color way of this kind of call it nuclear red. Um, and this spearmint kind of green, let's say I, I've added them to my assets down here. If they're not okay, you just click on them and hit the little plus mine's already added and then you can go through and you can see how much easier it is or how much more useful it is. Now when I can see this whole thing go into here, edit the colors and start playing around with it and you can see it adjusting across all the outboards. Okay. The green is probably a little bit more obvious. Let's change this one. Cool. So you can keep designing even if you're not super happy with the colors and then at the end, make very easy changes and there's no like special swatch asset linking. You just have to pick the color, use it consistently add it to the assets panel, right click it, edit it and you can make a new kind of color difference. Might do if you say there's, so you've got different colors to go to the client with. I'm going to undo it, go back to that. It's also really useful for your um, what do we do before our wires. So when we were working, it was easy just to keep it as blue because a lot of the um assets came from that original ui mock up that adobe gave us right. But now we want to send it to the client and we just want to, I don't know, personalize it just might be, I really hate that. Blue. That's what you do is grab something that has the blue in it. I double clicked it. Okay, I've added it to my colors over here. I can click off and now edit it and just pick a color that you can see. It goes through the whole entire document. Cool. A even like the icons. That's where you're like who did the remember? That's because we use S. V. G. S, which was really handy. Super cool. I'm going to pick that color, expect colors that are hard to read against the white. Alright, get the idea. Alright, picked all the text. Super handy. All right. Those are my color tricks and tips. Let's jump into the next video.
Ratings and Reviews
Thank you, Dan Scott, for providing such a beautiful Adobe XD course. I completed the course today and noticed a couple of things that are missing. I want to share them here so that you can upgrade the course, which would be helpful for us. Hover state and toggle state. Dragging pages from 1-2 to 2-3 and then back from 3-2 to 2-1 with dragging is not working. Another thing is that we learned scrolling the website from top to bottom, but scrolling or pushing things from right to left has been completely omitted. These are the things I have noticed, and I would like you to upgrade them so that we can improve our Adobe XD skills.
Student Work