Adobe Stock
Daniel Walter Scott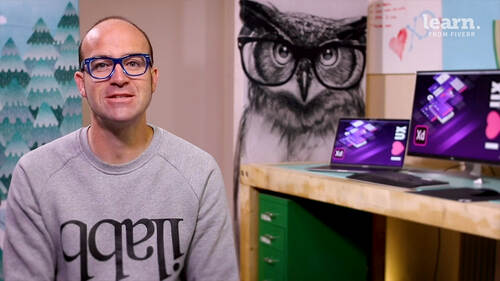 Adobe Stock
Daniel Walter Scott
Lesson Info
55. Adobe Stock
Lesson Info
Adobe Stock
alright in this video I want to share with you adobe stock so adobe makes 60. They also own something called adobe stock. So adobe stock is their stock library site. You can buy one off images or you can pay like me I pay 30 bucks a month for 10 images. And the cool thing is they all kind of pile up if you don't use them. Which is nice. But I want to tie it back into your kind of like workflow and how I use it in my workflow. So it ties into the CC libraries quite well but it doesn't do it XD very well yet. Okay that'll happen. But the CC libraries that we looked at in the last video and you can open up in any of the adobe products whichever you're more comfortable with. Okay so maybe Photoshop or illustrator. What I wanna do is I want to open up this image right and say we've been working with these images are creative and we're like yeah I love it. It's gonna really represents our user. Okay that is our persona. But the client comes back and says I don't like this guy. Not quite my t...
ype of fella. I don't know why but the client doesn't like him for whatever client reasons there are. So what you can do a cool little function is make sure you can see your library. So window libraries make sure the library we're using is the whichever one you want to use. But I'm using the I. H. Q. One. I'm gonna just drag it in here because what I want to do is drag it in then right click it and say find similar. What it's going to do is it's actually gonna look at adobe stock, can you see like the little search results? It's going to go off and with my slow internet connection come back with things that are visually similar and hopefully I'll speed it up and it will impress us. Alright that impressed me. Okay so not only it has the actual image that I use that I got from but it shows me stuff that is very similar. So him without glass. Maybe that's what the client come back said. I don't like the glasses, hey bingo. I've got the one without glasses but it's really amazing at a picks. This guy. Obviously the photo shoot was all done on the same day but this guy here wasn't obviously and these guys here just happened to be wearing plaid shirts and similar sort of color scheme for the background. It's like it's bananas. How good visually similar is. Even the girl version, you might go back with that. Okay he uses something called adobe sensei. It's like it's ai machine learning and that all seems very for me. It's like ah yeah whatever but then things like this happen and you're like oh my goodness like there's hundreds of things that are very similar. You might just do some screenshots of these and get the client to pick one you like you pick the the hipster ish person that you like the most. And the cool thing about this is you might say that's the guy I want to use now. You can do two things. You can use this to options. There's saver preview if I click on that, it downloads a watermarked version so I haven't paid for it yet. Okay, you can see it's doing its thing Now in 60 I can say actually where's my library? Let's start using this guy here now. Okay, remember double click him moving across, we didn't move very well. Can you flip images and you can flip them in here. You have to go into a little bit over. But um yeah, let's see. It's watermarked here. And the cool thing about that though is back in Photoshop is the client says, yep, love it. You can right click it and go to license image and you don't actually have to do anything else. It will just remove the watermark. You don't have to kind of like re put it in or update it. It'll just remove the watermark and become higher ed. I don't want to waste one of my ones here, but that's what you do now. We use adobe stock to go in there, you can dump anything in there and it will go and find it. Let's open up something from Unspool Ash, which is something we'll look at in a little bit just where you get free images from. So I'm gonna open up this background blur. It's a hard one, we're going to see how well this does. So this is a free image, not from adobe stock. We're going to test adobe sensei, see how good it is. Find visually similar. I'll speed it up. It didn't take very long. The internet's running sweet today. All the sleeper in line. We'll speed it up though. Go okay, turns out is this is a free one from um, slash but they obviously still license it with different graphics on it at adobe stock as well. And you can see there's a bunch of different ones in here. I just, this is pretty amazing for me because I was like, I just picked one assuming that it wouldn't appear and there was something similar, but you can see like totally. And some other ones that are kind of close. Yeah, it's pretty good. Huh? I like it. Alright, so using adobe stock is useful for finding visually similar images. You might not be in this sort of position where you can actually pay for images. So what you might be doing is using watermarked copies. Okay, So let's say where's that watermarked one? There's water marked one here. You've just got to indicate to the client that they'll have to pay for this one as part of your process. Okay. If you're doing work for your dad and he's not going to pay for it, we'll look at free images in ASIC but in the very next video actually. But if you're working with a client often I will give them I'm charging quite a high rate. So I'm just kind of incorporating it and there's part of my flow, But you might be charging a lot less and say you're charging $200,. you can't really afford a $30 image. So you need to make sure that the client knows that. Hey, here's my designs. It's using a watermarked image that has to be paid for and it's going to cost X. Y. Z. So they know that there's your cost 200 bucks plus the cost of the image. Alright, let's go and find free images in the next video.
Ratings and Reviews
Thank you, Dan Scott, for providing such a beautiful Adobe XD course. I completed the course today and noticed a couple of things that are missing. I want to share them here so that you can upgrade the course, which would be helpful for us. Hover state and toggle state. Dragging pages from 1-2 to 2-3 and then back from 3-2 to 2-1 with dragging is not working. Another thing is that we learned scrolling the website from top to bottom, but scrolling or pushing things from right to left has been completely omitted. These are the things I have noticed, and I would like you to upgrade them so that we can improve our Adobe XD skills.
Student Work