Conclusion
Daniel Walter Scott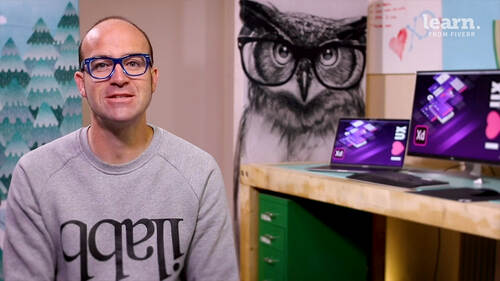 Conclusion
Daniel Walter Scott
Lesson Info
91. Conclusion
Lesson Info
Conclusion
Oh my goodness fancy seeing you here. We made it to the end of the course. You and me, I'm here, definitely here, you're definitely there but not everybody kind of makes it to the end. So congratulations high five hug. Well done for going through the entire course now, what can you do next? Uh this is the kind of conclusion video, what you can do next. Um so make sure you do the projects. Okay Because following me, just with the instructor HQ one or just watching the video is just not going to be enough. You don't retain anything, you retain a little bit and doing the even just doing the instructor HQ when we run through the course with, it's going to give you some tools, but it's those practice exercises like the minute furniture or the raw bikes scheduling time. Okay. If you haven't done it throughout this course, go okay next week I'm gonna or maybe every Wednesday night it's going to be your UX night where you're going to upgrade yourself or it might be one hour every day or you're...
going to get up early, like going to the gym, like a boot camp, okay to build out a couple of projects to like improve your skills and have some things ready for a portfolio. So that is step number one, so step number two is make sure you share your work. Okay? So you can, there's a couple of places. Remember there's an assignment section, there's comments, there's social media, so jump out there and make sure you share what you're doing and even if you don't want to share your not a sharer. Okay, let's say you just want to keep it all secret and you're a lurker. Like I am mostly okay, so go and sign up for things like the facebook group. Okay, So search for bring your own laptop online and asked to join the special secret group and we'll let you in or follow me on instagram. I'm bring your own laptop. Okay? And on twitter, I'm dan loves adobe. I'm on the other platforms as well. But those are my most popular. All right, hold it right there. I'm just gonna button real quick Ah and give you, let's call it step number two a since I originally recorded this course, it's become apparent that you, as students really want some extra projects. Okay. To kind of practice what you've learned in XD and build things for your portfolio. So I put together something called B Y O L. Challenges with an S dot com. They're just short, simple fun practical projects for you to kind of practice your UX skills and your XD skills, much of the same as we did with raw cycles just earlier. The good thing about this is that there is a bit of a community kind of starting to build here. So let's say this challenge here is the UX UI challenge. Okay, I explain what you need to do through a video, give you the exercise files And people submit stuff and you can see here is currently 127 submissions. So there is no deadline for this challenge. Okay, um you can go right now and read the brief, listen to the video and enter the challenge. Okay. At least submit the challenge. It's not a competition nobody's gonna win. It's just there for us to practice. And the cool thing about it is, man, there's some really amazing projects that are submitted and it's just really helpful when you're new to look at other people's interpretations of the briefs that are set and to look at like some of the ones that are most appreciated tend to be ones that have been really well thought out and often from you. No more experienced designers. You do not need to be experienced. Okay, Everything is welcome here. And the cool thing about them though is that there's quite a lot of feedback. So a lot of comments, if you ask for feedback, there is quite a lot of people kind of talking about, you know, things you could do and do changes. You can resubmit it based on feedback. It's pretty cool. Anyway, it's pretty cool. It's free and we do some fun live events around them. It's not just UI design. There's a bunch of other stuff as well. Things like logo design. We're doing a poster challenge at the moment. Okay, so check that out. Alright, back to the guy in the card again. I can't believe I was wearing a cardigan. Step three is jump out onto adobe XD dot user voice dot com. Maybe that's the where you can vote on features. The more votes, things get, the more inter you know involved you get, you get potentially we'll get more features or at least get the ones that you want. So jump in there and do some voting now in terms of your learning, what should be your next steps? So practice is mainly it. So take the projects that I've set. You find other projects, find colleagues and your parents or your kids or your neighbors, find people that need potential help and you might do it for free. You might see if you can charge, but really you need to work through some projects to get them really for for your portfolios, your language kind of practice you user testing strategies down and so once you've done that, practicing your next step might be go to some more videos or more courses like this and that's gonna be it. I can't think of any other steps for our conclusion here. I hope you enjoyed the course. I love making these courses, especially adobe XD. Such a cool fun program and such a vibrant new career industry for a lot of people. So I hope you enjoyed it. I enjoyed making it. I'm never sure how to end this video. I'm going away for a while and hope to see you in another one of my courses or at a conference or something on social media gets gets more and more awkward. I'm gonna keep waving and eventually the editor will cut it. Hope he's cut it yet. Have you cut it? I give up waving as well. Let's steal the screen action. Mm hmm.
Ratings and Reviews
Thank you, Dan Scott, for providing such a beautiful Adobe XD course. I completed the course today and noticed a couple of things that are missing. I want to share them here so that you can upgrade the course, which would be helpful for us. Hover state and toggle state. Dragging pages from 1-2 to 2-3 and then back from 3-2 to 2-1 with dragging is not working. Another thing is that we learned scrolling the website from top to bottom, but scrolling or pushing things from right to left has been completely omitted. These are the things I have noticed, and I would like you to upgrade them so that we can improve our Adobe XD skills.
Student Work