Plugin - Copy Cat
Daniel Walter Scott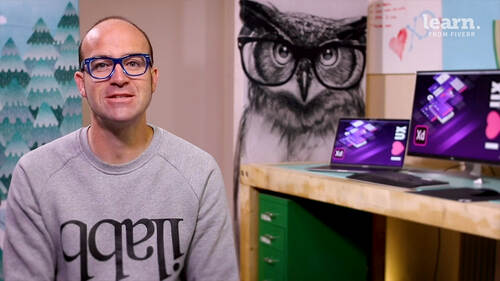 Plugin - Copy Cat
Daniel Walter Scott
Lesson Info
67. Plugin - Copy Cat
Lesson Info
Plugin - Copy Cat
Hey there. This plug in is pretty cool. What you do is you say go to this website just give it the U R L. Okay. This is the one we're going to use in this example, but you can give it any page on any website and say go grab stuff and it thinks about it for a while and goes and figures out the front for you, brings in all the colors that's been used on that site. Plus all the images from that page. It's just a really nice way of getting started when maybe you're not kind of creating something brand new. Okay. Like this whole new design, You're actually just mocking up something that already exists or a new component to a section to a website. This is a handy little plug in. All right, let's go check it out. Alright to get going with this plug in. It's probably best not to throw it all in with an existing projects best done at the beginning. Why didn't we do the beginning of this course? Because we just, we didn't have the skills yet. So we've loved in a few of these handy plug ins here ...
now that you've got your skills up. So I've got a document doesn't really matter what it is because it's going to generate its own art boards. Go to plug ins and I'm gonna use this one called mimic, There's another one called copycat. They seem to do a similar type thing. You type in a U R. L. So that is a website. Bring your laptop. It's not the one that you might know. This is dot co dot nz it's a, it's a localized one in new Zealand. It's like sit down classroom stuff that I made, still goes, it is awesome. But people come in live and do live stuff cool. It's going to take a little while because what it's gonna do is it's gonna search through that site and grab lots of different things like fonts and images and colors and I'll be back in a second and when I said a second, I meant like, go away, do something, come back for dan, your internet will be heaps better than mine. And the cool thing about it is check this out. It's created the fonts that have been used on that site. Okay. Also all the colors, the brand colors that have been on that site, I'm a little worried because there's two very similar colors have been used and a bunch of images from that home page. So you can point it to a specific page. I just kind of like pointed it at the home page and it's really cool just to get started on something, especially when you're working on. So this uX project is like this brand new thing getting started. I find it end up doing a lot of like, hey, we need this extra page and can you mock it up for us. So this is a good way to kind of rip all the fonts and images. It doesn't actually bring in the images, fonts just tells you what they are, which is I guess just part of it. Okay, now, I know, I know I need to source sands, museo slab and this glyph icons are probably going to ignore that one. Glyph icons get often used for things like arrows and ticks. Okay, but these are the two fonts that gets used on that homepage and I'm gonna go off and get those from probably adobe fonts because that's the easiest to use with XT or you could be using google fonts. Cool, ha easy little plug in is this one mimic or the other one called copycat. I finally have similar results. I'm sure they're battling hard to be the best plug in but for the moment these are on our boards as well for no reason just to kind of group them in little sections, but yeah. Alright, so that is going to be it for plug ins for the moment. There are loads more and they keep adding more every single day, every time I update XT, there's a couple more plug ins to go in and explore with. So have a look through the discover and have a cruise through and to see if there's anything that kind of tickles your pickle but for now we need to carry on with more XD goodness. Alright, I'll see you in the next video
Ratings and Reviews
Thank you, Dan Scott, for providing such a beautiful Adobe XD course. I completed the course today and noticed a couple of things that are missing. I want to share them here so that you can upgrade the course, which would be helpful for us. Hover state and toggle state. Dragging pages from 1-2 to 2-3 and then back from 3-2 to 2-1 with dragging is not working. Another thing is that we learned scrolling the website from top to bottom, but scrolling or pushing things from right to left has been completely omitted. These are the things I have noticed, and I would like you to upgrade them so that we can improve our Adobe XD skills.
Student Work