Prototype
Daniel Walter Scott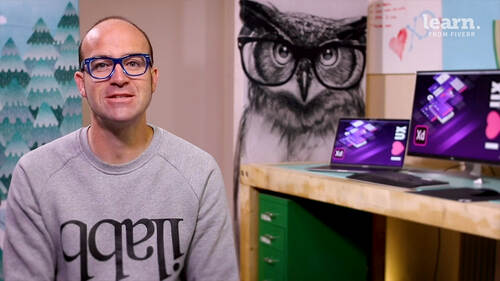 Prototype
Daniel Walter Scott
Lesson Info
15. Prototype
Lesson Info
Prototype
Alright, it is class project time again. Back to the man with furniture. So you've done class project one where you made your home page and your contact us page and we're going to do basically the exact same thing as we did here. Okay, I want you to prototype using prototype mode and connect these two pages from your own man with one. So you're gonna have a homepage plus a contact us page and you can decide whether you want to do this whole um pop up normally referred to as a model. Okay. That pops up over the top and you connect it up so you can go back and forth when you've done that. I want you to send me a screenshot or add it to the assignments here or the comments or share it with social media and the way to kind of prove it or at least show it's quite cool demonstration for your clients as well to see how this all connects. If you got a prototype mode and go to edit, select all. It selects everything on on every outboard. Okay. And it just gives you, so there's little wires that...
run everywhere. Okay? It just gives you a kind of a cool little I don't know, wireframe flow chart type thing. Take a screenshot. How do you take a screenshot on a Mac, You hold down your command key, your shift key and four and you get that little target, nothing really has happened yet until you click hold. Oops, I gotta get rid of that. Select all Shift Command four. Hold and drag it out so that you you might not have heard that but it took a big kind of snapshot e sound okay. And what will happen on your Mac is on your desktop now will be a J peg. I've got mine going to a special folder called screenshots but there it is there I've got that done. So on a Mac select all and then command, shift four drag a box around. Had a little snappy noise and you'll have it on your desktop. On a pc. Not really a pc person used to be but I've listed them here. It turns out there's like a few different ways. So you either hold your Windows key and hit print screen and that will take a screenshot or on some versions of Windows, you hold the Windows key and your whole control and press print screen. Print screen is often tied up in that above your kind of curses around your arrows keys. So see if you can find one that says print screen. There's another one where it's if you're on a laptop, I think if you're hold the Windows key, hit the FN the function key normally down the bottom left of your keyboard and then hit print screen. One of those things might work and you'll end up with a folder called screenshots inside of your pictures folder. So I go to my documents pictures and there should be a screenshots one in there. If I'm wrong, please drop it in the comments so that you can help other and Windows users, I'm not a big Windows user, so hopefully one of these ones work for you. Once you've done it, share it with me, share it with the group and its more you won't get much feedback because like you just have the wires, but it's kind of just giving you accountable before we move on. And of course to practice your new fancy XD techniques. All right to the next video.
Ratings and Reviews
Thank you, Dan Scott, for providing such a beautiful Adobe XD course. I completed the course today and noticed a couple of things that are missing. I want to share them here so that you can upgrade the course, which would be helpful for us. Hover state and toggle state. Dragging pages from 1-2 to 2-3 and then back from 3-2 to 2-1 with dragging is not working. Another thing is that we learned scrolling the website from top to bottom, but scrolling or pushing things from right to left has been completely omitted. These are the things I have noticed, and I would like you to upgrade them so that we can improve our Adobe XD skills.
Student Work