Masking
Daniel Walter Scott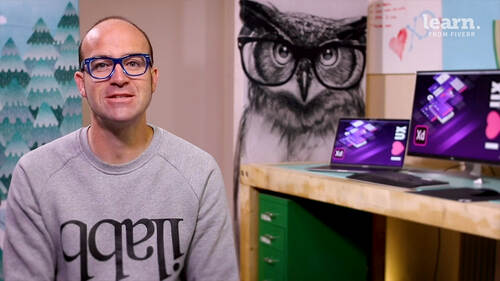 Masking
Daniel Walter Scott
Lesson Info
Masking
Hi everyone, we're going to look at masking a little bit more. We're gonna mask inside circles. We'll do this cool thing where we blur this background and kind of tinted a little bit as well, we've got black hair but we can do it with any old color. Let's jump into adobe XD and work how to do it now. All right to get started. Let's do some masking. I'm going to make the page longer again. I'm gonna make it super long. Always keep making it longer. So this is where I want the image to go now. What you'll notice we've done this before. We've been doing reverse masking. Okay, A lot will do positive masking. Those are names I just invented. But what I'm gonna do is I'm gonna bring in the image that I downloaded from splash cases, background blue. Okay, I'm just going to drag it over here so you can see it's the format, it's the wrong size that I need it. So what we've been doing is dragging it into an existing box. So draw your box and it masks inside of that. You can double click it to ki...
nd of adjust the mask to decide where you want it to be. The other one I want to do is let's say we've got an image. So I'm going to go to import. Actually no, I'm gonna do my drag technique. It's called mask image. Daniel scott's a picture of me. Okay, So I've got this image right and I want to mask it inside of something like a circle. So instead of drag you could draw the circle first and drag it into that's perfectly fine or you draw the circle over the top, It can never feel, it cannot have a feel, it doesn't really matter. You select both of them. Okay, So I held shift, click both of them and then go up to object. And there's this one here that says mask with a shape. So the shape has to be over the top and it will mask the thing underneath. We've done it with an image. That circle can mask, logo, any sort of graphic you've got just make sure that the circles on top doesn't have to be a circle. You could draw something with your sweet new pen tool skills. Look at that. So I'm gonna give it, I'll just move that over there. I'm gonna grab this, stick it over the top, you can't really see it, can you hear it? Is there? That's my sweet little thing, object mask with shape. You can adjust that shape. Double click it, double click the edges and you can kind of start doing it. For some reason though, I'm going to undo whenever you do a person they have to be uh there's like some internet rule where you have to put them inside of a circle, you can put them in a square, No way they have to be inside our circle. The shortcut is command shift em on a Mac. Control shift m on a pc. I'm gonna shrink it down, it's going to go in there about actually going to turn that on, find out where the edges down. Double click it if you like, come on dan, one Less of you in there from the background that is masking. The other thing I promised you was I wanted to show you that kind of blurry background, so I'm gonna put text over this and it's just, it's just really hard to read, right? So let's get a bit of text to start with and add that and somebody copy, make it white just so that we know if we've got it dark enough, I'll extend it this way So to light the backgrounds to light so what can we do? So easiest thing is copy and paste your image. So you've got two of them and actually don't want to images. I'm just gonna replace it with black so it's pretty cheap trick. I'm going to move it to the back, move it forward one so it's all the way to the back and I'm going to click on the image who's now over the top and send him to the back so I can see all the text, I can see my image there. But now this black boxes just over my image and you could just do some cheap tricks and just lower the opacity. Remember using the numbers along the top or dragging a slider, you might just do something like that, I'm going to turn it down to maybe 60. Okay then I can add, I can read the text, there's just two separate boxes. Probably another thing you might do is you can go to this background blur. So this thing here will blur everything behind it. It's kind of doing a bit of a halo thing at the moment. So you have to play around with these sliders. Like how, how much of that black box do you want to see? I want to see quite a bit of it, how blurry is it? It's up to you and then how light it is. Okay, you can kind of mess around with this so it just blurs everything in the background just to make it a little out of focus. Maybe a bit darker as well. But you also might do is you might tint it because at the moment it's black. You might go into here and actually pick your dark green, you can see you tint the background might pick something darker. So it's kind of in the same like it's in the green zone, Maybe the blue zone. Okay, just kind of fade in the background out there. All right, so we learned masking a giant version of myself and we do some things where we kind of tint the hero box or tint the big image in the background and I'm not sure if I like it green and it's like a straight up black and before we leave, I'm just going to add the text for the frequently asked questions. Nothing more to see here. If you want to carry on. I'm just going to add some stuff here frequently, yep, in the bed. Let's scrap you two there. Now, one thing I don't think I've mentioned is you can't do bullet points, I think I have, you can't do bullet points in here at the moment. It's not a text option, it will be there soon. So you might have it already but you can fake it by holding down the option key on a Mac or the alt key on a pc or option depending on your machine. And I'm just putting in some bullet points to like show some Q and A. I might delete that. Here we go there, It might make just one line. Alright, A rumbly voice today, I'm not sure why I feel fine. So it disappears for the next videos. Alright, I'm going to do that and I'm going to use my repeat grid for the moment. Looks good. No, that's a terrible idea. Alright, let's turn that off. That's my kind of filler frequently asked questions dans on someone is there and his background here, I feel needs to be even a little darker and more blurry. Just settle in the background there. Alright, that's gonna be it for this one. Masking blurring background. Let's get into the next video
Ratings and Reviews
Thank you, Dan Scott, for providing such a beautiful Adobe XD course. I completed the course today and noticed a couple of things that are missing. I want to share them here so that you can upgrade the course, which would be helpful for us. Hover state and toggle state. Dragging pages from 1-2 to 2-3 and then back from 3-2 to 2-1 with dragging is not working. Another thing is that we learned scrolling the website from top to bottom, but scrolling or pushing things from right to left has been completely omitted. These are the things I have noticed, and I would like you to upgrade them so that we can improve our Adobe XD skills.
Student Work