Class Project 08 - Custom Icons
Daniel Walter Scott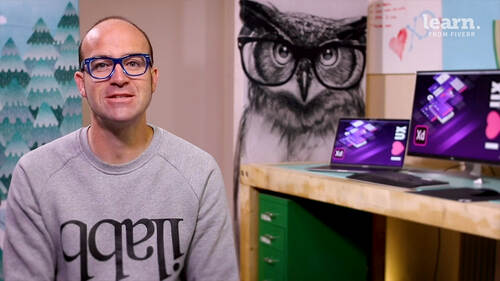 Class Project 08 - Custom Icons
Daniel Walter Scott
Lesson Info
51. Class Project 08 - Custom Icons
Lesson Info
Class Project 08 - Custom Icons
Hey everyone, welcome back to our class project. It's been a little while, so we need to recap some of the techniques you've learned and add them to your menu, furniture project. Okay, so this one is all about creating icons you can either use try and use a mixture. There's three icons to make use the pen tool and the bullying operators. So you need three icons. I've given you the account icon. Remember our porn, a little head and shoulders. Make something like that. Doesn't have to be that one. Okay, but something that indicates this is where your counters, Another icon for the shopping cart or checkout or whatever you wanna call it. I'll show you a couple of examples. Plus I want you to do one more of your choice that will depend on how you've done your mock up. Everyone will be slightly different. Just find something else to do an icon of your own custom one. Be fun. So add it to your mock up and send me to take a screenshot and send me what you've made. So Simon section, comment se...
ction, social media, all of the above is even better. So I'll show you a couple of examples. I dug up. Well you've seen it before. Can you see the difference between shopping cart and this one case the RK one between this site here, it's more of a bag that's a basket bag and then this one is the kind of kind of more supermarket carry around bags. So there's no like 100% have a look for ideas. Just do a Google search for check out or basket icon, something like that. Okay, so and have a little look around, you can see this one's used. Track my order, that's cooler icon, store locator. Maybe a favorites might be something that you've got in your design, you might have to add to it. This one's got favorites as well. Look at that man, that's more of a person. And this one's only got one. There's a search icon. So whatever you want to do for your third one. Okay, I just want to see all three of them so lay them up on your design, take a shortcut and share it. And then once you've done that I will see you in the next video. Not before go on, go do it. It's fun.
Ratings and Reviews
Thank you, Dan Scott, for providing such a beautiful Adobe XD course. I completed the course today and noticed a couple of things that are missing. I want to share them here so that you can upgrade the course, which would be helpful for us. Hover state and toggle state. Dragging pages from 1-2 to 2-3 and then back from 3-2 to 2-1 with dragging is not working. Another thing is that we learned scrolling the website from top to bottom, but scrolling or pushing things from right to left has been completely omitted. These are the things I have noticed, and I would like you to upgrade them so that we can improve our Adobe XD skills.
Student Work