Framing Your Shots
Chris Hau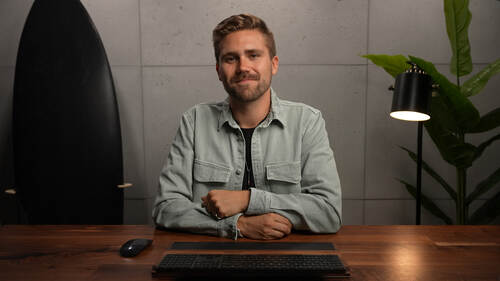 Framing Your Shots
Chris Hau
Lesson Info
38. Framing Your Shots
Lesson Info
Framing Your Shots
So the next thing that you want to do is start looking around your space and say, "What looks interesting? What's a good area for a backdrop for my video?" Now, obviously in this case, this office is set up to be a backdrop for YouTube videos. So we have multiple locations that we can shoot. We have this location over here where you can shoot straight on. You can shoot with this as a backdrop because this table is on wheels, and can be moved around. And we have this concrete wall as a backdrop, and you can also position a camera in different spots around your space. Now, typically what looks really good is when you have nice depth of field in your shot, and typically to get a really expensive-looking shot, you can shoot into the corner, which means that you get more length in your room, and more space between your subject. and the back wall. And the more space that you have between your subject and your back wall, the background becomes a bit blurrier when your subject is in focus. So ...
typically a little pro tip is to shoot into the corner. Now because we're using very high-quality cameras, and I have very fast lenses such as F/2.8. Any shot that I go in here will look really, really good. And the area that I think will look great for this fiber shoot is this concrete backdrop because we can put some of these practicals in the background. And we have a lot of space for our crew to work behind the scenes so that we get the shot done properly. So what we're gonna do is we're gonna take this as a little, little secret, by the way, I learned this from a friend of mine when I was in university, and I always thought it was kind of cheesy, but I actually think it works really well. Is you kind of do the film director look, and you start to look through a frame. You decide, "Hey, what looks good? What area would look great on camera?" Now I know again, it's cheesy, but it legitimately works. And the equivalent of a lens in terms of what your eye see is roughly around 24 millimeters to 35 millimeters. So if you're shooting at 35 millimeter, that's more or less what your shot is going to look like. So when I look around the room, I start to think, "Okay, what area? What area? Ooh, that area right there looks good. So why don't we shoot right here? We're gonna bring in one of these practical lights over here." And when you hear practical lights, that means lights that are actually in your shot. So we can use this lamp right here, and we can bring this into the shot. We can bring the surfboard into the shot, and we can bring this plant into the shot to make an interesting looking composition for our final video. So why don't we actually start setting up our cameras and getting our final shot lit, and the audio all set up.
Class Materials
Video Questionnaire/ Video Brief.pdf
Ratings and Reviews
Ok, I really enjoyed this course but you should know it is a decent overview of what to do and in what order to do them. This is not going to show you HOW to do anything but it will show you WHAT you need to think about and how to approach a production in a professional manner. Chris knows his stuff really well and everything is covered but it is just an overview. Well worth your time, especially if you are new to video but just do not think that he is going to show you how to do everything.
Student Work