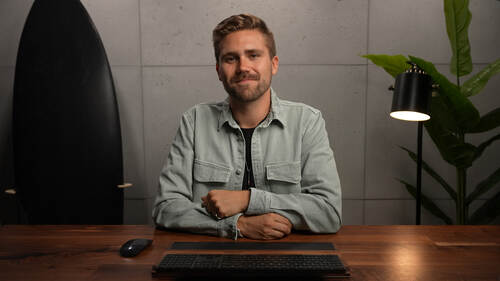 Lesson Info
30. Frame Rates
Lesson Info
Frame Rates
All right, so let's talk about frame rates. Think of frames as the number of individual photos that your camera captures per second. 24 frames per second is standard as it closely mimics what the human eye is capable of seeing. Now, as I mentioned earlier, when shooting at 24 or 23.976 frames per second, you'll want to make sure to use the 180 degree rule. Meaning that you'll set your shutter speed to roughly double your frame rate, one over 50 in most beginner cameras. Now, again, if you're shooting 60 frames per second, you'll want to use a shutter speed of one over 120. And if you're shooting 120 frames per second, you'll want to use a shutter speed of one over 250. We do this so that when you slow your footage down it has the most appealing and natural looking motion blur. Now, depending on your camera's capabilities and the context of your shot, you might want to film in the frame rates that we just spoke about there. When it comes to shooting slow motion, essentially what is happ...
ening is that you're capturing more frames or pictures per second. So, when you capture 60 pictures in a second and then extend all those photos to play back in real time which is 24 frames, it actually looks like slow motion. Now, essentially, when you bring all those slow motion clips into an editor and play it back on a 24 frames per second timeline, there are more frames filling that space causing your clip to play back slower, and that's how you achieve slow motion. Now the most common frame rates are 24 frames per second. That is standard in North America. And 25 frames per second is often used in Europe as the standard. In terms of slow motion, you'll often see shooters use 60 frames per second, 120 frames per second, or 240 frames per second for slow motion shots. Anything above that is usually considered super slow motion and requires a special slow motion camera.
Class Materials
Video Questionnaire/ Video Brief.pdf
Ratings and Reviews
Ok, I really enjoyed this course but you should know it is a decent overview of what to do and in what order to do them. This is not going to show you HOW to do anything but it will show you WHAT you need to think about and how to approach a production in a professional manner. Chris knows his stuff really well and everything is covered but it is just an overview. Well worth your time, especially if you are new to video but just do not think that he is going to show you how to do everything.
Student Work