Conducting an Interview
Chris Hau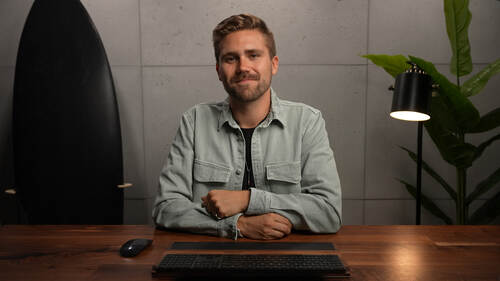 Conducting an Interview
Chris Hau
Lesson Info
34. Conducting an Interview
Lesson Info
Conducting an Interview
You won't always need to conduct an interview for every video that you make. But when the time is right, it's helpful to have a handful of techniques in your back pocket to make the most of your interview. First, let's cover how to set up for an interview. You want your viewer to feel as though they are a fly on the wall of your conversation with your interviewee. We can achieve this simply in the way that we set up the shot. Position your interviewee in front of the camera, and your interviewer beside the camera. You want to ensure that your interviewee speaks directly to the interviewer and not to the camera. Have your interviewee turn their body on an angle to face the interviewer. Tip: when setting up your frame, it works nicely if you position your interviewee using the rule of thirds. If you take this route, make sure your subject is turned towards the empty space in your frame and not away from it, kind of like this. So if I go in the corner, I'd be looking somewhere over there,...
so I'm gonna be talking to someone off camera right about there. So I'm kind of sitting like this. So you're facing me, a bit of space over here, and I'm looking this way. That's a pleasing looking interview shot. Now, let's go back to me talking to you here, the talking headshot. This is your opportunity to get an authentic response from your talent. So make an effort to get to know them a little bit before your interview starts. Do what you can to make them comfortable with you off camera before starting the interview. Not everybody is comfortable on camera, so the more that you can make your subject feel comfortable, the more authentic your interview will feel. Always make sure you're doing your research on your subject before your interview. Try and gather as much information about them as possible. It would be very disrespectful of you as a professional to come unprepared to an interview. In doing this, you'll be able to come up with interesting and unique questions for your subject to answer. That brings me to my next point, scripts. Now, as I mentioned, you want to show up as prepared as possible to your interview. That includes coming prepared with interesting, unique and thought provoking questions to ask. The goal is to have your interviewee do as much of the talking as possible. So try to keep your questions open ended, and always push for more. Without being too pushy, of course. Now, example of an open ended question: "How are you enjoying the weather these days?" This leaves space for the interviewee to elaborate on what they're enjoying about the weather, if anything, and why. Example of a closed ended question: "Are you enjoying the weather these days?" There's only two potential answers if you ask this question. It's either yes or no. And yes and no questions don't naturally lead to the interviewee to elaborate. Know what answers you need from your interviewee before starting the interview. If you know you need a specific line, you can prompt them by saying something like, "So you're saying," and then fill in the blanks with what you want them to say. This way, the answer still feels authentic, but you still get what you need for the video and story. Another tip to ensure you get exactly what you need from your interviewee on set, is to ask them prior to beginning the interview to repeat the question in their answer. An example is, "What color is the sky?" A bad answer would be, "Blue." A good answer would be, "The sky is blue."
Class Materials
Video Questionnaire/ Video Brief.pdf
Ratings and Reviews
Ok, I really enjoyed this course but you should know it is a decent overview of what to do and in what order to do them. This is not going to show you HOW to do anything but it will show you WHAT you need to think about and how to approach a production in a professional manner. Chris knows his stuff really well and everything is covered but it is just an overview. Well worth your time, especially if you are new to video but just do not think that he is going to show you how to do everything.
Student Work