Bringing it Together with an Intro and Outro
Chris Hau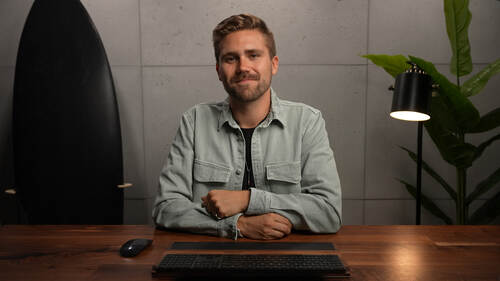 Bringing it Together with an Intro and Outro
Chris Hau
Lesson Info
16. Bringing it Together with an Intro and Outro
Lesson Info
Bringing it Together with an Intro and Outro
Now, just like a film or TV show, a YouTube video could use an intro and credits, what YouTubers like to call an outro. While you might want to use each one of the elements that we learned about at different places throughout your video, all of those elements come together in your intro and outro. Now the ideal intro and outro for a YouTube video is around 15 seconds long. Just long enough to capture the attention of your audience but not too long so they lose interest before your video starts. Here is my intro. (upbeat contemporary music) Now, whether you begin with the intro from your first frame or it comes in after your first scene, choose a place for your intro to sit and stick with it throughout all your videos, or at least a few. This will help you develop a style and will allow your audience to know what to expect when they're watching your content. The outro should come right at the end of the video and should incorporate clickable links to your offer or a call to action, such...
as "click subscribe below." The intro and outro is where you get to be as creative as you want. Add graphics for your titles and credits, show live action snippets of the host, or edit together a montage of your interviews, add some catchy music that's easily identifiable, insert a bold call to action button and make sure that your editing and color grading are at their best to entice users to watch more. You can either use the services of an online freelancer who specializes in creating YouTube intros and outros or you can create one yourself using any selection of tools. Biteable.com is a great place to create your own intro if you're a do-it-yourself kind of content creator. Now, although it's common to start and end your TikTok and Instagram videos in the same way each time, a longer intro and outro is not standard practice for these platforms. Instead, you can create end frames with your handle and user details so that it's easy for users to follow you or identify who the video belongs to if it's been downloaded off the platform for sharing.
Class Materials
Video Questionnaire/ Video Brief.pdf
Ratings and Reviews
Ok, I really enjoyed this course but you should know it is a decent overview of what to do and in what order to do them. This is not going to show you HOW to do anything but it will show you WHAT you need to think about and how to approach a production in a professional manner. Chris knows his stuff really well and everything is covered but it is just an overview. Well worth your time, especially if you are new to video but just do not think that he is going to show you how to do everything.
Student Work