Element Five: Sound & Music
Chris Hau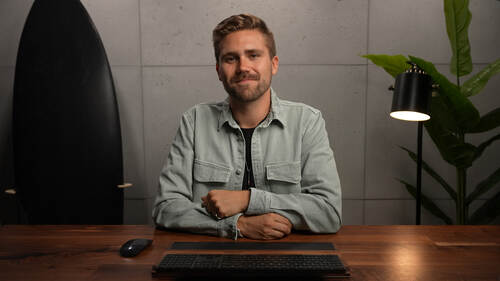 Element Five: Sound & Music
Chris Hau
Lesson Info
14. Element Five: Sound & Music
Lesson Info
Element Five: Sound & Music
Another important storytelling component is music and sound and often overlooked is the profound impact that music and sound have on the tone of your video and how people engage with it. Now music informs the audience on how to feel in each scene. It can build tension, make you laugh, enhance visuals, and inspire people. Now, the key here is that sound fuels emotion and in the world of video this can make or break the effectiveness of our creations. This is why editors get so frustrated by clients when they want to change the music. It's because music sets the pace for the edits as editors often cut to the beat of a song. Here's a quick exercise. Put on any video, doesn't matter what it is and then in the middle of that video go ahead and click the mute button. Do it. How different is the experience without sound? Now think of that commercial or that video but with a completely different genre of music. How would that change the tone, the feeling or the impact? Now when choosing music ...
for your video you have to decide what you want the tone of the scene to be. Is this moment sad or is it uplifting? Something else to consider is the use of music with vocals or lyrics. If you have a voiceover or an interview it would be best to use music that doesn't have lyrics. This is so the interview or the voiceover don't clash with the lyrics that you hear in the song. Now this isn't directly related to storytelling but I'm gonna bring it up 'cause it's a very important part of the process when creating video. You can't just use any song, especially popular music. You need permission from the creator or the band to use that song in your final video. This is often referred to as a music license. When you're first starting out there are many websites that allow you to use royalty-free music. Now royalty-free means that you can use it without owning the copyright or paying royalties on a per-use basis. Now copyright-free means that the copyright itself has expired or a second party has acquired the right to use that work. There are plethora of websites where you can either get free or affordable music options for your videos. Some of my favorites include Epidemic Sound, Audiio with two Is, Musicbed and Artlist. Don't underestimate the power of a good soundtrack for your video.
Class Materials
Video Questionnaire/ Video Brief.pdf
Ratings and Reviews
Ok, I really enjoyed this course but you should know it is a decent overview of what to do and in what order to do them. This is not going to show you HOW to do anything but it will show you WHAT you need to think about and how to approach a production in a professional manner. Chris knows his stuff really well and everything is covered but it is just an overview. Well worth your time, especially if you are new to video but just do not think that he is going to show you how to do everything.
Student Work