Supporting Your Camera
Chris Hau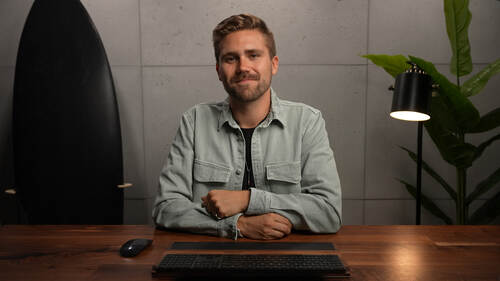 Supporting Your Camera
Chris Hau
Lesson Info
22. Supporting Your Camera
Lesson Info
Supporting Your Camera
Now that we have familiarized ourselves with the camera, let's discuss the tools available to you to support the camera. The most basic and readily available form of support for your camera are your own two hands. Now, while shooting handheld may be the cheapest option, it does introduce some camera shake into your footage. No matter how still you may be, you're human, and your movements will be captured in your footage. Shooting handheld can be an artistic choice though, and it can add a very specific feeling to your video. An easy way to stabilize your camera handheld is to take your camera strap, put it around your neck, and then press outwards against your camera. This added pressure helps to stabilize your footage. The most well-known form of support for your camera is the tripod. There's two types of tripods that you can use to help create your video, a photo tripod and a video tripod. Since photo tripods are meant for photography, they are mainly used for static shots. If you wa...
nt to introduce movement to your shots, I would recommend using a fluid head tripod, otherwise known as a video tripod. The resistance in the fluid head is what enables you to get the smooth motion that you're looking for. Now, there are other ways to introduce movement into your shots without using a tripod, starting with a Steadicam. A Steadicam is like a weighted monopod. The weight is distributed in such a way that it counters the weight of the camera, making the camera appear weightless, which leads to a stable and smooth shot. Next is a gimbal. A gimbal is a motorized stabilizer for your camera. It utilizes small motors on each axis, pan, roll, and tilt , to counter the weight of the camera and render it weightless. Once balanced, your movements will be fluid and smooth. Since gimbals are motorized, they allow you to get interesting shots that you wouldn't normally be able to get, like a vortex shot. When it comes to stabilizing your camera, it's all about balance. When using a Steadicam or gimbal, it's very important to get the right balance, otherwise your shots will not be stable. Here are a few examples of Steadicam and a gimbal. (chill music) Now, a slider is a device that allows for smooth camera movements on a horizontal plane, also known as forward and backwards or left and right. Now, sliders can be electronic or manual, meaning that some of the more expensive options might come with a motor that can be controlled by an app, while some of the more affordable options will be operated by you. Sliders are best used for trucking shots. Now, if you're shooting on your phone, there are attachments or options for all of these supports designed specifically for smartphones.
Class Materials
Video Questionnaire/ Video Brief.pdf
Ratings and Reviews
Ok, I really enjoyed this course but you should know it is a decent overview of what to do and in what order to do them. This is not going to show you HOW to do anything but it will show you WHAT you need to think about and how to approach a production in a professional manner. Chris knows his stuff really well and everything is covered but it is just an overview. Well worth your time, especially if you are new to video but just do not think that he is going to show you how to do everything.
Student Work